Join thousands of fellow campervan travellers
Sign up for our Britz newsletter to receive inspirational travel content and awesome deals, and we'll send you a copy of our Ultimate RV guide!
Thanks
Please confirm subscription in your email.
Located right at the bottom of Australia – in an island all of its own – there are so many things to do in Tasmania. Whether you're an adrenalin junkie, a foodie, a walking enthusiast, or you're keen on a bit of everything, it's all on offer.
Thanks to its compact size, Tasmania is the ideal place to rent a travel van and explore . You can be wandering through peaceful forests in the morning and enjoying the city nightlife by evening. And to make it even easier, you can rent a van to travel Tasmania from our Britz Hobart branch – too easy!
But with so much on offer, where do you even start? To help with your road trip itinerary planner, we've listed some of the best things to do in Tasmania with your family. Let's take a look!
1. Tasmazia
Tell the family to get lost! In the nicest possible way of course! Located at 500 Staverton Road, Promised Land, Tasmazia has eight cool mazes to explore and conquer, including one of the world's largest mazes. Their Hampton Court Maze is an exact replica of the London original. The Yellow Brick Road Maze is a favourite for all ages.
Once you've a-mazed yourself with all those mazes, visit the Village of Lower Crackpot! This cool village is built to 1/5 scale with buildings dedicated to over 40 countries. Tasmazia also has a lavender farm and a pancake parlour! What more could you ask for?
Tasmazia is about 3.5 hours from Hobart (279 km).
2. Tahune Adventures
Ever wondered what it would feel like to fly like a bird above the treetops? Here's your chance to find out! At Tahune Adventures you can try the Eagle Hang Glider experience which lets you feel the wind beneath your wings as you glide across the forest and across the Huon River. Don't worry, you'll be safe and secure in a cable-controlled hang glider with a fitted harness. Or if you prefer, try the Airwalk and enjoy the views from 50 metres above the riverbank.
Tahune Adventures also has overnight campervan parking available. You'll find Tahune Adventures at Arve Road, Tahune, around 1 hour and 25 minutes (88 km) from Hobart.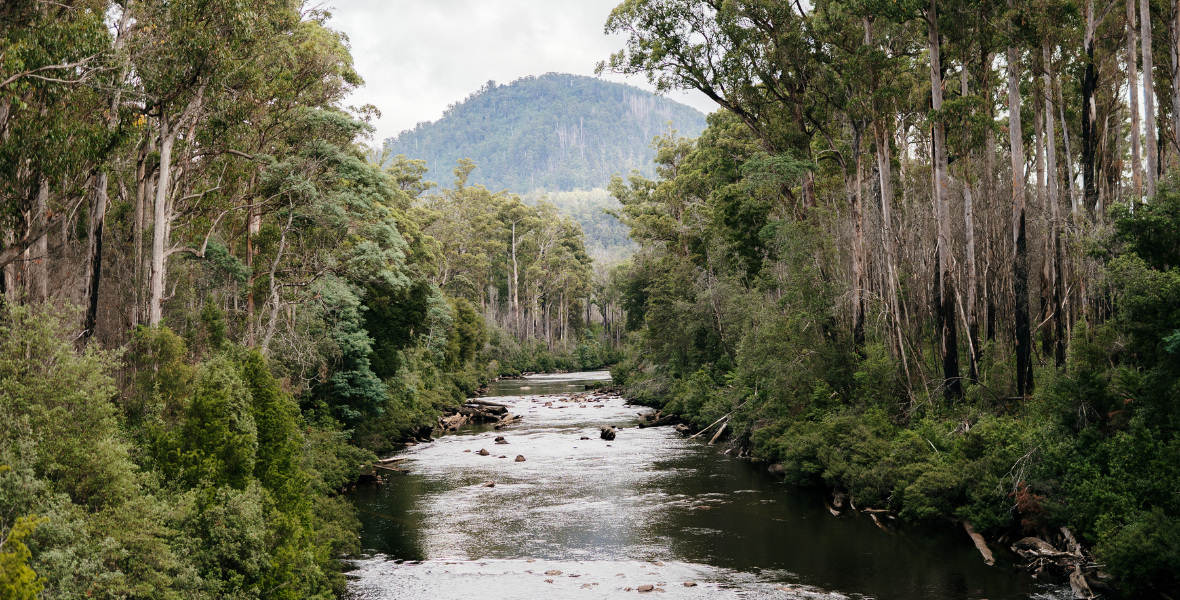 Image Source: Tourism Tasmania Visual Library
3. MONA
The Museum of Old and New Art (MONA) is a must-do on your Tasmanian road trip itinerary. MONA is not your average museum. It's the largest privately funded museum in the Southern Hemisphere and is home to ancient, modern, and contemporary art from the David Walshe collection. As well as looking at the exhibitions, you can also enjoy a high tea for two, outdoor music, a comedy show, and check out David Walshe's extraordinary library.
The museum is located at 655 Main Road in Berriedale – a 15-minute drive from Hobart or a 30-minute ride on the MR-1 ferry from Hobart's Brooke Street Pier.
4. Cradle Mountain
Experience nature at its most magnificent with a day trip to Tasmania's most famous peak, Cradle Mountain. Our top suggestion for families visiting this impressive landmark is to take a walk around the Dove Lake circuit (around 2-3 hours, about 6 km). Park up your campervan and put your walking shoes on. You'll see the old boatshed on the lake's shores, the Ballroom Forest, and of course great views of the mountain itself.
Cradle Mountain Visitor Centre is a four-hour drive (300 km) northwest of Hobart.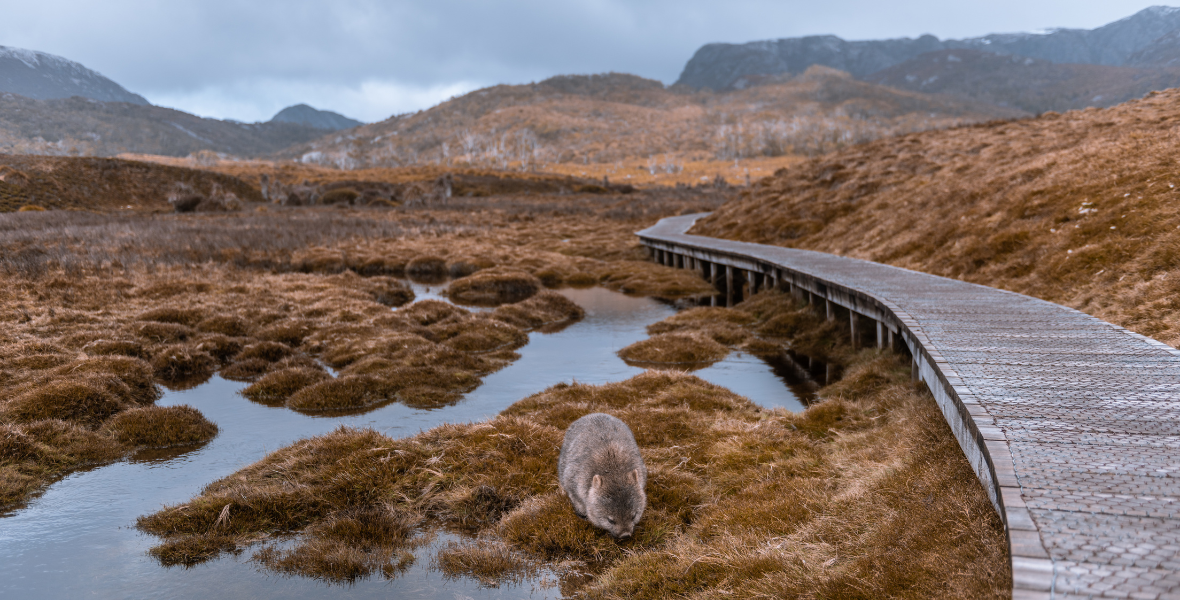 Image Source: Tourism Tasmania Visual Library
5. Hastings Caves and Thermal Springs
For something just a little different, head underground and explore the Hastings Caves and Thermal Springs. You'll be led through this living and breathing ecosystem by an experienced guide and will discover spectacular subterranean formations. After checking out the cave, warm up in the 28-degree thermal swimming pool. The pool is full of rich minerals – the perfect way to warm up and feel rejuvenated before heading back to your campervan.
Hastings Caves and Thermal Springs is situated in the far south of Tasmania's beautiful Huon Valley, a 90-minute drive (102 km) from Hobart.
6. Bay of Fires
One of the most popular things to do in Tasmania Australia is a road trip to the Bay of Fires. With its mesmerising clear blue seas, white sandy beaches, and orange lichen-covered boulders, this special spot is a photographer's dream. The bay stretches 50 km from Binalong Bay in the south to Eddystone Point in the north.
Plan to stay a few days by booking into one of the great campervan campsites nearby.
Bay of Fires is approximately four hours (278 km) from Hobart.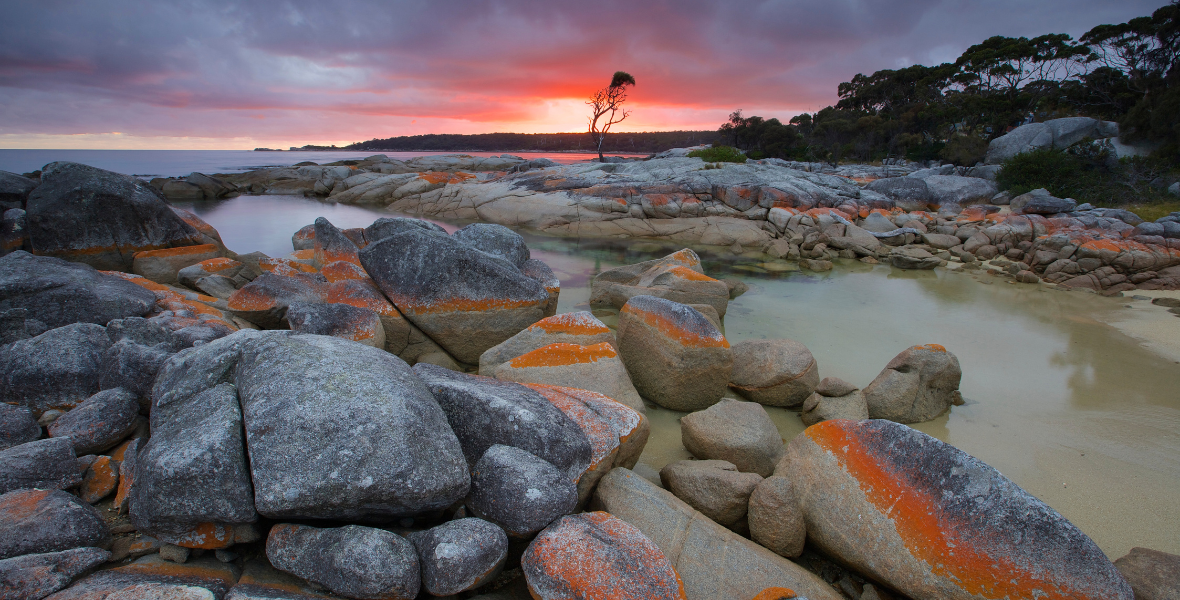 Image Source: Tourism Tasmania Visual Library
7. Salmon Ponds
Walk among the historic buildings and 19th-century gardens of the Salmon Ponds Heritage Hatchery and Gardens. You'll feel as though you've stepped back in time into a beautiful, peaceful English garden. Take a tour of the hatchery and ponds and visit the Museum of Trout Fishing and Angling Hall of Fame. You can even see one of Australia's most unusual creatures here – a wild platypus! Bring along a picnic and have lunch in the lush setting or enjoy a tasty treat from Pancakes by the Pond, the onsite café.
The Salmon Ponds is approximately 45 minutes from Hobart (44 km), situated in the picturesque Derwent Valley.
8. Bonorong Wildlife Sanctuary
Always wanted to meet a wombat, see a Tasmanian devil, or discover what an echidna is? The Bonorong Wildlife Sanctuary is the place to do it! Not only that, but you can also hand-feed other weird and wonderful creatures such as the Eastern quoll, tawny frogmouth, and ringtail possum! Daily tours are at 10am, 11.30am, 1.30pm, and 3.30pm.
The sanctuary is around 30 minutes drive from Hobart (29 km). Set your campervan GPS to 593 Briggs Road, Brighton.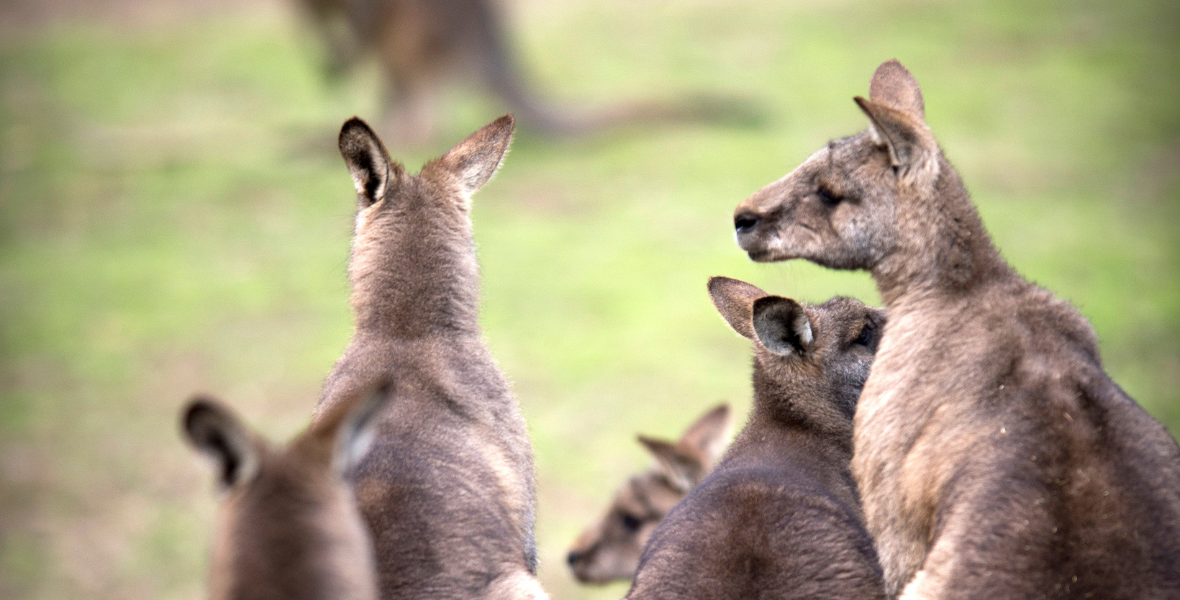 Image Source: Tourism Tasmania Visual Library
9. Tasmania Zoo
Lions, tigers, and bears … oh my! Actually, you won't find any bears at Tasmania Zoo but you will discover red pandas, ring-tailed lemurs, capybaras, snow leopards, and many more different species of incredible wildlife. Tasmania Zoo is home to over 1000 animals and 100 different species. You can even have a photo holding a Tasmanian devil, a wombat, or even a snake!
The zoo is located at 1166 Ecclestone Road, Riverside, Launceston. Around two hours and 45 minutes drive (213 km) from Hobart.
10. Hollybank Wilderness Adventures
In the mood for a little adventure on your Australian road trip? Burn off some energy at Hollybank Wilderness Adventures! This awesome park is packed full of adrenalin-burning adventures including the Tree Ropes Course, Zipcoaster, and Zipline tours. There's great stuff for younger family members too including Kidzip – for 8-12-year-olds. And for the littlest visitors, Early Bouncers is specially designed for under-fives.
Hollybank Wilderness Adventure is at 66 Hollybank Road, Underwood. Just under three hours' drive (221 km) from Hobart.
11. Seahorse World
Giddy up and get yourself and the family down to Seahorse World! This magical aquarium is a working seahorse farm! Did you know that seahorses can change colour? It's just one of the amazing facts you'll learn at Seahorse World. Take a guided tour through the Cave of the Seahorse and into the wonders of the Southern Ocean Aquarium. You'll even get the rare opportunity to hold a beautiful seahorse in the palm of your hand!
Seahorse World is located three hours and 15 minutes drive (247 km) from Hobart.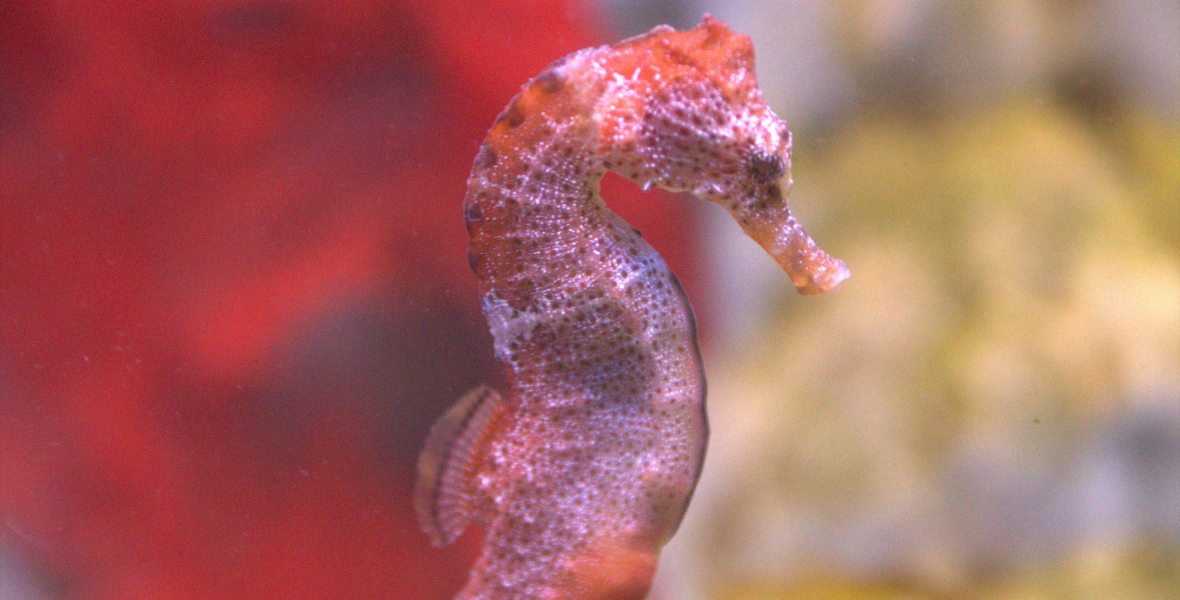 Image Source: Tourism Tasmania Visual Library
12. Low Head
A must-see on your ultimate Tasmanian campervan holiday is the quiet, scenic beach of Low Head. This captivating spot in Northern Tasmania is well worth adding to your road trip itinerary planner. While you're there, check out the Low Head Lighthouse – the oldest continuously used pilot station in Australia. You can also plan a penguin tour and take the rare opportunity to see Little Blue Penguins up close as they return to their burrows from the ocean. Low Head is also a great place to snorkel and scuba, enjoy walking trails and fish for salmon and calamari.
Low Head is three hours and 15 minutes drive from Hobart (255 km). There's also great campervan camping nearby at the East Beach Tourist Park.
13. Maria Island
No Tasmanian campervan holiday is complete without a visit to the Maria Island National Park. From short walks to overnight hikes, kayaking to fishing, there's something here for every family. To reach the park, you'll need to travel by passenger ferry from Triabunna, located off the Tasman Highway (A3). The ferry service runs between Triabunna and Darlington and takes around 45 minutes
Once you arrive, begin your adventure by exploring Darlington Probation Station – a World Heritage Australian Convict Site. From Darlington, continue your day (or days!) of discovery by wandering along the numerous trails on the island.
While you won't be able to take your campervan across to the island, you can stay overnight in the old Penitentiary buildings.
Triabunna is just over an hour's drive (85 km) from Hobart.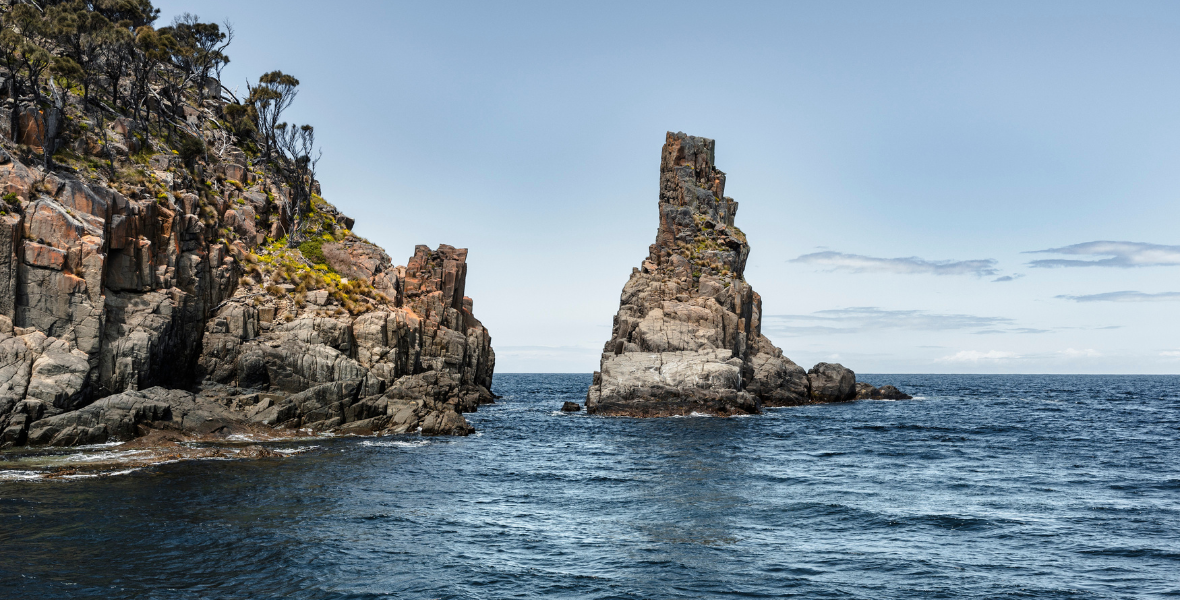 Image Source: Tourism Tasmania Visual Library
14. Bridestowe Lavender Estate
With its rows upon rows of fragrant purple lavender bushes, the Bridestowe Lavender Estate has to be seen to be believed. The estate spans over 260 acres and is the world's largest privately owned lavender farm. The best way to make the most of this incredible spot is to take a self-guided farm tour. From March to November, you can wander through the fields and learn a little about the history of Bridestowe. Don't forget to stock up on lavender goodies from the store before you leave.
Bridestowe Lavender Estate is at 296 Gillespies Road, Nabowla, about three hours and 15 minutes (251 km) from Hobart.
15. Aurora Australis
Seeing the magical, mystical Aurora Australis is an unforgettable event and one you'll definitely want to add to your Australian road trip itinerary planner. Tasmania is one of the best spots in the world to witness this southern sensation. The best time to see the light show is in winter when the nights are the longest. That said, the aurora can be seen throughout the year from Tasmania – the incredible November 2020 display appeared just a month before summer.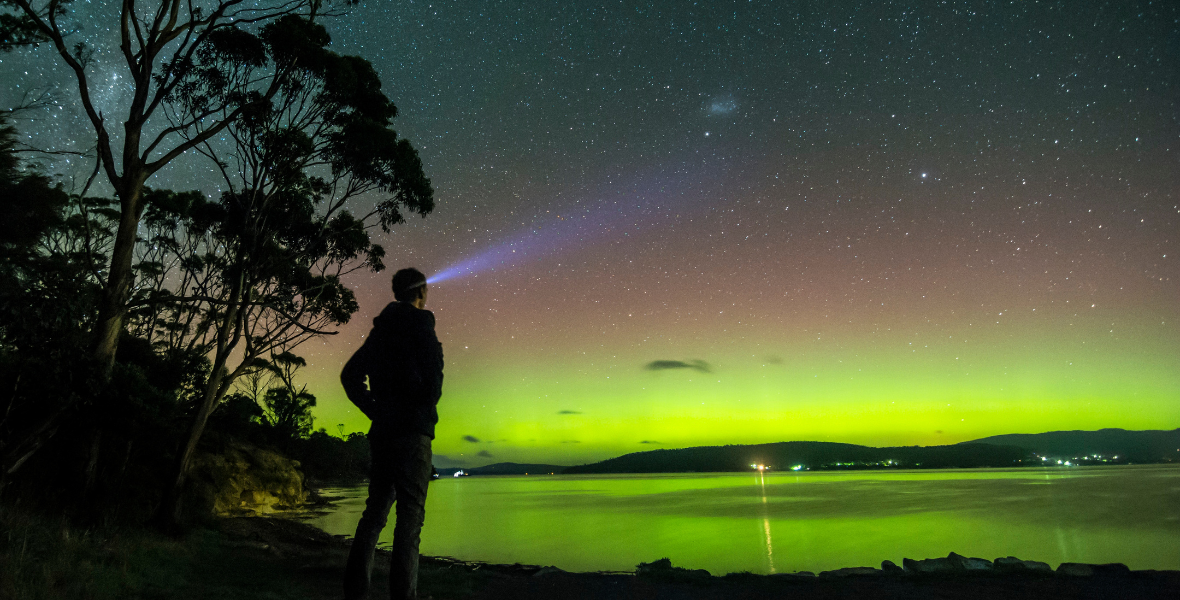 Image Source: Tourism Tasmania Visual Library
Ready to experience Tasmania?
From hang gliding across the treetops to meeting seahorses and Tasmanian devils, we're sure you'll agree that a Tasmania campervan holiday makes for a fantastic family holiday! Check out our blog loaded with great tips for a family friendly campervan trip in Tasmania.
Britz Australia makes it super easy to rent a travel van for your Tasmania Road trip. Simply book your campervan online, then pick it up from our Britz Hobart branch.