Join thousands of fellow campervan travellers
Sign up for our Britz newsletter to receive inspirational travel content and awesome deals, and we'll send you a copy of our Ultimate RV guide!
Thanks
Please confirm subscription in your email.
With the climate more temperate than other areas of Australia, Tasmania is comfortable to visit year-round, making it ideal for a road trip with the family in a campervan. You'll be treated to breathtaking views, unspoiled parks and reserves, white-sand beaches, and the freshest of foods.
Tasmania is a haven for wildlife including Aussie favourites like the enigmatic Tasmanian devil, and the wombat, koala and kangaroo. You can spend time getting up close and personal with the wildlife at places like the Bonorong Sanctuary and Tasmania Zoo, or see them in the wild at the many National Parks - over 40% of the island has been reserved for natural wilderness areas so there's plenty of room for exploring the outdoors.
While it's difficult to imagine now in contrast to its surrounding beauty, Tasmania was inhabited by Aboriginal Tasmanians (Tasmanian: Palawa or Pakana) before European contact in 1803, when it was set up as a colony for convicts. Its colourful history is both compelling and thought-provoking, with many sites to explore dotted around the state, including the Hobart Convict Penitentiary.
It's easy to see more and do more with the family on a campervan holiday in Tasmania. Simply pick up the camper from the Hobart branch located conveniently at the airport, hit the road, and get exploring.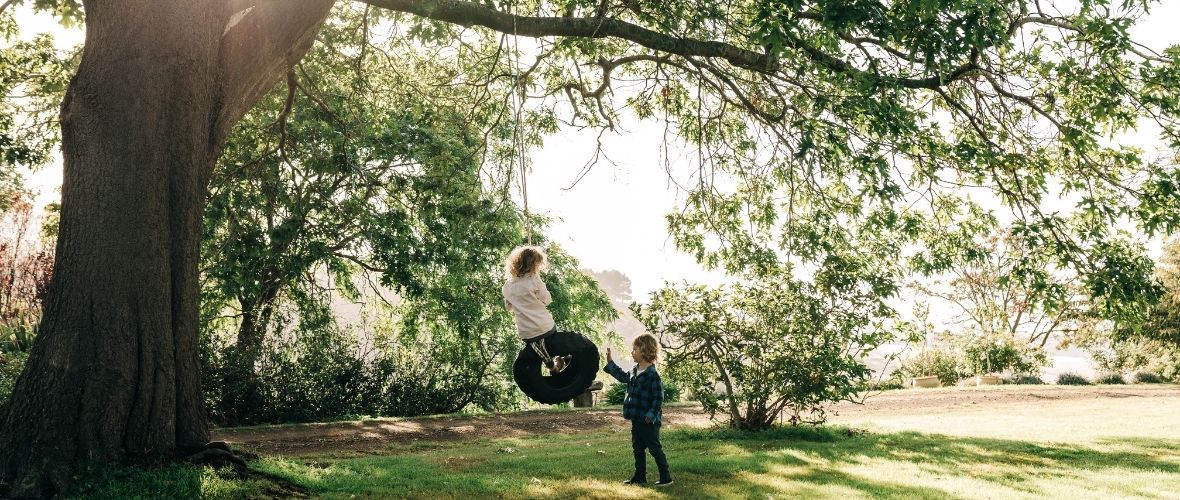 Image Source: Tasmania Visual Gallery
What is the climate like in Tasmania?
Unlike other states in Australia where it's hot all year round, Tasmania gets four distinct seasons (sometimes in one day!).
In summer, temperatures are very comfortable between 17 and 23 degrees Celsius, and in winter, they can be between 3 and 11 degrees Celsius. This is a little cooler than other states so pack warmer clothing, especially if you're travelling on to other areas.
Hobart is Australia's driest capital, while West Coast areas have more rainfall.
When is the best time to visit Tasmania?
What kind of traveller you are, and the experiences you want to have will help you decide when to go. Tasmania is one of those spots you'll find things to enjoy all year round, and because it isn't too hot, it's a great spot to visit while you're sharing a camper with the family.
If you're looking for warm weather, then you'll want to go between December and February when it's hot and dry, but this is also peak season so you'll be sharing the place with more people. If you prefer to have more of the place to yourself, then aim for March to May when it's quieter.
The decider might be the Humpback whales that visit the region! The best time to see them is from May to July, and September to November.
How to get to Tasmania
Tasmania is an island, so you'll need to take a ferry to get there, or get on a flight to Hobart.
If you're starting your campervan holiday in Tasmania, pick up the camper from the Britz Branch at Hobart airport once you arrive. If your road trip has started in another location and you're already acquainted with your camper, ferries leave from Port Melbourne and arrive in Devonport. Do check what you have onboard as fresh fruit and veges, fish, plant products and more can't be brought into Tasmania.
Taking a camper means you and the family can go at your own pace, see what you want, do what you want, and explore more of this beautiful state.
Where you can stay in Tasmania
There are more than 50 caravan parks around the state so you're spoiled for choice for places to stay. Campsites can be found in most parks and reserves, offering a wilderness experience on and off the beaten track, or choose to stay near the beach, farmland and bush. The thl Roadtrip app will be your new best friend when it comes to finding places to stay!
Explore by region
Top tips for a family campervan trip in Tasmania
1. Check the forecast for the areas you plan to travel to
You might expect hot weather all over Australia, but Tasmania has a more diverse climate, and it differs in each area and by season. If you have outdoor activities planned or you're travelling to another area, check the weather before you head out so you don't get caught out.
2. Pack all weather gear
It's not uncommon to get sudden changes in weather in Tasmania. Some areas can be quite unpredictable, and if you're heading for a bushwalk or will be out and about in the elements, you'll need to carry extra layers of warm clothing, just in case. Make sure one layer is waterproof!
There are loads of great hiking tracks so if you're keen on adventuring, bring your hiking boots and walking gear.
Remember to always carry sunscreen and sun protection like sunglasses and hats. Even if it's cloudy, you can still get sunburnt in Australia.
3. Immerse yourself in nature
Tasmania is home to incredible natural beauty spots, and there are just some you shouldn't miss.
The gorgeous Royal Tasmanian Botanical Gardens is set on the banks of the River Derwent, and was established back in 1818. The grounds feature one-of-a-kind exhibits, including the Subantarctic Plant House with a cold mist keeping conditions just right. A great spot for family picnics.
Russell Falls in the Mt Field National Park is the most photographed waterfall in Tasmania, and is arguably the prettiest. It'll take you just over an hour to get there from Hobart. If you're camping locally, a walk to the falls at night to see the glow worms takes you on a magical path transformed by what looks like thousands of stars in the sky.
Iconic Cradle Mountain in the Lake St Clair National Park is an adventure wonderland of ancient rainforests, deep river gorges, snow-covered mountains and glacial lakes. Explore the magical forest on the Enchanted Walk or Rainforest Walk, go horse riding along the coast, or explore the times of the Weindorfers with their Waldheim Chalet and Forest Walk. Stay overnight for an authentic wilderness experience in a rustic cabin in the mountains.
A walk along the Freycinet Walk & Cycle Track in the Freycinet National Park takes you through coastal heath and woodland, and is a lovely 4km alternative to the steep climbs, with unique views of the boulder-studded range known as The Hazards. Or take the easy family walk around the lighthouse at Cape Tourville. Much of the walk is along a raised boardwalk and offers stunning views of the coast, The Hazards, Wineglass Bay and the nearby offshore rocks known as The Nuggets.
Famous for its soaring sea cliffs and striking rock formations, the Tasman National Park is dramatic and diverse. It's home to an array of wildlife and marine life (spot the fur seals along the coastline!), and bush walks taking you to views overlooking deep chasms, white sand beaches, offshore islands and a waterfall dropping from a sheer cliff face.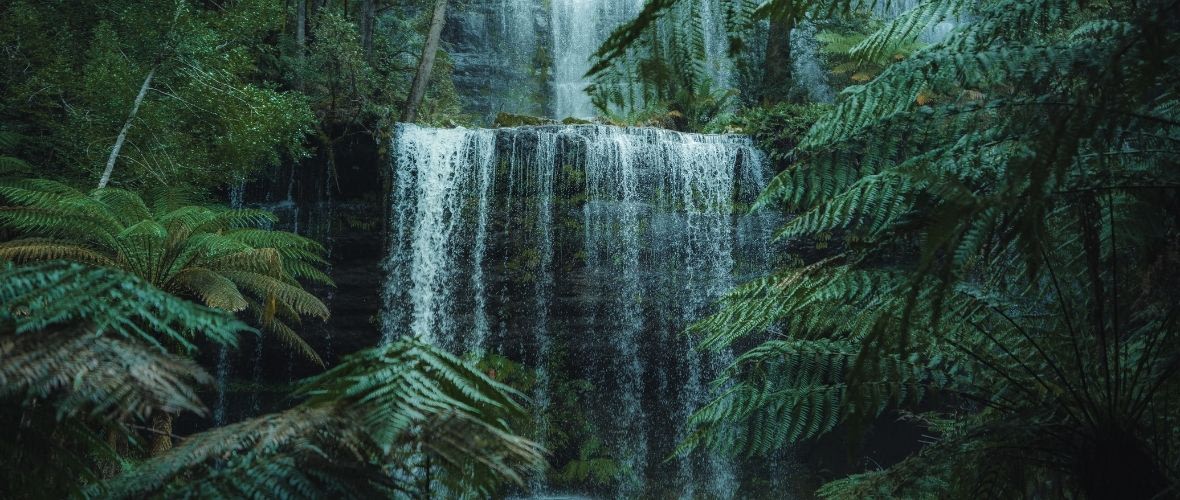 Image Source: Tasmania Visual Gallery
4. Drive carefully on the roads
There's an abundance of wildlife in Tasmania, but wild animals in their natural habitat don't always know roads can be scary places. You may see them roaming on or near the roads, and they may dart in front of you at the last minute, so do take care and keep your eyes out while driving.
Before you hit the road each day, take note of what the weather conditions are doing, especially if it's wet, and drive carefully if the conditions are poor. Some areas like the central highland region even get snow so do check before you go.
Take your time. There's plenty to see and no need to rush when you're on holiday.
5. Visit the wildlife
Yes, the Tasmanian Devil is a real creature and not just a cartoon character. As the name suggests, these mammals are found only in Tasmania and you'll want to go meet one, which you can do at the Bonorong Sanctuary. You're in luck if you're keen on seeing more Australian cuties too, as the Sanctuary is also home to koalas, wombats, kangaroos, Tasmanian Bettongs and more.
There was a time when whales were so frequent visitors to Tasmanian waters, it was considered dangerous to cross the Derwent estuary in small boats, but sadly numbers have diminished significantly as a result of 19th Century whaling. You can still see the rare Southern Right Whale, and Frederick Henry Bay and Great Oyster Bay. The east coast are excellent vantage points for whale watching.
And you're in for a treat at the Tasmania Zoo. With over 100 rare, exotic and native species, nestled in the foothills near the Tamar Valley, the Zoo features lions, tigers, mandrills, snakes and more, and gets you up close and personal with cheetahs, red pandas, caracals amongst others. The kids will love it!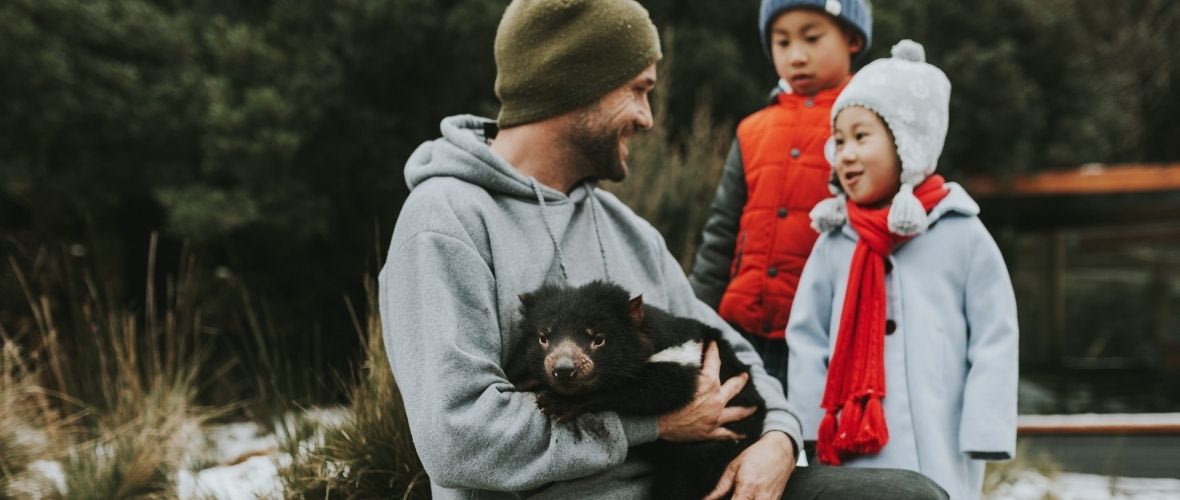 Image Source: Tasmania Visual Gallery
6. Enjoy the festivals and markets
Hobart plays host to the famous Taste of Summer festival around New Year each year. Over 80 of the state's finest food and drink producers come together to tempt you to try their signature dishes and beverages, and stock up for the next leg with locally-produced delights. Local artists entertain throughout the festival and keep the vibe fun and the party going. Be sure to stock up the camper with delicious morsels for the road.
First established in 1972, the Salamanca Market is an institution. Every Saturday, more than 200 stallholders (made up of artisans, designers and producers) line Salamanca Place in Salamanca. It's a great place to explore, enjoy a tasty treat, come away with beautiful handcrafted items, and get fresh produce for your travels.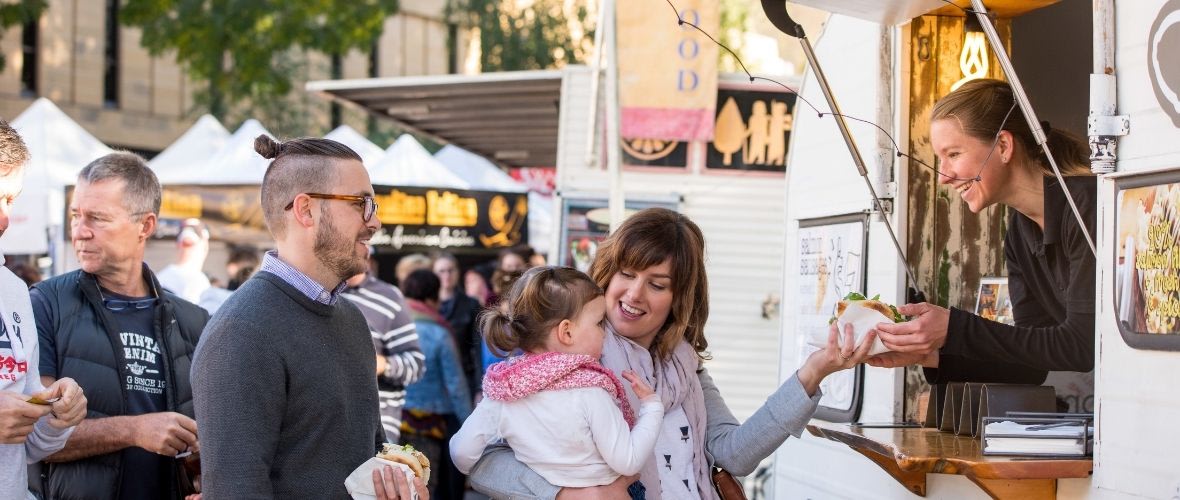 Image Source: Tasmania Visual Gallery
7. Take in the culture
The Museum of Old and New Art (MONA) houses ancient, modern and contemporary art from the David Walsh collection, complemented by stunning architecture, fine dining, and opulent and unique themed experiences and private tours. There are no windows and it features a fun illusion of a never-ending maze of stairs.
You can also visit the MONA grounds for free to just lounge on the lawn, look at the outdoor art, and enjoy live music and alfresco eating and dining.
Learn about the history of the state at the Tasmanian Museum And Art Gallery. Over 200,000 items are stored in their collections, with displays celebrating the Aboriginal generations, the Tasmanian tiger, the unique geology, and works of art.
Uncover the hidden secrets at the Hobart Convict Penitentiary. This internationally significant and thoroughly fascinating convict site is right in the heart of Hobart, and is home to underground tunnels, a chapel, solitary cells and still-working gallows, with incredible tales of crime and punishment of the convicts sent to the colonies. The kids will love getting lost and may even learn a thing or two!
8. Don't miss all the family-friendly attractions
For adventure, fun and treasure hunting, add Penny Royal to your Launceston itinerary. You'll get the adrenaline going with the suspended cliff walk, indoor and outdoor rock climbing walls, cliff jump and zip lines. Then take a trip back in time to Van Diemen's Land and the daring escapades of escaped convict Matthew Brady.
The treasure hunters in the family will enjoy fossicking and panning for gold and gemstones in the Penny Royal Mine. Any treasures you find are yours to keep!
Did you know seahorses have tails similar to a monkey and can grab onto anything? This is just one of the many things to discover about the intriguing residents at Seahorse World. It's not your everyday aquarium experience, with a fascinating behind-the-scenes look on guided tours, and a hands-on holiday program for the kids.
Getting lost isn't something you'd normally plan to do on your road trip, but when it's in a crazy complex of mazes, it's hilarious. There are over 8 crazy and clever mazes to challenge the whole family at the quirky Tasmazia and the Village of Lower Crackpot, and a lavender farm to escape to when you need a break.
Convinced that Tasmania is the perfect destination for your next family holiday? Of course you are! Pack your bags and book an adventure of a lifetime with Britz.
More inspiration