Join thousands of fellow campervan travellers
Sign up for our Britz newsletter to receive inspirational travel content and awesome deals, and we'll send you a copy of our Ultimate RV guide!
Thanks
Please confirm subscription in your email.
1. Play spotto
Spotto is an age-old road trip favourite. We've created the ultimate Aussie version to keep the kids entertained on your next road trip.
To play this game you read off a cluster of items and see who can spot each of them first.
Laugh and have fun with the kids, or have a competition and see who spots what!
Click the image below to download.
2. Bring all the roadtrip snacks
Snacks are a great way to keep the kids entertained (and fed!) on a long road trip. Bringing your own snacks for the kids is also a great way to save money on the road, plus it can help out with your picky eaters!
Make snack necklaces
Snack necklaces are an activity and snack in one - does it get any better than that? This is a great activity you can prepare before you leave home, and it can be pulled out for the kids whenever they need it. It's also helpful to keep snacks contained, rather than in loose containers that can spill everywhere.
The items you will need for a snack necklace are:
A piece of string - kitchen or bakers twine is ideal as it doesn't shed too much
A clip top container
Snacks with a hole in the middle (things like chips, cereals or candy are ideal)
To make a snack necklace:
Cut a piece of string at the length you want the necklace to be - remember to leave enough length so you can tie a knot at the end
Fill up a clip top container with treats that the string can be looped through
Let the kids loop their chosen snacks on
Tie off the ends once it's complete, to create the necklace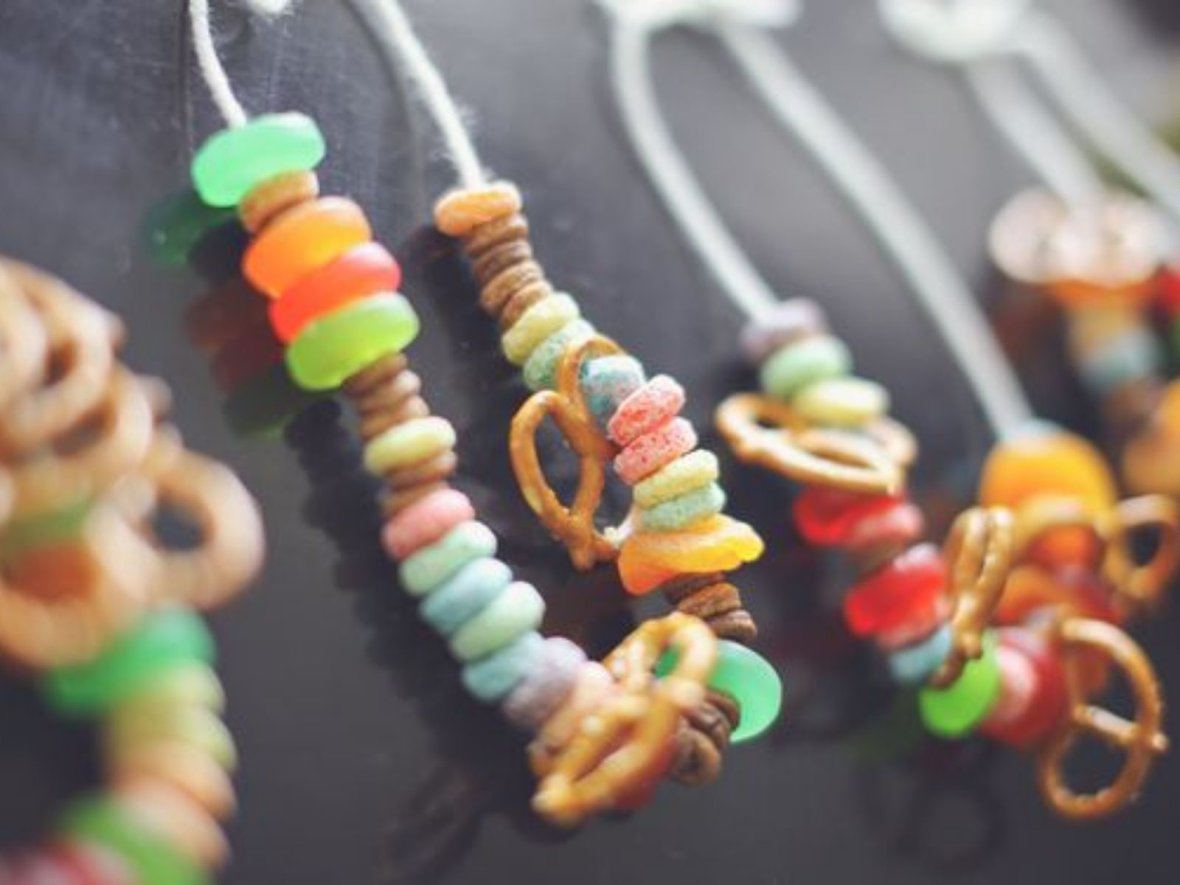 Image source: Pinterest
2. Snacks in a tackle box
Packing all the kids' favourite snacks into a tackle box not only gives them lots of options, but it also helps to keep them preoccupied while they choose what to eat!
Dried or sealed foods work well and help to reduce any messy mixing if it gets tossed around a bit! Keep vege or fruit cool in the motorhome fridge.
Some great things to include in a kids snack box include:
Dried fruits
Nuts and seeds
Crackers
Muesli bars or slices
Popcorn
Pita chips
Fresh vege like carrot or celery sticks
Fresh fruit like grapes or blueberries
Mini club sandwiches
Cheese slices
Mini muffins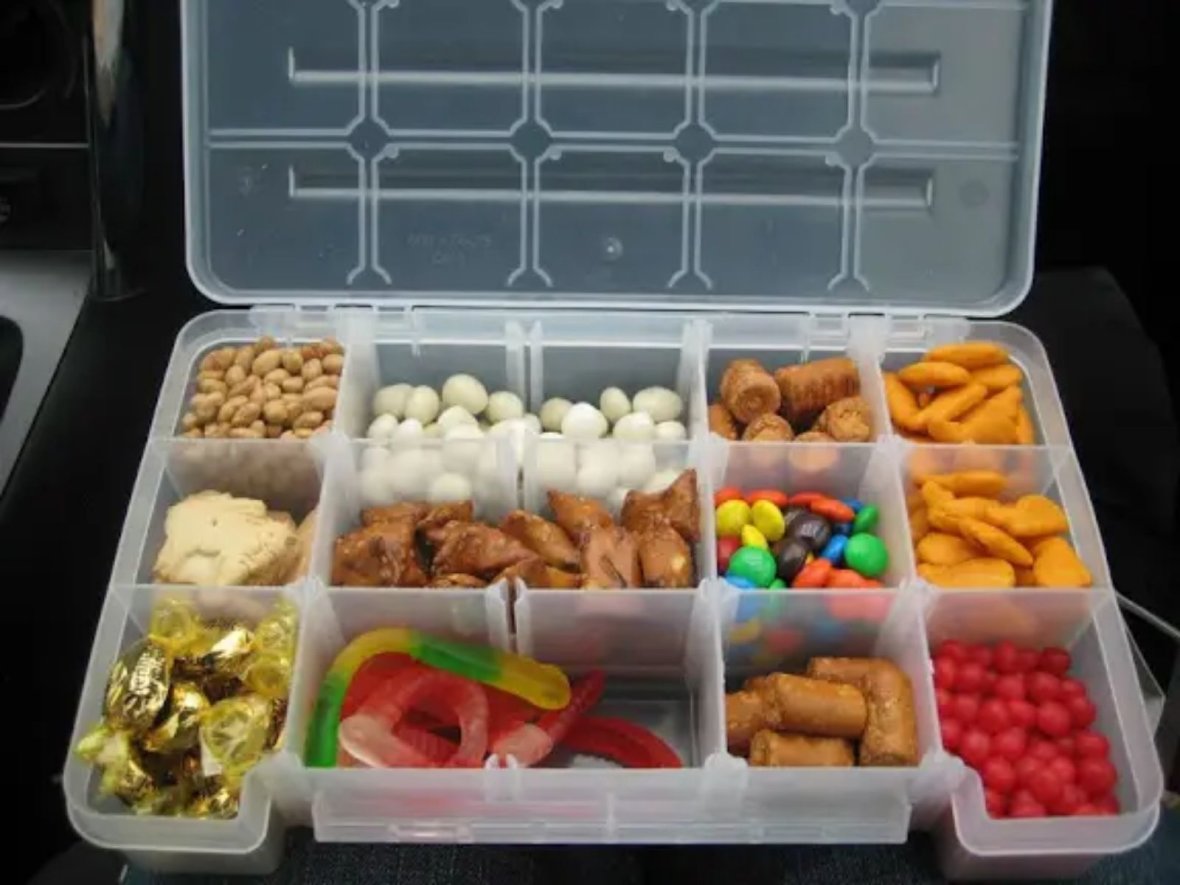 Image source: Buzzfeed
3. Plan fun stops along the way
A good way to break up long road trips is to plan some fun stops where the kids can let off some energy.
Whether it's exploring a National Park or an interactive activity at a local attraction, finding a spot to stop will not only keep the kids happy, but gives you an opportunity to create some memories with the family too.
Some pitstop locations could include:
Parks and reserves...Play grounds are always a popular option, and kid friendly Australian walking tracks are a nice way to stretch and spot some wildlife. Make walks even more fun with a nature spotting game, where kids can check off items as they see them!
Interactive museums... A museum where kids can touch, play, listen or watch are sure to keep them entertained and they might learn a thing or two as well!
Outdoor sporting spots... Bring the tennis rackets or cricket bat along, and you are sure to find some courts or fields to play with the family
Zoos or Wildlife sanctuaries... Not only is it fun to see animals up close, the kids will love learning about all sorts of weird and wonderful animals
Water or adventure parks... Water parks in the warmer months are sure to keep the kids happy and cool, and adventure parks with rides are fun for the whole family!
Local markets... Lots of smaller towns will have markets every weekend where the family can wander and gather trinkets.
Swimming pools or beaches... Even if it's a little cold to swim at the beach, heading down to collect shells or spot wildlife can still be a lot of fun!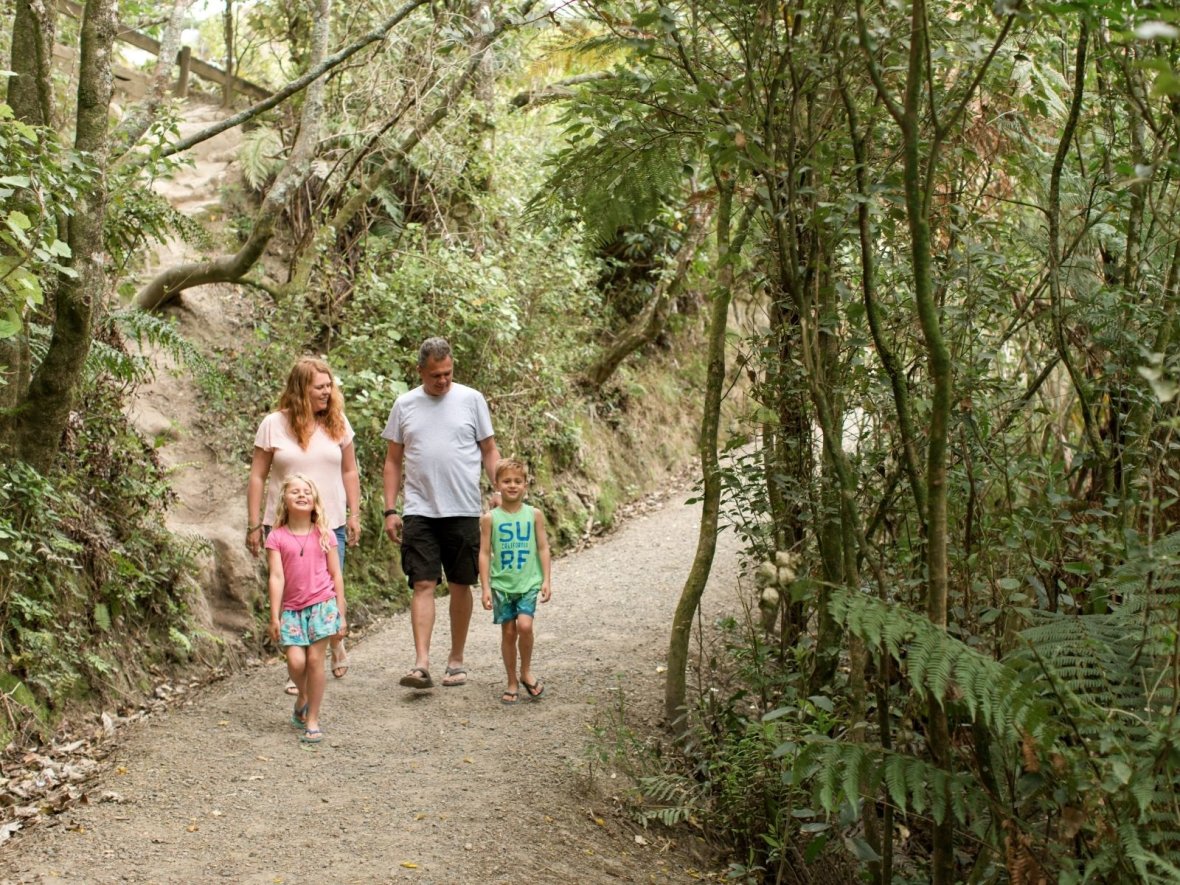 4. Play licence plate lingo
With large windows to see out of, license plate bingo couldn't be any easier when you are on the move! Playing games that cost you nothing is a great way to travel cheaply with kids and you can play anytime!
All you need to do is spot any license plate and see what meanings the kids (or parents) can make of it!
TJK - could be That Jumping Kangaroo! The person with the funniest, silliest or best words wins!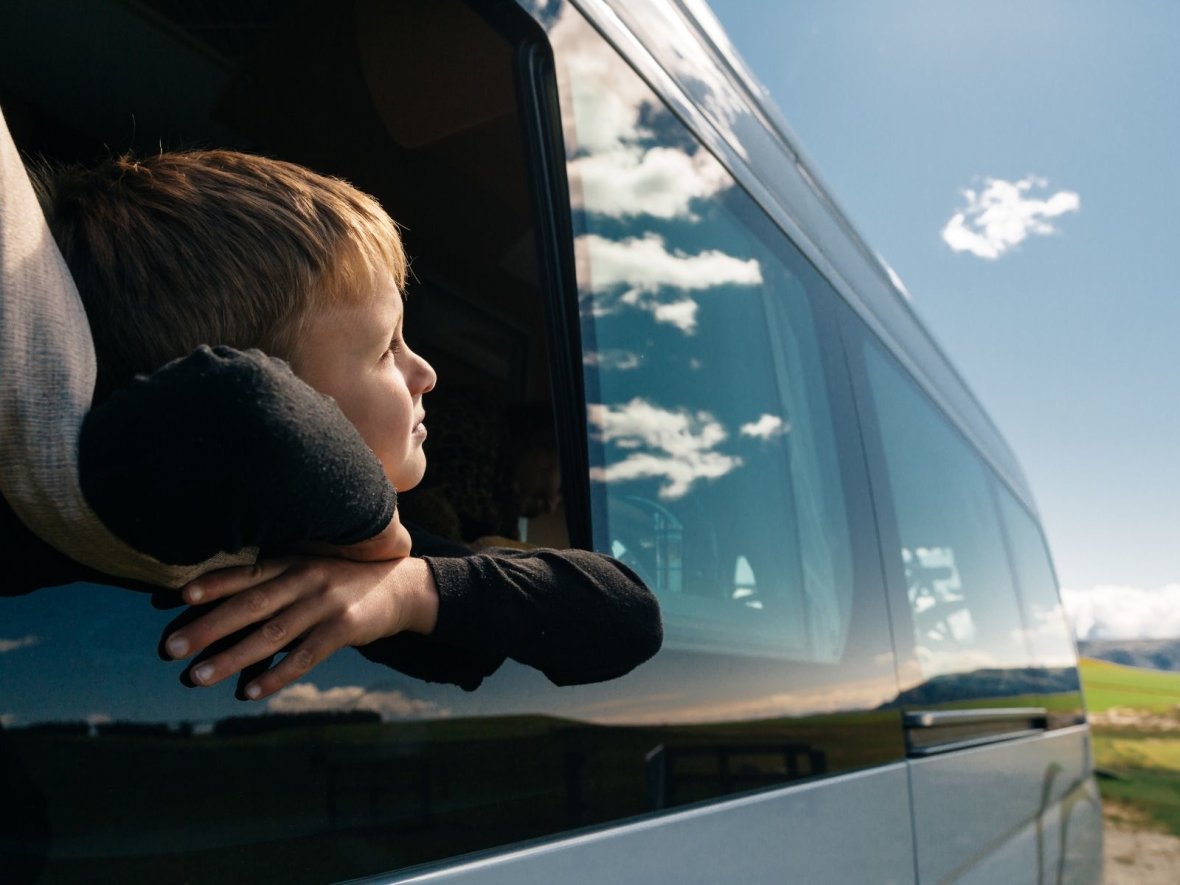 5. Listen to audiobooks
Whether it's an adventure story or an educational book, an audiobook is a great quiet time option, especially for the evenings when kids are needing to wind down from a big day of exploring.
Kids audiobooks can help to develop their vocabulary and support them with learning new language skills when you are busy driving or cooking a meal in the camper.
It will also put parents' minds at ease knowing the library books are safe at home!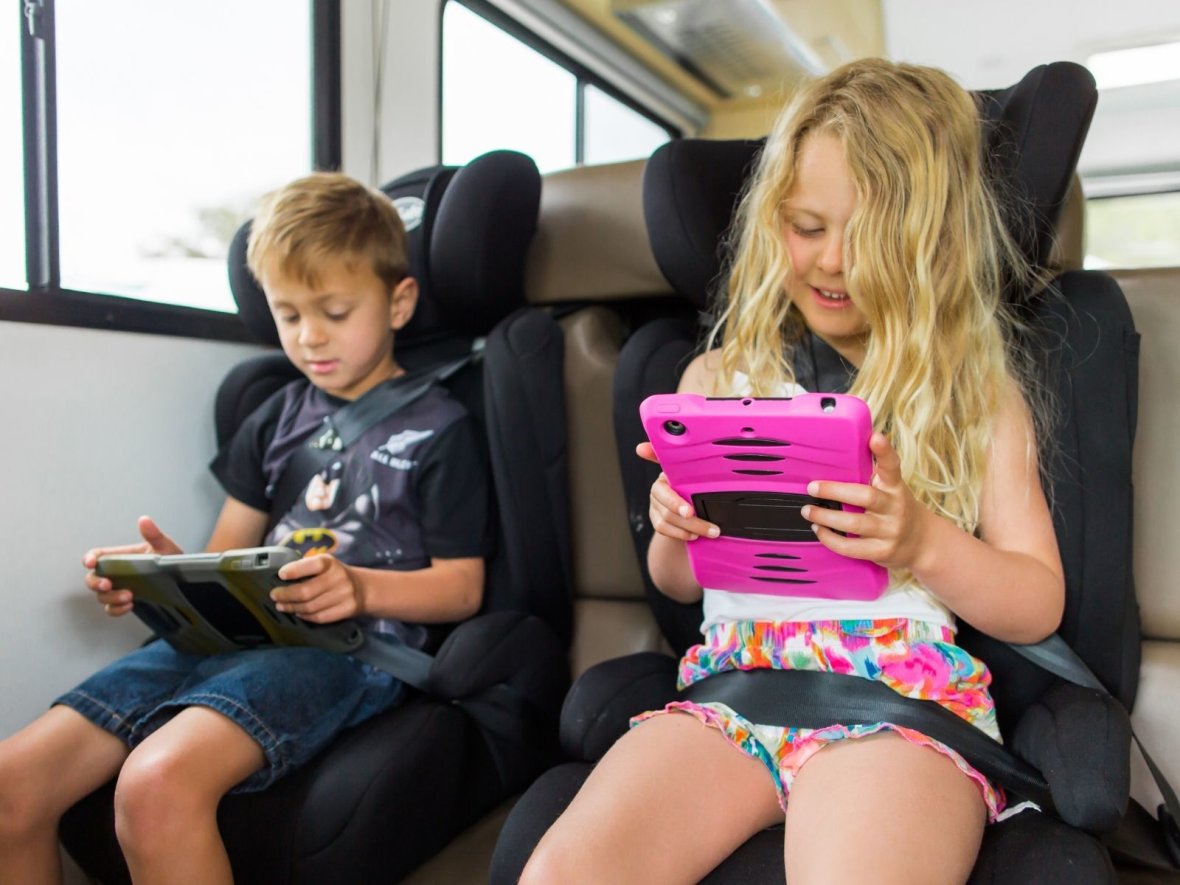 6. Download educational apps
They do say kids' minds are like sponges, so why not set them up with an educational app to help keep their minds stimulated on the long drives.
Some types of educational apps for kids include: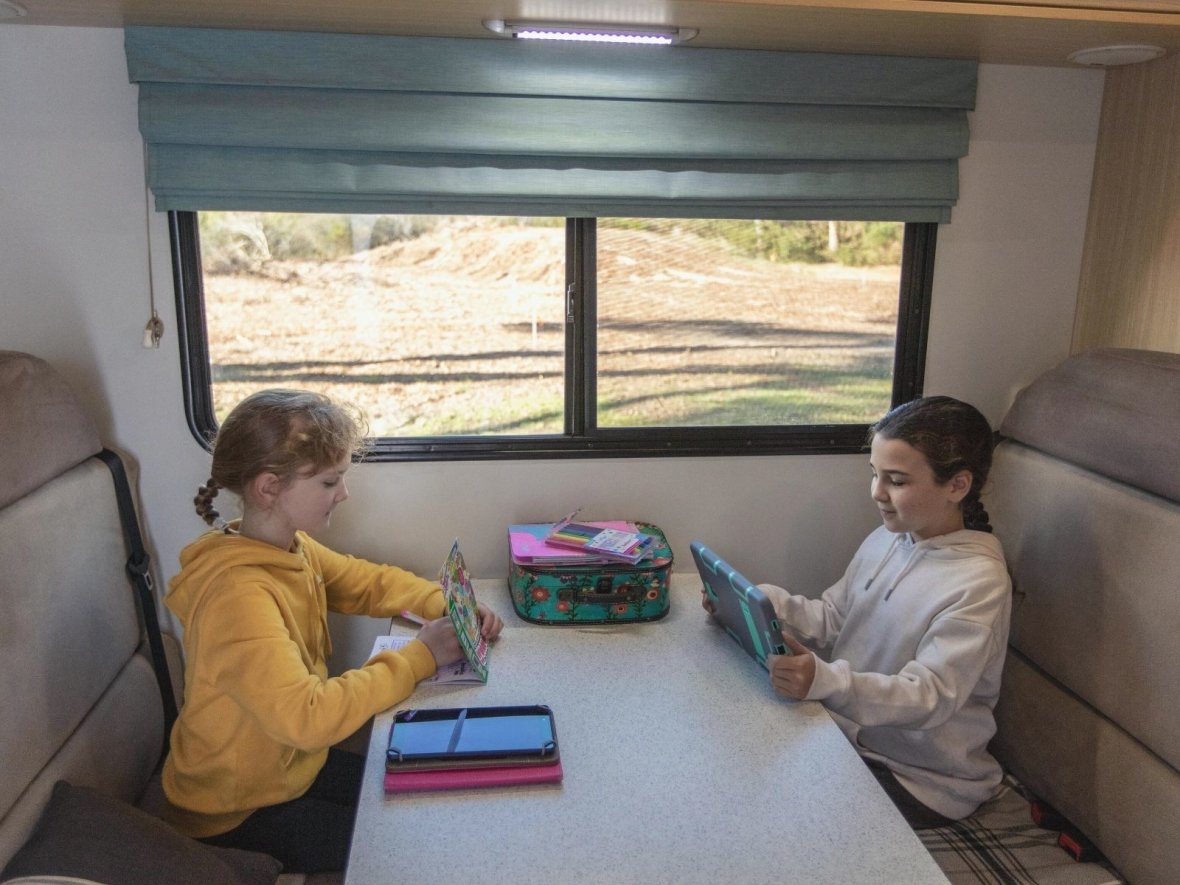 7. Pop on a movie or cartoons
A little bit of screen time with the family is a lovely way to cuddle up in the evening or on colder days, for quality time. Rug up under a blanket with a hot drink and enjoy your favourite movies.
Most Britz campers come equipped with a DVD player so you can flick a movie or cartoon on when you are plugged in at your campsite. Another option is to bring along your portable DVD player or iPad so you can watch on the move.
You can also use your flat screen tv when not plugged in, as it runs on 12V (not 240V) power but just know this can drain the house battery, so it's advisable to use it when you have plenty of charge or are plugged in.
8. Pack colouring or workbooks in binders
Prep for your road trip by printing activity sheets and colouring-in pages and putting them into hard backed binders.
Kids can play and work through at their own pace around the camper table.
Educational printouts are also a great way to utilise spare time, so kids can carry on learning to write or be creative.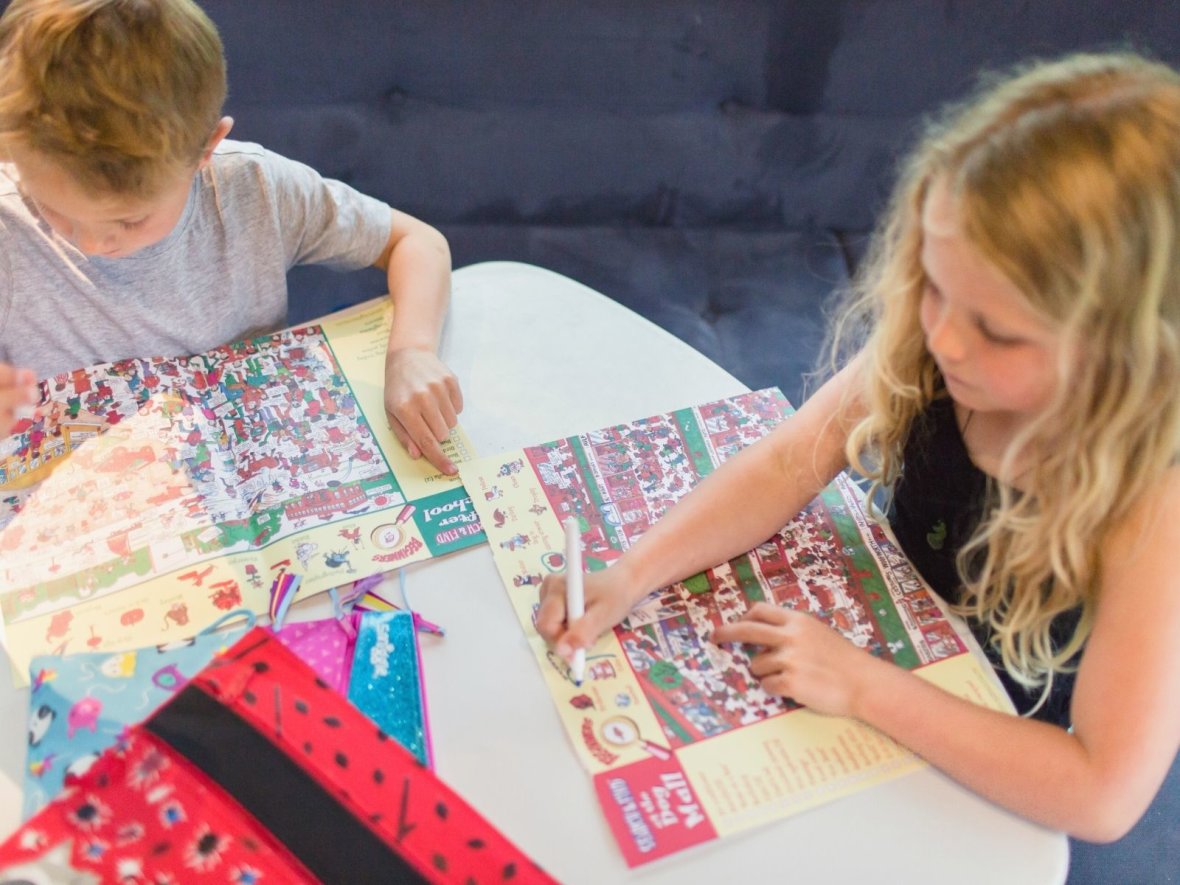 9. Have a sing-along
Dust off those vocal cords and have a bit of a sing-along!
Britz campers have speakers so you can jam along to whatever your musical taste is. A cool way to make music time more fun is to each have a turn picking a song!
10. Play 20 questions
20 questions is a fun game that can be played with almost any theme in mind!
The objective of this game is to have one family member think of a person or object, and everyone else together has 20 questions to guess what it is!
Some fun topics for this game are:
Famous people
Foods
Things you can see inside or outside the camper
Items you might see in a particular location like the beach
Animals
To make the game a little harder the person with the word can only answer yes or no as their response!
11. Make your own storytime
To play this game, each person tells a line of a story, then the next person adds to it.
You are guaranteed to end up with a weird and wonderful story, and it's a great way of encouraging kids to be creative and think outside the box!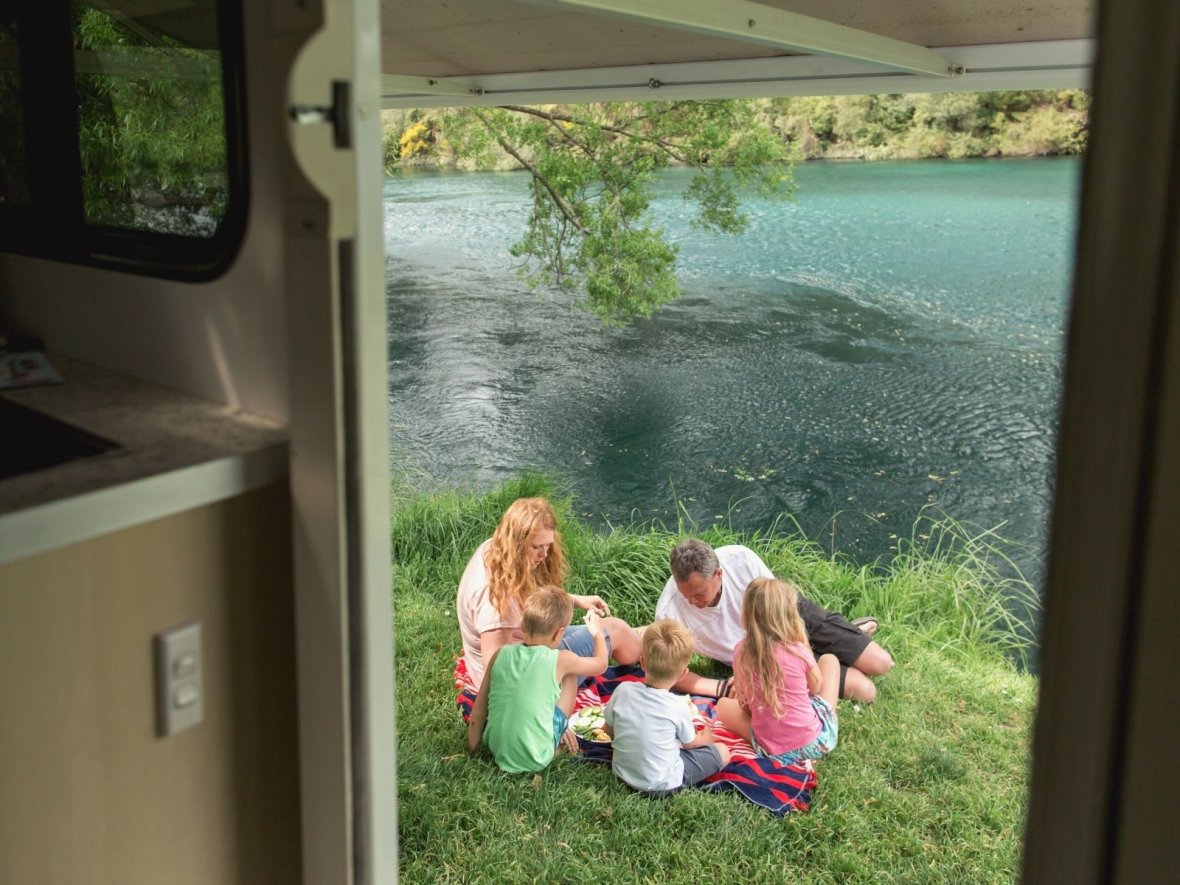 12. Play would you rather
To play 'would you rather', just think of two different options on any topic and have everyone pick which they would prefer.
This game can be a lot of fun, and the sillier the better really!
Here are some game topics:
Food - would you rather eat broccoli dipped in chocolate or have lollies in your chicken soup?
Body questions - would you rather have feet for hands, or hands for feet?
Superpowers - would you rather be invisible, or be able to fly?
Intelligence - would you rather be able to solve any maths question or any science question?
Animals - would you rather have 20 dogs or 20 cats?
13. Keep a surprise bag of toys handy for emergencies
Utilise some of the storage in the camper to stash away a surprise bag of treats, or even some extra toys.
Whether it's some extra special snacks, a favourite toy from home or a new thing to play with, this could be just what you need to keep the kids happy if they start to get a bit restless!
Take a family vacation with Britz AU
Make the most of your vacation time as a family, and consider a Britz campervan hire for your next trip. There's no better way to get quality family time than seeing the sites together in your home on wheels. Visit your nearest Britz hire location today.