Join thousands of fellow campervan travellers
Sign up for our Britz newsletter to receive inspirational travel content and awesome deals, and we'll send you a copy of our Ultimate RV guide!
Thanks
Please confirm subscription in your email.
Karloo Pools - Royal National Park
Karloo Pools is a bush oasis tucked away in the Royal National Park, just south of Sydney. The main pool is around 20 metres long and 10 metres wide – large enough for swimming laps or just floating around on a busy summer day. This spot is also perfect for a picnic, and offers great views of Kangaroo Falls on the walk over. If you're looking to get a little movement into your day, there is also an option to do a 10 km round trip walk to explore this area!
How to get there: 6 km round trip on foot, 2 hours return from Heathcote Train Station.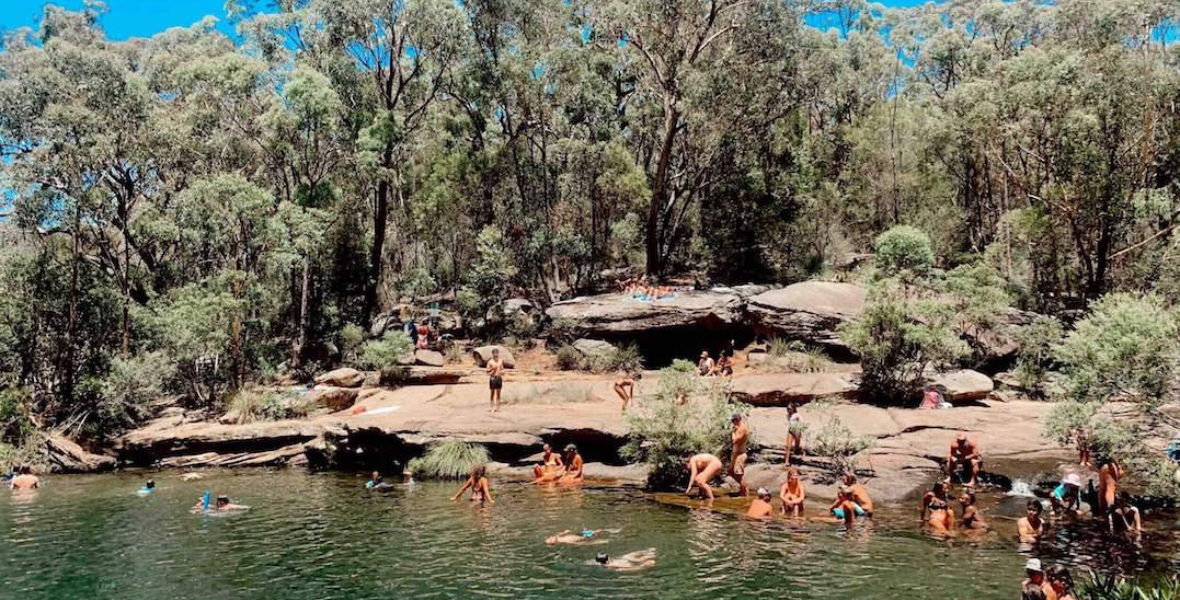 Image Source: Shire Scout
Nellies Glen - Katoomba
Nellies Glen in Budderoo National Park is a great little swimming spot for anyone visiting the Kangaroo Valley region. After a short wander from the carpark, under the cool reprieve of the forest, you will emerge to a fern lined oasis. The large pool is perfect for a midsummer cool off, all while relaxing to the sounds of the waterfall. In addition to swimming in the cool waters beneath the waterfall, this is a great picnic spot, an awesome spot for birdwatching, and offers plenty of short walks beneath the magnificent eucalyptus forest.
How to get there: Easy 100m walk from the carpark.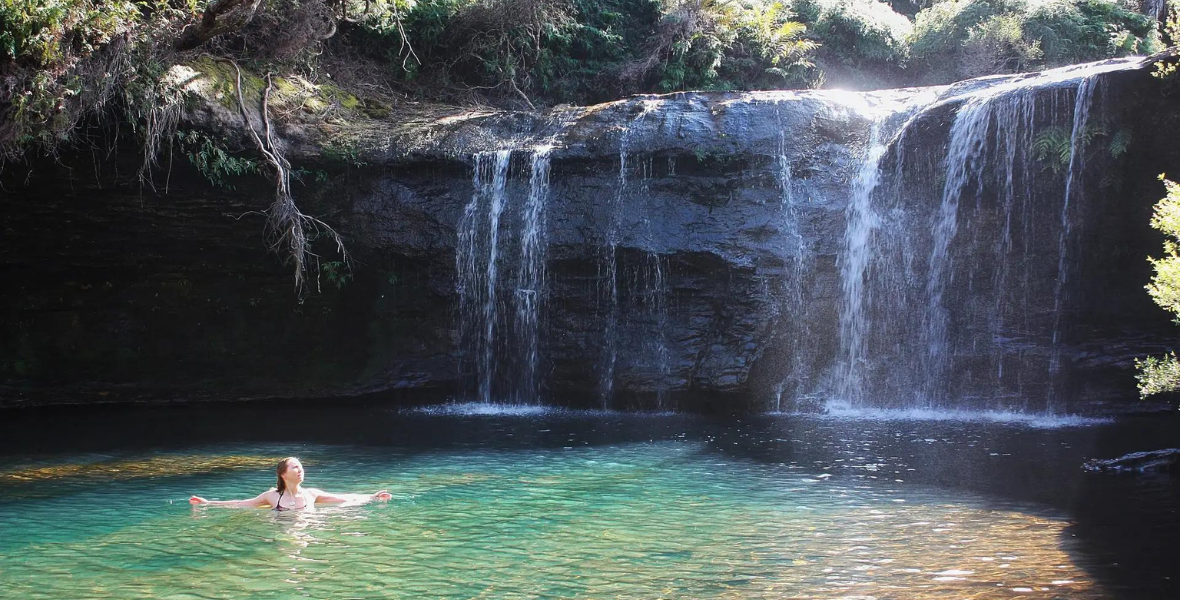 Image Source: Bushwalk the Gong
Figure 8 Pool - Sydney National Park
Figure 8 Pool is a unique set of pools precariously located on an ocean rock shelf in Sydney's Royal National Park. This pool, as described, is shaped like a figure eight and (in the right conditions) offers a great spot for swimming, whale watching, and marveling at the unique rock formations. However, this unique swimming spot can be challenging to access. It requires a long, challenging walk in through the surrounding bushland. In addition, this rockpool is only visible at low tide and can become dangerous at high tide. As such, be sure to brief yourself on NSW bushwalking safety practices as well as water safety before visiting this swimming hole.
How to get there: This swimming spot involves a 6km walk – 2 hours each way. It is quite a steep track in places, and so is not recommended for children. (Please note this walk requires planning around the tides, and you should only go when deemed safe. If you are not confident, it might pay to take a guided tour).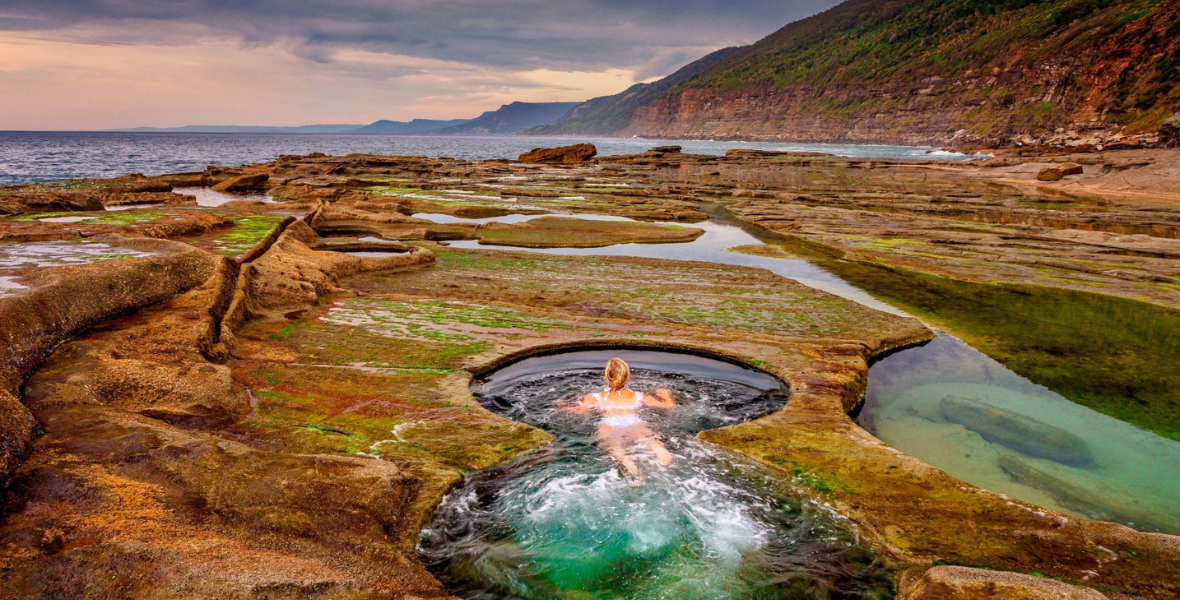 Image Source: Secret Sydney
Blue Pool - Bermagui
Blue Pool is one of 100 ocean-fed rock pools in NSW, but arguably the prettiest! This scenic swimming and snorkelling spot offers an array of fascinating marine life, as well as an idyllic viewing platform. After a short scramble down the stair-studded cliff, you will be greeted by this 50 metre long pool. A perfect mix of natural rocks and man made features (like the stairs into the pool), make it the perfect family friendly swimming spot. There is even a smaller, shallow pool for kids! Located in the coastal region of Bermagui on the Sapphire Coast, this is a must-do on a Sydney to Melbourne road trip, or an east coast road trip.
How to get there: This is easy to get to from the town centre. There are a set of steps that lead from the road down to the pool. However, for this reason, this pool is not suitable for those with accessibility needs.
Dangar Falls - Dorrigo
Dangar Falls (not to be confused with Dangars Falls a few hours away!) is located 2 km outside of Dorrigo – just 6 hours from Sydney. After finding a spot to park in the carpark, make your way over to the lookout to admire this beauty from a distance. Then, make your way down the short but scenic boardwalk toward the base of the falls. At the base you will find another lookout platform, where you can snap a few photos of this gorgeous waterfall. Then, it's time to go for a swim! While it can be tempting to swim under the waterfall itself, just be aware that this waterfall is known for its strong currents. So if you choose to go for a swim under the falls, ensure you are a confident swimmer! Overall, this is a fantastic spot for a family day trip with facilities closeby to the falls, including toilets and playground nearby.
How to get there: This waterfall is relatively easy to access, with only a short 30 min return walk on a 600m boardwalk track.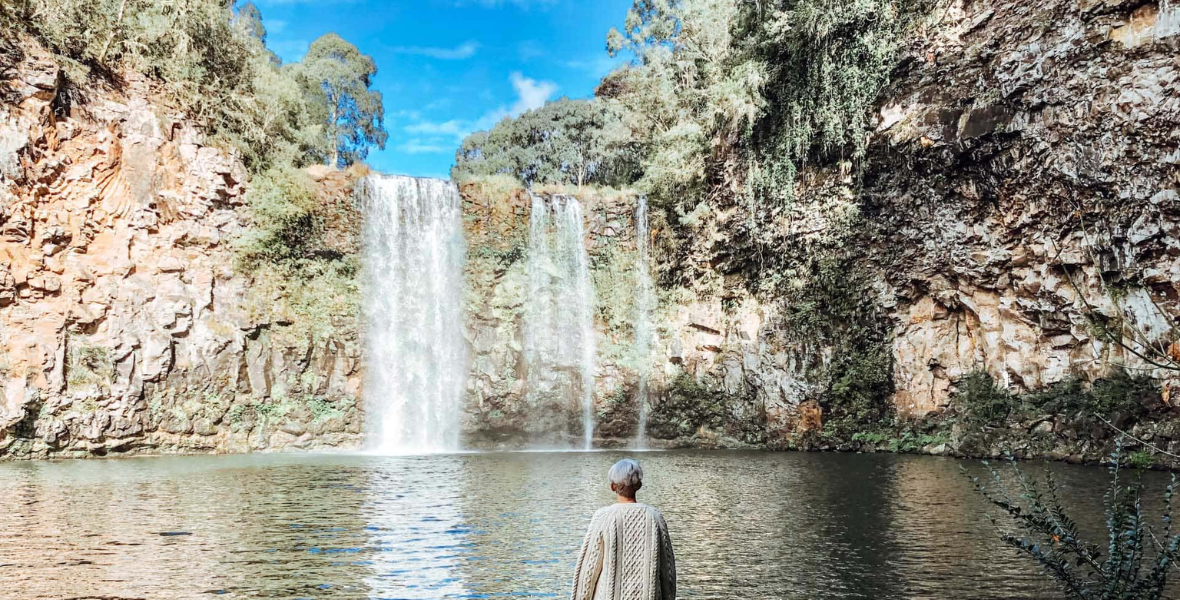 Image Source: Londoner in Sydney
Goburra Pool - Heathcote National Park
Goburra Pool is wild swimming at its finest. This swimming hole is located in Heathcote National Park, just a short 45 minute drive from the heart of Sydney. After finding a park in the western end of Oliver Street, you will see the Goburra Track easily signposted. From here you will follow a small bushtrack down to the pool. This wide, open and rocky edged pool is quite off the beaten track, and so isn't super busy. This is the perfect destination for anyone looking to avoid the crowds. There are also lots of nearby waterholes to explore, or you can simply soak in the sun-warmed waters and admire the lily pads and little lizards sharing the space.
How to get there: Relatively easy walk that is well signposted. A steep yet short trail of 110 metre elevation and 580 metres each way.
Scouts Falls – Coffs Harbour
Scouts Falls is the perfect swimming spot for hiking enthusiasts. After challenging yourself to the moderate 1.1km hike in, you will be greeted by a majestic 10-metre-high waterfall cascading into the deep, crystal clear pool below. Treat yourself to a swim in the wild falls, enjoy a picnic lunch by the sound of the running water, or simply soak up the ambiance. Best of all, these falls are known for being safe to swim under if you choose!
How to get there: Access to this NSW swimming spot involves a moderately difficult 1.1km bushwalking track accessed from Sherwood Creek Road.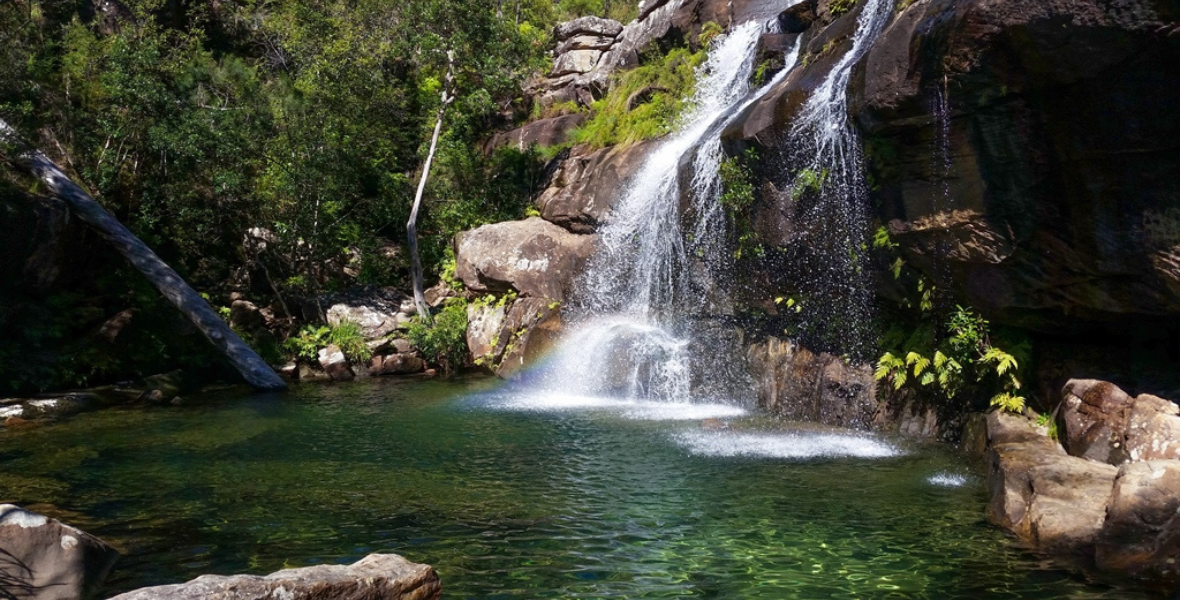 Image Source: Coffs Coast
Angourie Blue and Green Pools – Yamba
Angourie Blue Pools are a unique set of pools located an hour and a half north of Coffs Harbour. Here adrenaline junkies can find cliffs to jump off, all while local hikers and travellers can wade into the water for a refreshing swim. Here you will find two pools to choose from and nearby picnic facilities and toilets – making the perfect destination for a family fun day out. If you are looking to explore the local area, the Blue Pools are also a popular addition to the spectacular 10-kilometre coastal walk from Angourie!
How to get there: an easy 1km return from The Crescent Rd.
Fitzroy Falls - Morton National Park
Fitzroy Falls is hands-down one of the most spectacular waterfalls in Australia. This 81-metre waterfall is located in Morton National Park, just three and a half hours south of Sydney. While you cannot swim at this waterfall, there are still plenty of amazing views, forest trails dotted with wildflowers, rare native birds and wildlife to explore. There is also the Fitzroy Falls Visitor Centre closeby, where you can join an Aboriginal cultural walk, visit the souvenir shop and grab a coffee from the cafe!
How to get there: There are many different trails available in the area. The West Rim walking track is a popular choice that offers incredible waterfall views. This track is 3.5 km return, moderate difficulty, and can take between 1.5-2.5 hours.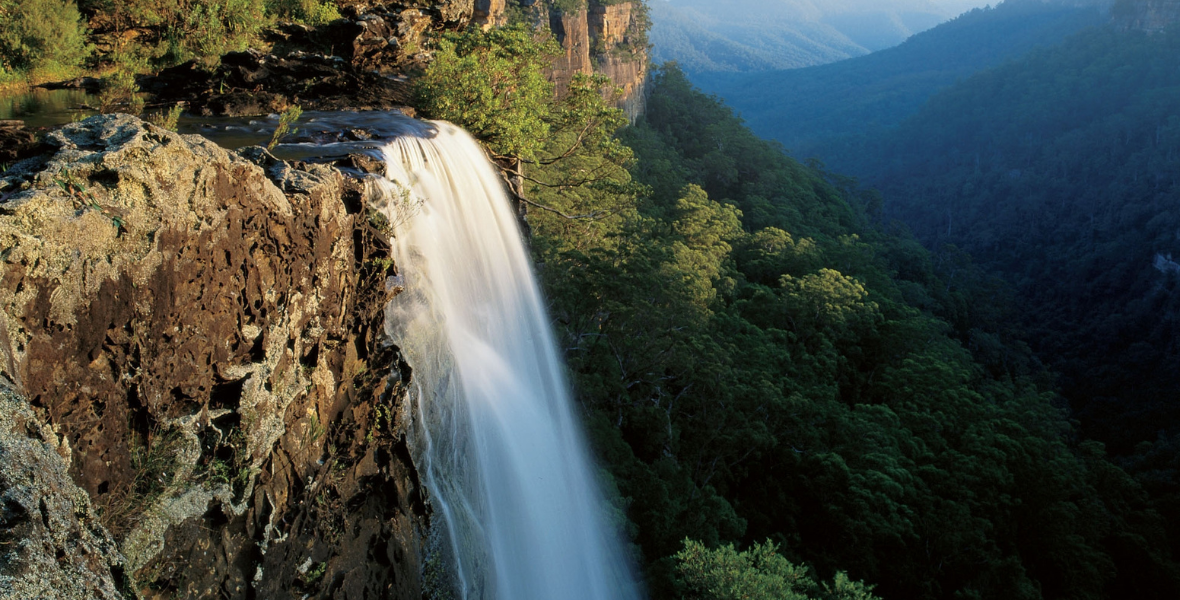 Image Source: Museums and Galleries of NSW
Ready to explore the best swimming holes and waterfalls in NSW?
You don't have to go far in Australia to find a majestic waterfall or swimming hole that is sure to take your breath away. Whether you're staying central in New South Wales or you're taking an extended trip up the east coast of Australia, there are some waterfalls and swimming spots that you'll want to add to your road trip itinerary planner. Best of all, with a Britz branch in Sydney, it makes renting a travel van to explore these watery paradises a breeze.
Ready to explore the best swimming holes and waterfalls in NSW? Book your Britz campervan online today and then pick it up from any Britz branch before starting your journey. For more tips on things to do during a campervan adventure, including the best places to go whale watching and more, check out the Britz blog.