Join thousands of fellow campervan travellers
Sign up for our Britz newsletter to receive inspirational travel content and awesome deals, and we'll send you a copy of our Ultimate RV guide!
Thanks
Please confirm subscription in your email.
Why travel from Perth to Melbourne
One of the great reasons for travelling across the country is to really get a true look at how different each state is. From weather conditions, to ways of life and an abundance of different experiences on tap - you couldn't get any more diverse!
The drive takes you from the state of Western Australia, through South Australia, finishing in Victoria.
Travelling long distances gives you the opportunity to see more of Australia, from small hinterland towns to spectacular views and areas you may not normally visit on shorter trips.
How long does the drive from Perth to Melbourne take?
The drive between Perth and Melbourne takes around 36 hours if you drive it non-stop. For a fun and relaxing road trip we recommend that you set aside 8-14 days or longer, depending on how many stops you want to make!
You can make a large trip like this easier by using itineraries which can help to ensure you are following suitable motorhome routes and making the most of the gigantic adventure.
What time of year should you travel from Perth to Melbourne
Perth experiences hot dry summers and mild winters, in comparison to Melbourne which tends to have more comfortable temperatures and more rainfall year round.
The weather in areas of South Australia, such as Adelaide, tend to be mild in winter with warm dry summers. In conclusion, this trip will give you a bit of everything, no matter what time of year you go!
Head away on this trip at any time of year, just be sure to pack both summer and winter gear!
The best drive stops from Perth to Melbourne
Now that we've covered a little bit about the trip, let's get down to the fun part, where to stop and explore!
Perth
Before you leave your starting point of Perth, there are a few places you should visit first!
Walk through Kings Park
Kings park covers 400 hectares of land and is on Mount Eliza, making it an ideal spot to get panoramic views of the Perth city skyline. Home to the WA Botanic garden, it has over 3000 species of unique flora to admire. The park is rich in aborignial history and is expertly designed.
Most of the park is protected as bushland, and you can admire views of the swan river. Within the park you'll find walking trails, children's discovery play areas and free guided walk options.
The park holds a yearly festival, and you can book plenty of activities during the year including Aboriginal culture experiences.
Visit Yagan square
Yagan square is a beautiful pedestrian area that features sculptures, cafes, pop-up shops and events, just to name a few things! A cool place to visit day or night, it's a great place to wander and sightsee for it's modern design.
Wander through Fremantle markets
Fremantle markets has been around since 1897, and has everything from buskers, to food, handmade goods, fresh produce and indigenous products. Known internationally as a premier tourist market, this is one activity that will have you filling your bags with all sorts of trinkets to take home.
They are open on Friday, Saturday and Sunday, and also hold special events.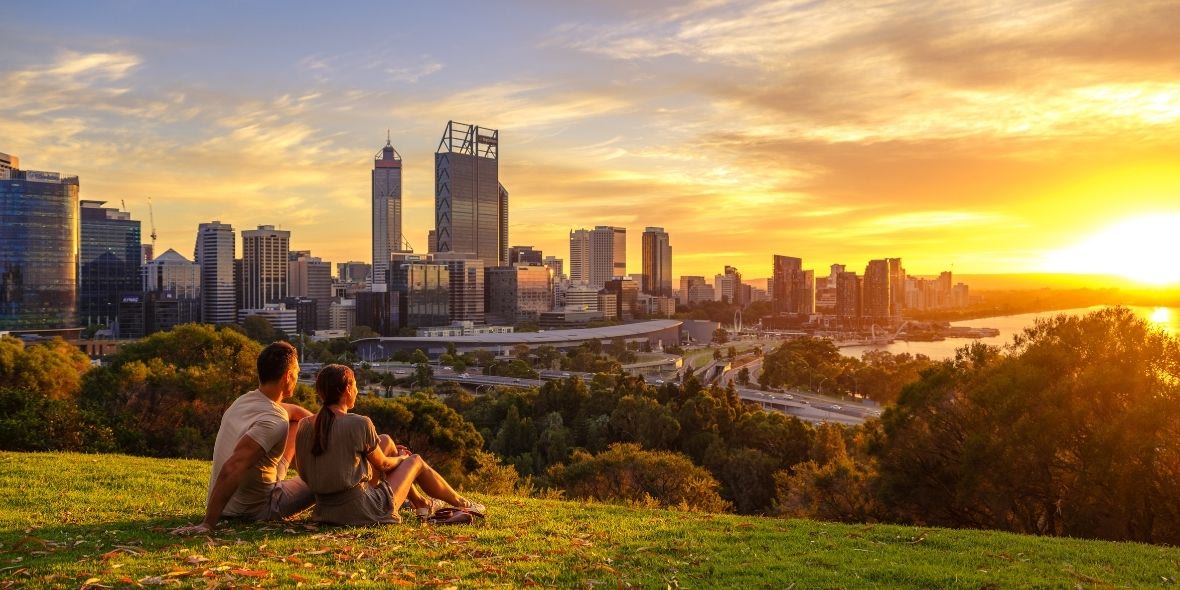 Image Source: Tourism Western Australia Library
Bunbury
Driving along the coast South from Perth, you will hit Bunbury. Here are our top things to do in this cool coastal town.
Take in the Street Art
Bunbury has the largest collection of street and public art in regional Australia, making it a great spot to get a few pictures! The whimsical street art is shown over 20 electrical boxes around the area.
While you are out and about, be sure to check out the steel sculpture Wardandi Boodja; which is a five-and-half-metre beauty representing a Noongar face, that was created by local artists.
Spot dolphins at Koombana Bay
Koombana Bay has a large population of bottlenose dolphins with around a 100 dolphins calling this bay home!
If you are keen on seeing these beautiful creatures up close at one of only a few north-facing Australian beaches, you can swim with them via the Dolphin Discovery Centre.
Hike the Marlston Hill Lookout
This stunning hike gives you a 360 degree view of the city, and it sits on the site of Bunbury's first lighthouse, a checkered beauty just waiting for a holiday picture!
Margaret River
Travelling further south from Bunbury, you hit the region of Margaret River, an award winning wine region with a lot to offer!
Visit the Limestone caves
There are over 100 limestone caves beneath the surface of the Leeuwin Naturaliste Ridge.
Formed around 1 million years ago, a number of them are open to the public.
The limestone crystal formations are something to behold. You can see them via a cave tour if you want to hear about the history, or do a self guided tour.
Walk the Cape to Cape track
This highly rated walk goes across 135 km along the spectacular coastline of the Margaret River Region in the South West corner.
Sites include karri forest, woodlands and cliff top views. You also get to see remote beaches, and some historic lighthouses.
Accessible year-round, boasting amazing wildflowers and whale watching areas in spring, this is a great way to spend anywhere from half a day, through to a full few days depending how far you want to go!
Visit one of the wineries
The Margaret River region produces 20% of Australia's premium wine, and it's micro climates ensure that every bottle is unique!
The wineries here have views of farmland, and the coast - the best of both worlds! With over 90 cellar doors to choose from you could easily spend many days enjoying the top notch drops!
Some top favourites in the area are Vasse Felix, Voyager Estate and Moss Wood.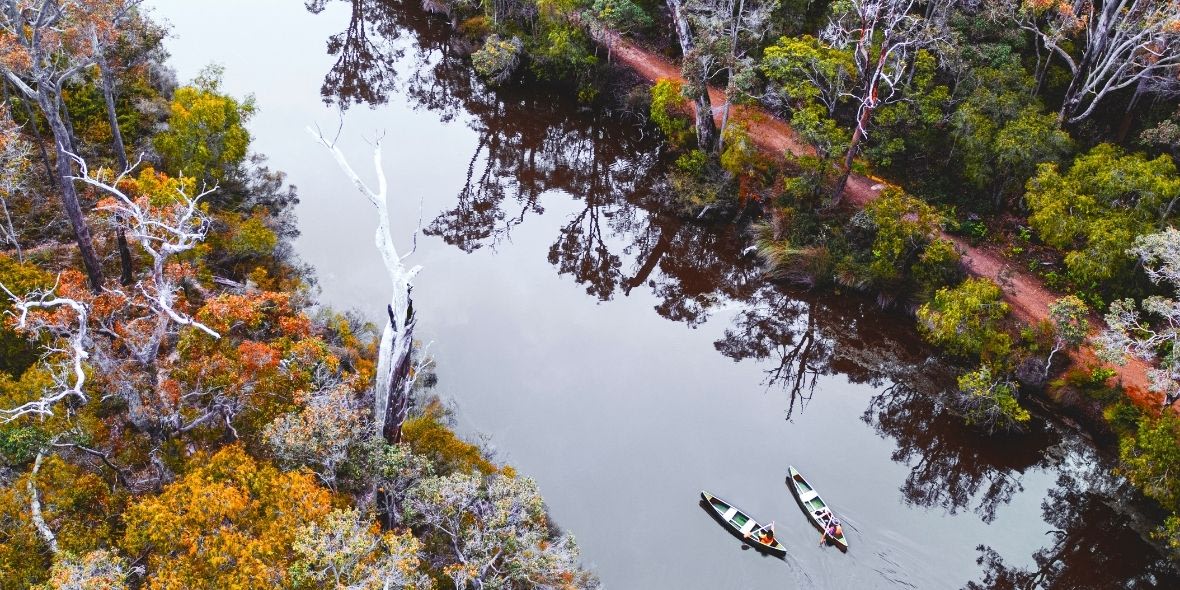 Image Source: Tourism Western Australia Library
Albany
Leaving Margaret River, it's time to start moving further East, and visit the historic whaling town of Albany.
Visit the Albany Whale museum
Albany has a rich whaling history and you can learn all about it at the Albany Whale Museum. Built from the remains of a former whaling station, it is a one-of-a-kind attraction.
Entry tickets give you unlimited access to all their exhibits including the photo and artefact galleries.
Whale watch
If you visit between May and October you are there in time for whale watching season which you can do from the shore or through a whale watching tour cruise.
Visit the local distillery
The Great Southern Distilling Co is three distilleries in one. You can take a tour around and enjoy some single malt whiskey along the way!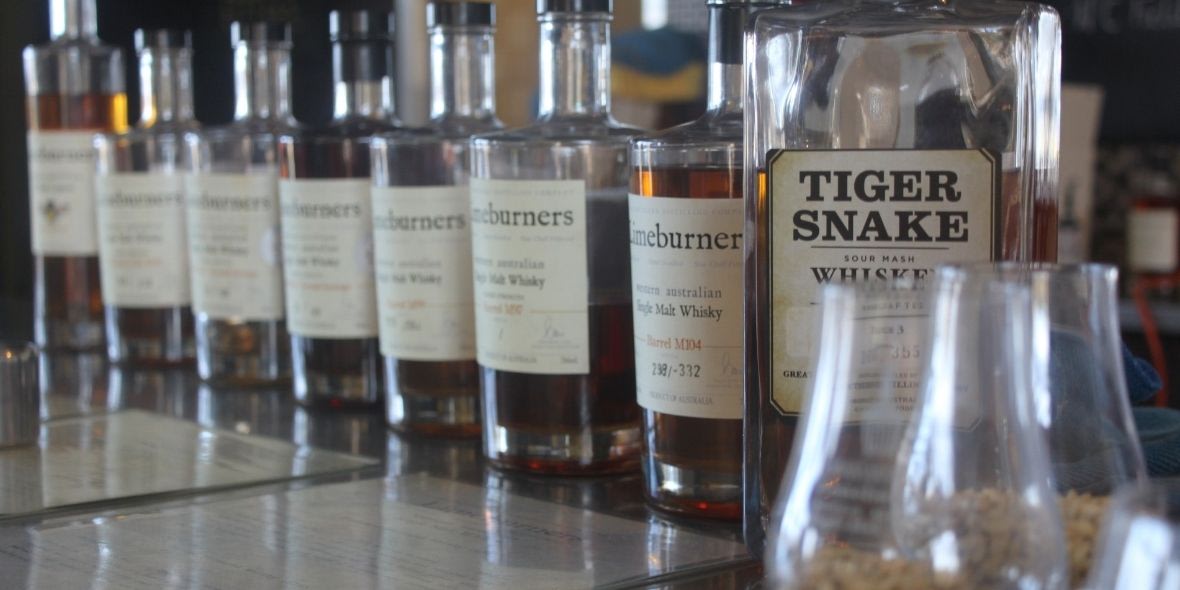 Image Source: Tourism Western Australia Library
Esperance
Along the coast from Albany you will reach Esperance, a haven for nature lovers and home to quite a few famous tourist attractions.
Climb Frenchman peak
Sitting in Cape Le Grand National Park, the peak is 262m high! It takes around an hour to climb and the final descent gives you stunning panoramic views of the southern coastline.
Visit Lucky Bay
Dubbed Australia's whitest beach and home to kangaroo's lazing in the sun, this is a spot you have to see to believe. Take a dip or simply admire the views.
Check out Lake Hillier
There is only one pink lake in the world and this is it. Park up the camper and take a scenic flight to see the lake from above, which will give you the best view!
Eyre Peninsula
It's time to explore South Australia, first stop, Eyre Peninsula. Covering a large area but still uncrowded, there are many coastal delights to enjoy.
Lower Eyre
The area of Lower Eyre has everything from cage diving with Great White Sharks to fresh oyster tasting. Another must visit in the area is Coffin Bay National Park which has amazing sand dunes and plenty of birdlife to spot.
Eastern Eyre
Keeping on a bit of fishing? You catch huge snapper off the coast in this area. Head out for some deep diving at Tumby Bay to spot the unusual sea dragons!
Central Eyre
Swim with sea lions and dolphins in the supremely clear water or head out for a walk and spot rare wildlife like the yellow-footed rock-wallaby in the Gawler Ranges National Park.
Image Source: South Australia Media Gallery
Mount Gambier
Right on the cusp of South Australia and Victoria is Mount Gambier, your last stop in South Australia.
Visit the Umpherston Sinkhole
This beautiful sunken garden was once a limestone cave that formed from the corrosion of limestone rocks by way of seawater! The 'sinkhole' was created when the chamber's roof collapsed. It's now a beautiful garden with sculptures, and home to hundreds of possum in the evening!
The garden is open daily until late in the evening.
Visit the Blue Lake
This lake is famous because of its vibrant cobalt blue colour during the months of December through to March each year! If you visit over April through November, it actually changes to a darker steel grey colour.
You can enjoy a walking trail which takes you to viewing platforms, and there are guided tours are available as well.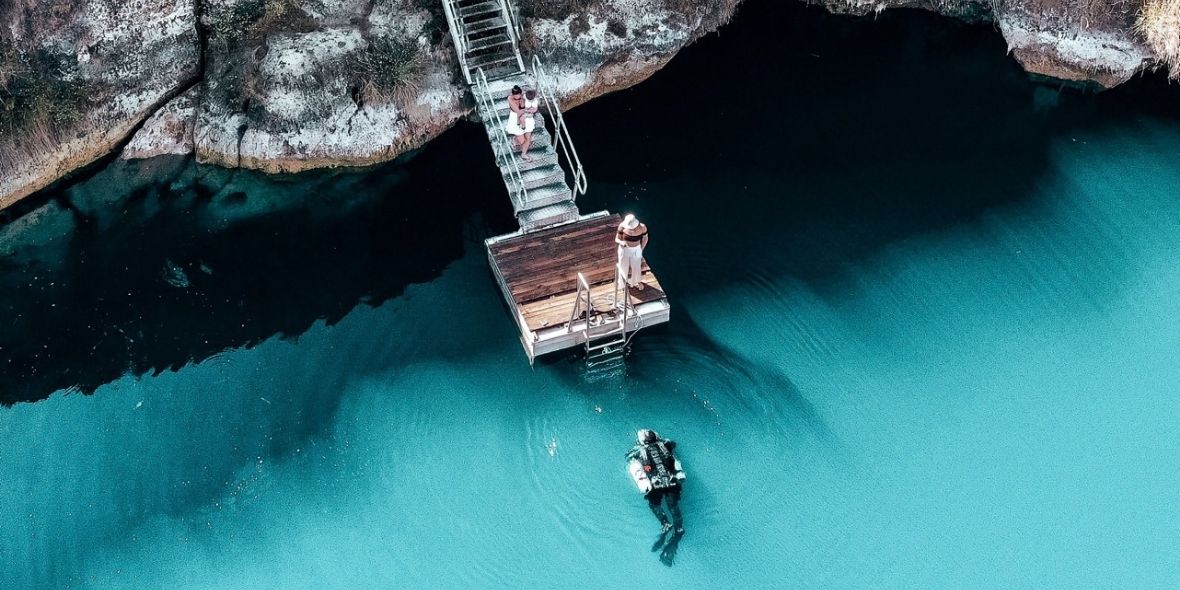 Image Source: South Australia Media Gallery
Melbourne
The cross country adventure ends in Melbourne. It's known as a trendy city with abundant dining and shopping options, but there are also plenty of spots to visit in the outskirts which are a little less known!
Daylesford
Enjoy a relaxing day in Daylesford starting at Sweet Decadence to try some handmade chocolate and a bite to eat. Head to the Daylesford day spa, and enjoy the mineral water springs in the nature based environment.
Yarra Valley
It wouldn't be a trip to Yarra Valley without hitting a few wineries. Take a wander around Coombe Yarra Valley, enjoying the 7 acre garden, historic cottage, cellar door and restaurant. Head along to see some wildlife and enjoy cultural experiences at the Healesville Sanctuary.
Dandenong
Check out the views of the Yarra Valley from the Dandenong Ranges Botanic Garden. This incredible garden has been landscaped to be beautiful year round and you can admire it all from the open air bus that tours around the grounds with all the commentary included! Keep on the exploring adventure and take a ride on 'Puffing Billy', a train that runs through the Dandenong Ranges, where you can enjoy rainforest views whilst having lunch and drinks aboard!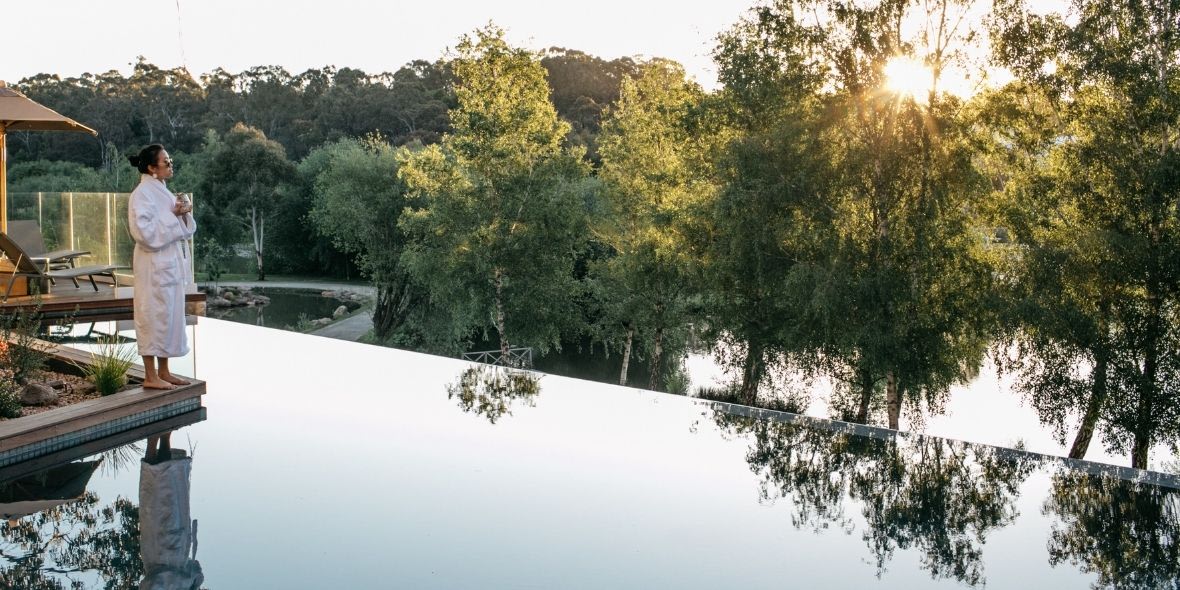 Image Source: Visit Victoria Content Hub
Are you ready for your cross country adventure?
It's time to get out there and see more of Australia! With Britz branches in Perth, Adelaide and Melbourne, you can stop in and visit the team to hire a motorhome for your travels, or ask for support along the way!
Here are some itineraries to help you get across country: