Join thousands of fellow campervan travellers
Sign up for our Britz newsletter to receive inspirational travel content and awesome deals, and we'll send you a copy of our Ultimate RV guide!
Thanks
Please confirm subscription in your email.
Brisbane is the perfect starting place for a Queensland road trip. You don't have to travel far from the city to see the best the region has to offer. Within a few hours' drive, you can experience picture-perfect lakes, soaring peaks, rainforests, and historical attractions.
To help you plan the perfect weekend campervan adventure, we've created a guide to the three best short Brisbane road trip itineraries. Showcasing some of the Sunshine Capital's most spectacular sites and iconic self-drive tours, this is an adventure you will remember for a lifetime! Here's what we'll go over:
When is the best time to travel in Queensland?
What do you need to pack for a road trip from Brisbane?
Where to find Britz Campervan Hire Brisbane
Fraser Island and Rainbow Beach
Ready to book your road trip from Brisbane?
Let's dive in.
When is the best time to travel in Queensland?
Queensland is known for its subtropical climate and warm weather nearly all year round. Brisbane weather follows suit, with summer temperatures ranging from 21-29°C and winter temperatures dropping to a temperate 15-25°C.
Thanks to the stunningly great weather, the Christmas holidays (December-January) tend to be quite busy and crowded. If you're trying to avoid the crowds, it can be good to travel out of this peak holiday season. Travelling during winter between June and August is also a great way to avoid the humid tropical summer days.
With such a diversity of things to do in Queensland, Australia, it is also worthwhile looking at the seasonal nature and wildlife calendar. This calendar has it all, whether you want to catch turtle season or see the whales doing their annual migration. Some of the top seasonal and wildlife events include:
Summer in Queensland
Summer in Australia runs between December and February. These months are turtle season and the perfect chance to watch hatchlings crawl across the beach. Summer is also a great time to see the few remaining maternity sites of wild Australian bats in Queensland.
Autumn in Queensland
Autumn sets in between March and May. The cooler temperatures signal the arrival of newborn koalas and are a great time to see manta rays in the wild.
Winter in Queensland
Between June and August, the temperatures reach their lowest, and with it comes whale season in full force. Winter is the perfect time for a coastal road trip to try and spot a few of the 25,000 whales en route to Antarctica.
Spring in Queensland
From September to November, the weather starts to warm and the wildflowers bloom! Spring is the perfect time for photographers to capture the vivid purples of the jacaranda trees.
What do you need to pack for a road trip from Brisbane?
One of the allures of van travel is the storage options. Being able to unpack your suitcase as you travel around is the ultimate luxury. However, space is limited, so be mindful of this when packing for your campervan trip. The key to successfully packing for your adventures is doing your research and packing an assortment of essentials. Before you leave, be sure to pack must-haves, including:
Medical supplies
Toiletries
Weather-appropriate clothing and footwear
Queensland can be warm regardless of the time of the year you plan on visiting. So irrespective of the season, come prepared for warmer weather. Pack a variety of SunSmart protection, including:
A hat
Sunscreen
Sunglasses
It is also wise to pack a few light layers when temperatures dip at night. Before you pick up your campervan, we recommend you download the free thl Roadtrip App. This app comes with video walkthroughs of the van. This will help ensure you don't overpack with any items that already come with the van!
Once you have picked up your campervan, pick up a few grocery essentials from a local supermarket. Want to stick to a budget? Stock up on food supplies with a long shelf life, such as pasta, rice, nuts, seeds, and lentils.
Check out our complete campervan packing list guide for more information on what to pack for a campervan trip.
Where to find Britz Campervan Hire Brisbane
The Britz Brisbane branch is located at 87 Bancroft Road, Pinkenbaa. This is only a short drive from the Brisbane airport. The Brisbane branch is open Monday-Saturday, 9am-3.30pm, with Sunday opening times varying throughout the year.
If you are driving, you can park safely in the secure long-term parking at Andrew's Airport Parking. From here, it is a short 8.5km Uber or taxi from the airport to the branch for pick up.
For more information on pick-up and the various dropoff, check out our guide to what to expect at pick up and express return pack options.
The Scenic Rim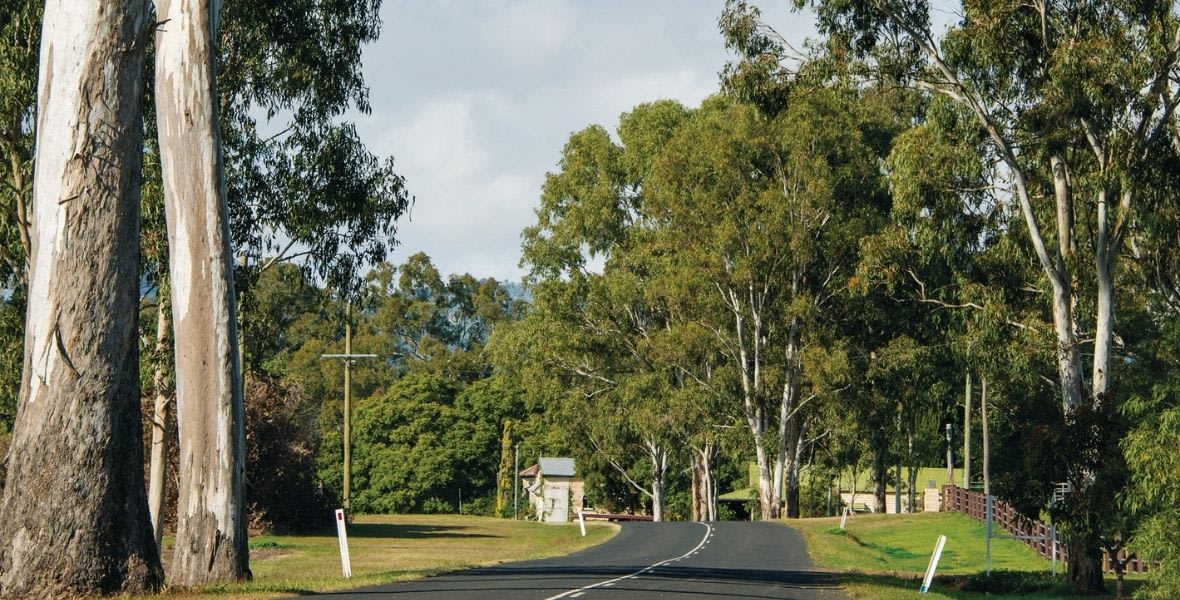 Image Source: TEQ Visual Gallery
Distance: 255km
Travel time: 3 days
You can drive this gorgeous self-driving route in a few hours, but why rush? Slow down and appreciate the beauty of the region. Stop in the quaint country towns, marvel at the scenery and admire the natural attractions. Roll down the windows as you wind your way along with one of Brisbane's most scenic road trips.
Day 1: Brisbane to Beaudesert
To begin your trip from Brisbane, head 34km along the M3 to Beenleigh and then traverse inland on Route 90 to the picturesque Tamborine Mountain. Drink in the magnificent scenery of the volcanic region and Lamington National Park, including the pretty village of Canungra. Then jump back onto Route 90 for your 25km drive towards Beaudesert.
Located in the heart of the scenic rim, Beaudesert is home to a range of laid-back, off-the-beaten-path experiences. A few of our favourites include:
Meebun Recreation Area
Meebun is an excellent place to take a break with picnic tables, shelters and barbecues.
Lake Wyaralong
Lake Wyaralong is a natural theme park perfect for paddling or enjoying mountain bike trails.
Where to stay: Beaudesert Caravan & Tourist Park
Day 2: Beaudesert to Aratula
Begin day two by heading west for around 28km to the bustling agricultural town of Boonah. Known for its tasty local produce and talented artisans, it's an ideal base for boating, fishing, scenic walks and camping. Boonah is also home to a local airfield that offers thrilling glider and light aircraft flight experiences.
Once you are ready, make your way to the quaint little town of Cunningham Highway town of Aratula. Here you will find plenty of arts and crafts stores to browse and an antique shop for those one-of-a-kind items. Also, try one of the region's trademark chocolate eclairs! Some of our favourites in this region include:
Aratula Cafe and Antiques
Aratula Markets
Aratula roadhouse
Where to stay: Aratula Village, Scenic Tim Motel and Caravan Park
Day 3: Aratula to Brisbane
From Aratula, take a 10km side trip south to Moogerah Peaks and Main Range National Parks. While you're here, don't miss a chance to check out Lakes Moogerah and Maroon. You'll be rewarded with breathtaking views across the lakes and the opportunity to walk across the 219m long and 38m high Moogerah Dam wall at Haigh Park.
Heading north along the Cunningham Highway, stop at Barton's Rose Farm in Kalbar. Here you can enjoy a Devonshire tea and grab a bouquet of roses to liven up the campervan. Just 20km north is the Summer Land Camel Farm to try some camel milk or cheese. If you are looking for a thrill, head 17km north to the Willowbank Raceway. The region's leading drag racing facility offers a year-round program of drag racing entertainment. From Willowbank, it's a leisurely 50km drive back to Brisbane.
Where to stay: Try your hand at national park camping at one of the many parks along the route. Check booking requirements, options and facilities at the Queensland National Parks booking service.
After you have completed your scenic rim loop, it is time to return your campervan to the Britz Brisbane branch.
Fraser Island and Rainbow Beach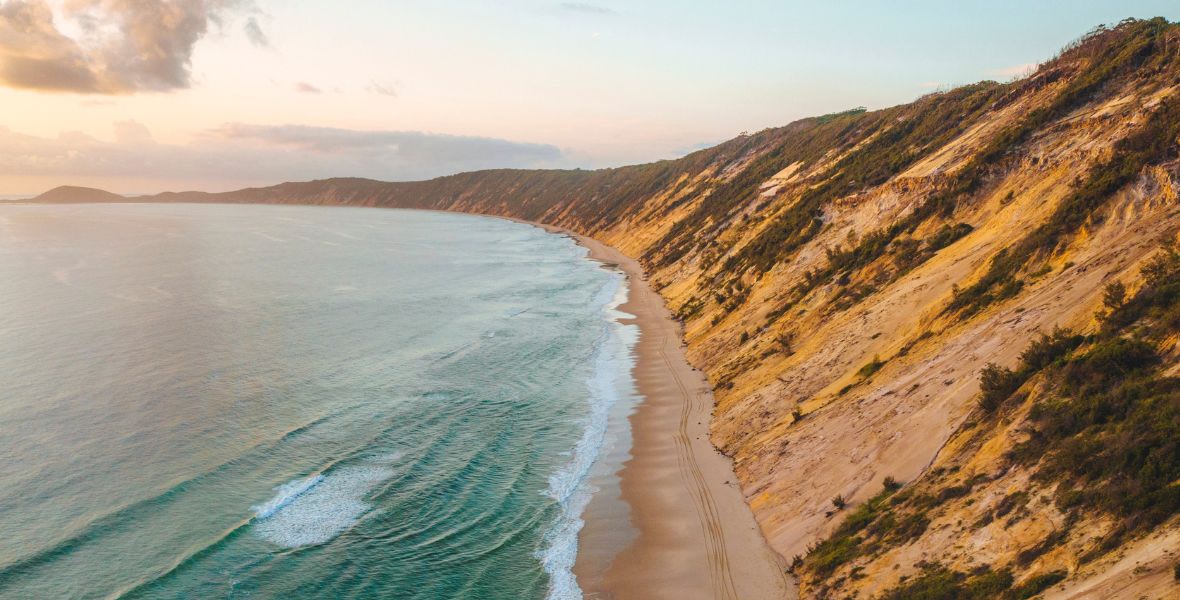 Image Source: TEQ Visual Gallery
Distance: 475km
Stoping at some of Australia's most revered east coast destinations, this is one of the most popular driving holidays from Brisbane for a good reason! This iconic coastal road trip takes advantage of Queensland's gorgeous coastline and year-long beach weather. Wind your way from Brisbane up to the seaside village of Rainbow Beach on this three-day getaway.
Day 1: Brisbane to Noosa
From Brisbane, head 105km to the Sunshine Coast along the M1 highway. Make a stop between Beerwah and Beerburrum to admire the gorgeous volcanic Glasshouse Mountains that tower over the region. Take your time cruising up the coast from Caloundra to Cooroy, taking the coastal route to visit the seaside towns. Some of our favourite stops include:
Coolum Beach
Stop at Coolum Beach to admire the second largest rock in the world; Mt Coolum, and enjoy laid-back eateries and seasonal twilight markets.
Peregian Beach
Soak up the ambience of this little beachside village. Pick up local produce at the markets, cook up a feast in your campervan and relax by Peregian Beach.
Noosa Heads
Noosa is the perfect combo of laid-back and close to the action. Swim in rock pools, hike local trails and eat at the eateries. There is not a shortage of things to do in this town!
Where to stay: Noosa River Holiday Park
Day 2: Noosa to Rainbow Beach
From Noosa, head inland to Cooroy or backtrack slightly to visit the sleepy little town of Eumundi. This inland town is home to the famous markets, which are a must-do on the weekend! Once you have sampled the local flavours, continue 45km north towards the former gold rush town of Gympie. Check out the Gympie Gold Mining and Historical Museum to peek into what life was like in the gold rush era.
Once you have finished, take the Tin Can Bay Road approximately 73km towards Rainbow Beach to drive through the gorgeous Toolara State Forest. Stop here to check out the abundant wildlife, including kangaroos, yellow-tailed black cockatoos and the occasional wild brumby.
Once you have passed through the Great Sandy National Park, you'll arrive at Rainbow Beach. This iconic beach is the perfect place to rest and unwind, enjoying expansive views across the Great Sandy Strait towards Fraser Island. Some of our favourite things to do in Rainbow Beach include:
See the coloured sands
The Coloured Sands is an earthy rainbow formed as the different colours of eroded cliffs mix together. Located in the Cooloola Recreation Area, you can enjoy a beautiful walk to marvel at this natural wonder.
Find the rainbow stairs
In 2018, a set of stairs in Rainbow Beach were colourfully painted in honour of the Pride House Commonwealth Games. This rainbow staircase is the perfect place to grab a colourful snap!
Where to stay: Grab a campsite at Rainbow Beach Holiday Village.
Day 3: Rainbow Beach to Brisbane
Save time for a day trip over to the heritage-listed Fraser Island. The Island is best accessed from Inskip Point as it is 4WD only. Fraser Island is the jewel of the region, featuring freshwater lakes, towering forests and expansive, untamed beaches. Using a 4WD to get around, take in all the island's natural beauty.
If you are interested in hiring a 4WD for Fraser Island, we recommend you book with our trusted partner Rainbow Beach Adventure Centre 4wd Hire (located on Rainbow Beach). As a Britz customer, you can get a 10% discount with the promo code: #ADVENT4WD10.
From Rainbow Beach, make the return trip to Brisbane. Feeling peckish? Call in at sleepy Tin Can Bay for fish and chips before starting your 230km journey home.
If you want to extend your trip, there are BIG4 holiday parks at Sandstone Point, Caloundra, Maroochydore, and Tewantin with modern amenities. Drop your campervan off at Britz Brisbane when you pull back into Brisbane.
The Cobb & Co Tourist Drive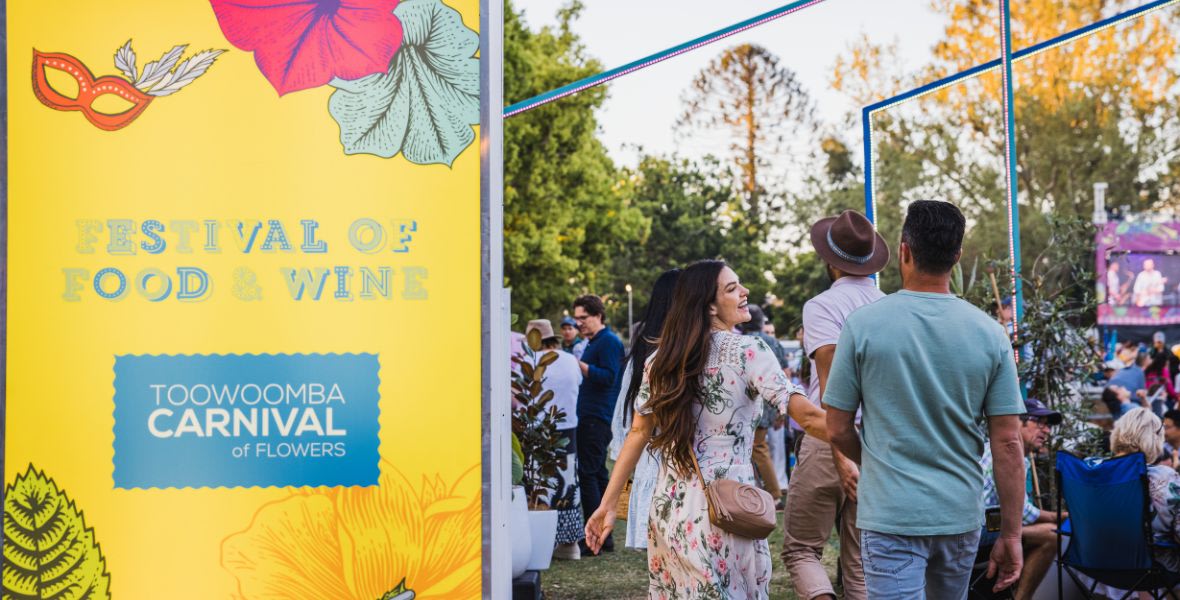 Image Source: TEQ Visual Gallery
Distance: 315km
On 1 January 1866, the first Cobb & Co mail service in Queensland commenced, from Brisbane to Ipswich. Passengers heading further west took a train from Ipswich to Grandchester, then continued on another Cobb & Co coach to Toowoomba.
Retrace this historic route with all the modern conveniences of a motorhome on the Cobb & Co Tourist Drive. As one of the shorter road trips from Brisbane, it is the perfect weekend adventure. Want a longer trip? This one or two-day trip is a great addition to a longer Queensland road trip itinerary.
Day 1: Brisbane to Toowoomba
To start your journey from Brisbane, drive 40km southwest to Ipswich. Keep an eye out for the distinctive coach wheel signs that will guide you to Toowoomba. If you want to honour the history of this route, plan your rest stops around the historic rest stops the Cobb & Co's passengers would have taken. There are three staging posts along the route in Rosewood, Forest Hill, and Gatton, where toilets and refreshments are available.
Some highlights include Walloon, the first stop on Queensland's first railway. This area was once known as 'Ten Mile Peg' for its approximate distance from Ipswich's old track. About 23km along the Rosewood-Laidley Road, you'll find Grandchester - the first terminus on the railway. Nearby is Queensland's first and oldest railway dam. The dam was built in 1894 to ensure a reliable water supply for the steam locomotives. Make a stop at the historic Grandchester Steam Sawmill and the Grandchester Stage Coach Company.
Where to stay: Toowoomba Motor Village
Day 2: Toowoomba to Brisbane
From Grandchester, head towards Gatton for the morning. Known as 'Australia's salad bowl', Gatton is a great place to grab a bite to eat. With a variety of restaurants, cafes and hotels to choose from, there is sure to be something that takes your fancy.
Once you have had your fill, continue onto beautiful Toowoomba - the capital of the Darling Downs. Here make sure you visit the Cobb & Co Museum featuring Australia's finest collection of horse-drawn vehicles, including Cobb & Co coaches, farm wagons, hawkers' barrows, delivery carts and buggies. If you want to extend your journey, continue from Toowoomba to Brisbane via Esk (Highway 85) and Lake Wivenhoe (A17). Some of our favourite things to do along the way include:
Esk
Esk is best known for its boutique cafes, country pubs and views of Mount Glen Rock. Esk is the perfect little rural town to kick back and enjoy the scenery.
Lake Wivenhoe
Lake Wivenhoe is the largest lake in South East Queensland and is an ideal backdrop for picnics, camping, canoeing, walking and mountain biking.
Once you're back in the big smoke, it's time to drop your campervan back to Britz Brisbane and head home.
Ready to book your road trip from Brisbane?
These are just three of many incredible road trips from Brisbane. With 13 spectacular regions surrounding this riverside city, Britz Brisbane is an excellent kickstart for any Queensland campervan adventure.
Ready to begin your Queensland adventure from Brisbane? Book your Britz campervan online today and get packing! For more inspiration, check out our other popular Queensland driving routes.