Join thousands of fellow campervan travellers
Sign up for our Britz newsletter to receive inspirational travel content and awesome deals, and we'll send you a copy of our Ultimate RV guide!
Thanks
Please confirm subscription in your email.
But first, prepare ahead with a road trip planner
Before you head off in your campervan to explore Australia, it's a good idea to prepare a basic road trip planner. Here are a few tips to help get you started:
Download the thl Roadtrip app. This handy app has everything you need to help plan your trip. You can even use it to book holiday parks and Australian attractions.
Check the forecast – it's always a good idea to see what the Australian weather has in store before you hit the road.
Plan your budget – decide ahead of time where you can splurge, and where you'll need to save. For example, you may decide to save on eating out by cooking your own meals in your campervan. That can mean you'll be able to spend more on activities and experiences.
Now that you're feeling prepared, it's time to choose which of our road trips from Sydney is right for you.
1. Sydney to Melbourne
Distance: 1362 km
Recommended travel time: 8 days
Campervan drop off: Britz Melbourne
There are a few options for a road trip from Sydney to Melbourne. We recommend following the coastline so you can make the most of the many great things to do and see along this route.
A great first stop along the way is Jervis Bay. This slice of paradise is dotted with charming seaside towns and villages to explore. Jervis Bay Village is also the southern gateway to Booderee National Park. One of the must-dos, while you're here, is a dolphin and whale-watching cruise. Marvel at majestic humpback whales during their annual migration, or spot bottlenose dolphins as they play alongside the boat.
Further along on your road trip, you'll come to the town of Narooma. This picturesque destination is surrounded by lakes, rivers, and ocean. That makes it the perfect place to spot some of Australia's marine wildlife including penguins and seals.
As you near Melbourne, plan a stop at Wilsons Promontory National Park. Also known as 'The Prom', this destination is one of Victoria's best-loved parks. If you enjoy diving, you'll love exploring the 17 km of protected coastline that forms Victoria's largest marine protected area.
Once you reach Melbourne, head a little further out to Mornington and enjoy a relaxing soak at the Peninsula Hot Springs. This geothermal mineral spring and day spa is the ideal destination to finish off your road trip before dropping your campervan off at the Britz Melbourne branch.
Image Source: Visit Victoria Content Hub
2. Sydney to Adelaide
Distance: 1690 km
Recommended travel time: 8 - 12 days
Campervan drop off: Britz Adelaide
Spanning almost 1700 km and three states, the Sydney to Adelaide drive makes for a fantastic extended road trip. Plan to spend a day or two in the nation's capital city of Canberra. There's plenty to see and do here. Visit the National Dinosaur Museum, wander through the wineries and breweries, or check out the exhibitions at one of the 30 art galleries.
As you head into Wagga Wagga, set your GPS to take you along the Canola Trail where almost one-third of NSW's canola is produced. The best time to see the spectacular colours of the canola flowers is during August and September. The three towns of the Canola Trail are packed with hidden gems. Try the cheese in Coolamon, enjoy the great outdoors at Temora's Lake Centenary, or go back in time at the Junee Roundhouse Museum
If you've always wanted to pan for gold, Bendigo is the place to do it. You can also take an underground tour and explore the hidden tunnels of a gold mine that operated during the boom of the 1900s.
As you near the end of your Sydney to Adelaide road trip, set aside a day or two to explore the beautiful Murray Sunset National Park. This park is home to the famous pink lakes. It's also a great location for bird watching and fun on the water. There are some great campsites within the park also.
3. Sydney to Kangaroo Valley
Distance: 358 km (including return to Sydney)
Recommended travel time: 2 days
Campervan drop off: Britz Sydney
Looking for a short but fun-filled Australian road trip? Pack up the campervan and head to Kangaroo Valley. Plan your first stop at Fitzroy Falls. Learn about the region's local Aboriginal culture, walk along one of the tracks and trails, and see the magnificent waterfall.
Next, it's on to Kangaroo Valley where you can see Hampden Bridge, Australia's last surviving wooden suspension bridge. This Heritage-listed bridge was opened in 1898 and named in honour of NSW's governor at the time, Lord Hampden. Another must-do nearby is the Illawarra Fly Treetop Walk. Park up your campervan and enjoy an afternoon in the rainforest where you can walk 30 metres above ground level in the forest canopy. Or if you're in the mood for something a little more daring, take a thrilling 1.5-hour zipline tour.
Image Source: Destination NSW Content Library
4. Sydney to Dubbo
Distance: 800 km (including return to Sydney)
Recommended travel time: 6 days
Campervan drop off: Britz Sydney
The road trip from Sydney to Dubbo is ideal for travellers who like a bit of variety. One of the highlights of this trip is the Blue Mountains. Around an hour's drive from Sydney, this natural wonderland is a World Heritage-listed national park. One of the best ways to take in the incredible views here is a ride on the 545-metre-long scenic cableway. You'll have the best seats in the house to see the Three Sisters, Orphan Rock, and Mt Solitary.
A must-do, once you reach Dubbo, is a visit to the Taronga Western Plains Zoo. There's a lot of ground to cover to see everything, so hire a bike, a cart, or even a pedal boat to get around.
As you head back to Sydney, plan a stop in Orange where you can park up your motorhome and take a tour of the local wineries. Orange is also renowned for its great produce, so be sure to sample some at one of the award-winning restaurants.
Got a petrol head on board? Treat them to a special stop at the Mount Panorama Motor Racing Circuit. Check out the online calendar to find out when the next event is being held.
Image Source: Destination NSW Content Library
5. Sydney to Kiama
Distance: 253 km (including return to Sydney)
Recommended travel time: 4-6 days
Campervan drop off: Britz Sydney
Just 90 minutes south of Sydney, Kiama is a popular south coast escape for city dwellers. With its pristine beaches, lush countryside, and chilled-out coastal vibe, it makes for a great road trip destination.
As you travel this awesome Australian road trip, you'll drive over Sea Cliff Bridge. This 665-metre-long bridge is a highlight of the Grand Pacific Drive. Take the chance to park your campervan, stretch your legs, and take in the stunning view. Next on your road trip planner is a stop in Wollongong. There's lots to do in this awesome city including a visit to the Australian Motorlife Museum or a swim at Austinmer Beach.
Next, it's on to Kiama where a must-see is the Kiama blowhole. This famous blowhole is the largest in the world, with plumes of over 30 metres recorded.
For more great ideas on what to see and do along this Australian road trip, check out our Sydney to Kiama road trip itinerary.
Image Source: Destination NSW Content Library
6. Sydney to Hunter Valley
Distance: 607 km (including return to Sydney)
Recommended travel time: 5 days
Campervan drop off: Britz Sydney
The Hunter Valley is also known as Australia's wine country. With a history of winemaking dating back to the early 1800s, the region is famous for its Shiraz and Semillon. It's a great destination, especially if you need to stock up the wine rack.
Along the way, plan a stop at Ku-ring-gai Chase National Park. Australia's second-oldest national park, this beautiful spot has a fascinating history. And a great place to see some of it is on the Aboriginal Heritage Walk.
The largest town in the Port Stephens area, Nelson Bay is a haven for snorkellers and divers. The bay is also frequented by dolphins, and there are cruises that run year-round if you're keen to get out and see them.
Image Source: Destination NSW Content Library
7. Sydney to the Snowy Mountains
Distance: 999 km (including return to Sydney)
Recommended travel time: 8-10 days
Campervan drop off: Britz Sydney
If getting amongst the snow ranks highly on your Australian road trip, then this is the one for you.
The beautiful snowfields of the Snowy Mountains make them a favourite with skiers and snowboarders. There are several to choose from including Thredbo, Charlotte Pass, and Perisher. And there's one to suit every age and ability.
On your way to the ski fields, plan a stop at Artemis Vineyard in Mittagong. This family-run winery is well known for its excellent pinot noir (the perfect drop after a day out in the snow). Their weekend 'Lunch on the Lawn' is not to be missed. Book online and enjoy a lunch of woodfired pizza with a cheese and charcuterie board.
Just over halfway along your road trip, you'll arrive in Canberra. Plan at least a few days to explore the city. If you forgot to grab a bottle at Artemis, you'll find plenty of wineries here in the capital city. In fact, Canberra is home to 140 vineyards. To take in the best views of the city, head to Mount Ainslie Lookout.
Image Source: Destination NSW Content Library
8. Sydney to Coffs Harbour
Distance: 1110 km (including return to Sydney)
Recommended travel time: 7 days
Campervan drop off: Britz Sydney
Planning an Australian road trip with the family? This roadie to Coffs Harbour is a perfect choice. As you make your way north up the coastline, the first stop on your road trip planner is at Terrigal Beach. Whether the kids are into snorkelling and surfing, or just marvelling at the marine life in rock pools, this family-friendly beach is the place to do it. The kids will also love visiting the Central Coast Marine Discovery Centre to learn more about the region's fascinating sea creatures.
As you continue north, you'll come to Newcastle. One of the must-dos here is the Newcastle Memorial Walk which commemorates the 100th anniversary of the ANZAC landing in Gallipoli.
A day at the zoo is always a winner when you've got kids on board, and the Billabong Zoo is one of the best. See a rare and endangered snow leopard, a big-eared fennec fox, a teeny-tiny marmoset monkey and more.
Top off your trip with a day at Big Banana Fun Park. The kids will sleep all night after exhausting themselves in the water park, laser tag, fun zone, giant slides and lots of other fun activities.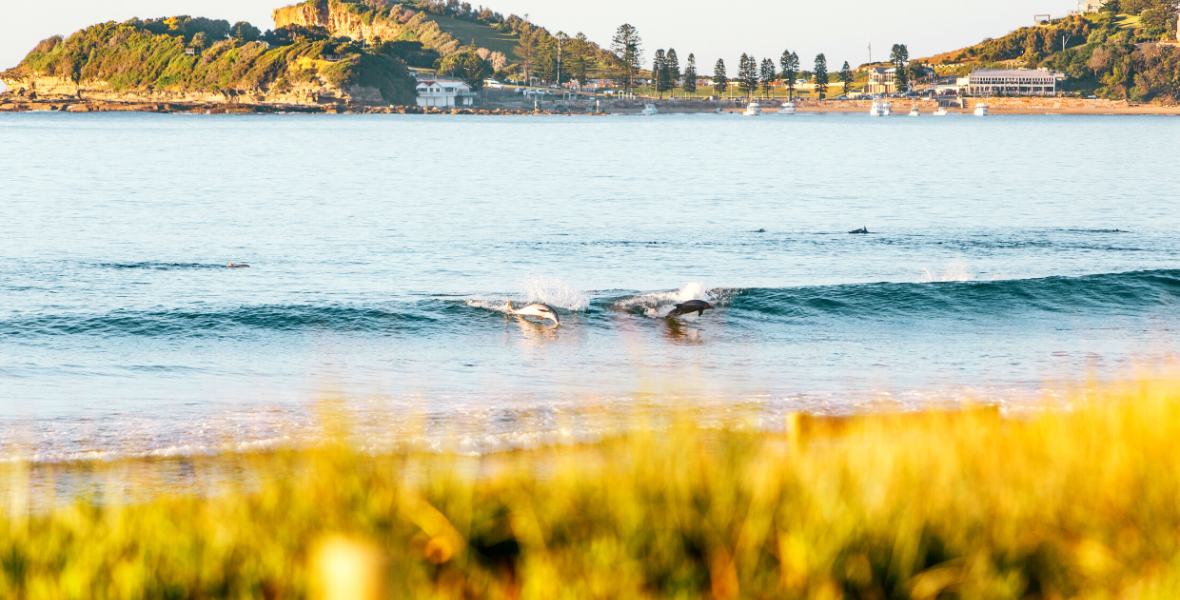 Image Source: Destination NSW Image Library
Ready for your next road trip from Sydney?
Whether you're travelling as a family, a couple, or a group of friends, Sydney makes the ideal starting point for a road trip. Enjoy some of the great things to do in Sydney, then hit the road and start your adventure.
Ready to rent a travel van for your own awesome road trip from Sydney? Check out our range of campervans and book your motorhome today. Pick it up from our Britz Sydney branch, and drop it off at any branch in Australia.
Looking for more road trip inspiration? Check out more of our useful blogs: