Join thousands of fellow campervan travellers
Sign up for our Britz newsletter to receive inspirational travel content and awesome deals, and we'll send you a copy of our Ultimate RV guide!
Thanks
Please confirm subscription in your email.
Whether you're travelling with toddlers or teenagers, this family campervan trip has something for everyone – grown-ups included of course! To help you plan your trip and create an unforgettable road trip itinerary planner, we've listed some of the must-do family-friendly Australian road trip stops between these two great cities. This itinerary will take you on a journey through the following places:
But first, here are a few travel tips to help you enjoy a relaxed family campervan holiday:
Travel tips for planning a family road trip
A campervan holiday with kids can have its challenges - but a little planning and preparation can make all the difference and turn it into a great experience for the whole family. Here are our top travel tips for travelling with kids.
Keep the kids entertained during the drive with games they can play on the way such as eye-spy or campervan bingo.
Pack a few things they can play with at the beach, perhaps buckets and spades to build sandcastles or a football to kick around.
Bring the things that give them comfort like a teddy or a favourite blanket
Plan your trip to stop regularly so they can run, play, and let off some steam.
Pack lots of snacks - a hungry child is a grumpy child!
Try to keep sleeping schedules on the road as consistent as possible.
Book family friendly campgrounds and camping spots that cater to kids with facilities like playgrounds, swimming pools etc.
Now let's take a look at some of the top spots and campgrounds to stop on your Australia road trip between Sydney and Brisbane!
Port Stephens
An easy 2.5-hour drive from Sydney, Port Stephens is all about sand, surf, and seriously good seafood! Spend an afternoon quad biking on the sand dunes, meet the local wildlife on a dolphin cruise, or discover hidden gems like the natural 'champagne spa' in rockpools at Boat Harbour.
Park up your campervan at one of the powered camping sites at BIG4 Bays Holiday Park.
Little Beach
Described as 'one of the best family-friendly destinations in Australia', Little Beach is a great spot for families with kiddies who love to swim, build sandcastles, and burn off energy on the playground. It's a great spot for family picnics and barbecues too.
Sandboarding Stockton Sand Dunes
One of the must-do epic attractions in Port Stephens is Sandboarding at Stockton Sand Dunes. You'll be driven across the dunes in a custom 4WD to a sandboarding zone. Enjoy a picnic before taking an exhilarating ride down the dunes on a sandboard. This awesome adventure is suitable for all ages.
Port Macquarie
From its pristine beaches and lush rainforests to its amazing food and wine scene, Port Macquarie is packed full of fun things to do for families. Take a camel ride along Lighthouse Beach, ride a steam train, or visit Wildnets Adventure Park – Australia's biggest suspended playground!
Enjoy the great camping facilities at NRMA Port Macquarie Breakwall Holiday Park.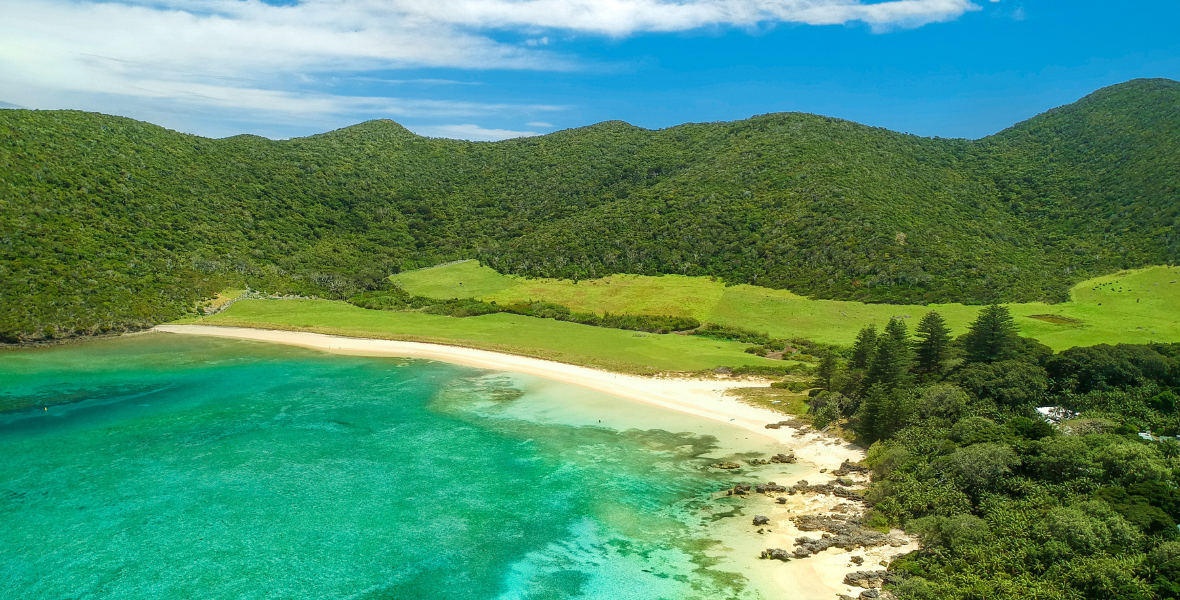 Image Source: Tourism Australia Image Gallery
Koala Hospital
The Port Macquarie Koala Hospital is a must-do on your Australian road trip itinerary. This wildlife rehabilitation facility has been rescuing and helping Australia's precious koalas since 1973. There is also a Koalaseum - a museum for Koalas which provides fascinating information and displays about koalas.
Billabong Zoo
If you've got animal-loving kiddies, they'll love a visit to the Billabong Zoo. They'll get the chance to pat, stroke, feed, and even hold some of the 80 species of unique wildlife at the zoo. Some of the amazing animals at the zoo include fennec foxes, lions, meerkats, penguins, snow leopards, and snakes!
Coffs Harbour
Famous for its iconic Big Banana, Coffs Harbour is an ideal destination for family holidays. From whale watching and bush walks to a marine sanctuary and more, you'll find plenty to do and see while you're here.
Book yourself a camping spot at the BIG 4 Park Beach Holiday Park.
Big Banana Fun Park
No Australia road trip to Coffs Harbour is complete without a visit to the Big Banana Fun Park! The biggest theme park between Sydney and the Gold Coast, this awesome attraction is a kid's dream destination! From ice skating and laser tag to tobogganing and giant slides – there's so much to do! There's even a candy kitchen, a waterpark, and a reptile world!
Dolphin Marine Conservation Park
If you've ever wanted to meet a dolphin up close, the Dolphin Marine Conservation Park is the place to do it. Choose from a range of experiences including a chance to get in the water with one of these incredible creatures. Unforgettable! You can also meet penguins, seals, and even a mermaid!
Byron Bay
The beachside town of Byron Bay is a must-do destination to add to your Australian road trip itinerary. It's a great place to explore by campervan, with loads to see and do for families. Explore the beaches, shop at the local markets and artisan stores, or take a hike in the iconic lighthouse.
For a great family-friendly stay with excellent campsite facilities, head to the Ingenia Holiday Park Byron Bay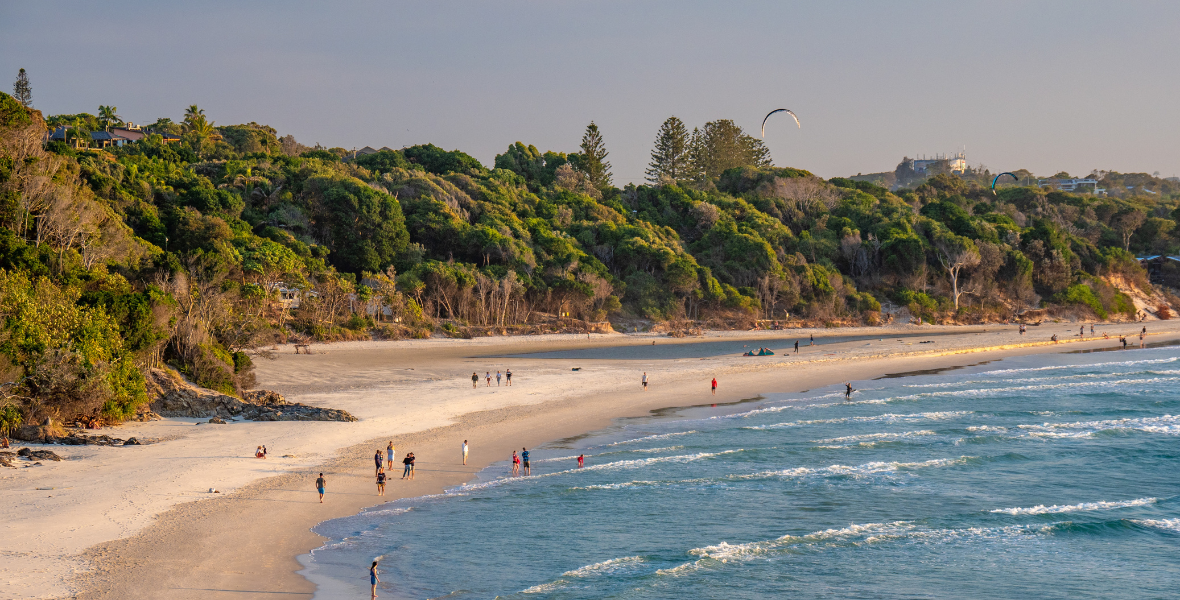 Image Source: Tourism Australia Image Gallery
The Farm Byron
Treat the kids to an incredible farm experience at The Farm Byron Bay. This working farm has the goal of educating and inspiring visitors. There are plenty of great activities for kids from building bamboo bee houses to meeting the friendly cows and even making butter!
The Crystal Castle
See the biggest crystals on earth at The Crystal Castle! This unique attraction is a magical experience like no other. Here, you can sit in an ancient amethyst cave and wander through the tranquil Shambhala Gardens and rainforest. Plan your visit for lunch and indulge in a delicious meal and homemade desserts.
Gold Coast
With its famous theme parks and holiday resorts, beautiful beaches, and fantastic food scene, the Gold Coast is an unmissable destination on your Australia campervan holiday.
Book one of the powered camping sites at the NRMA Treasure Island Holiday Resort.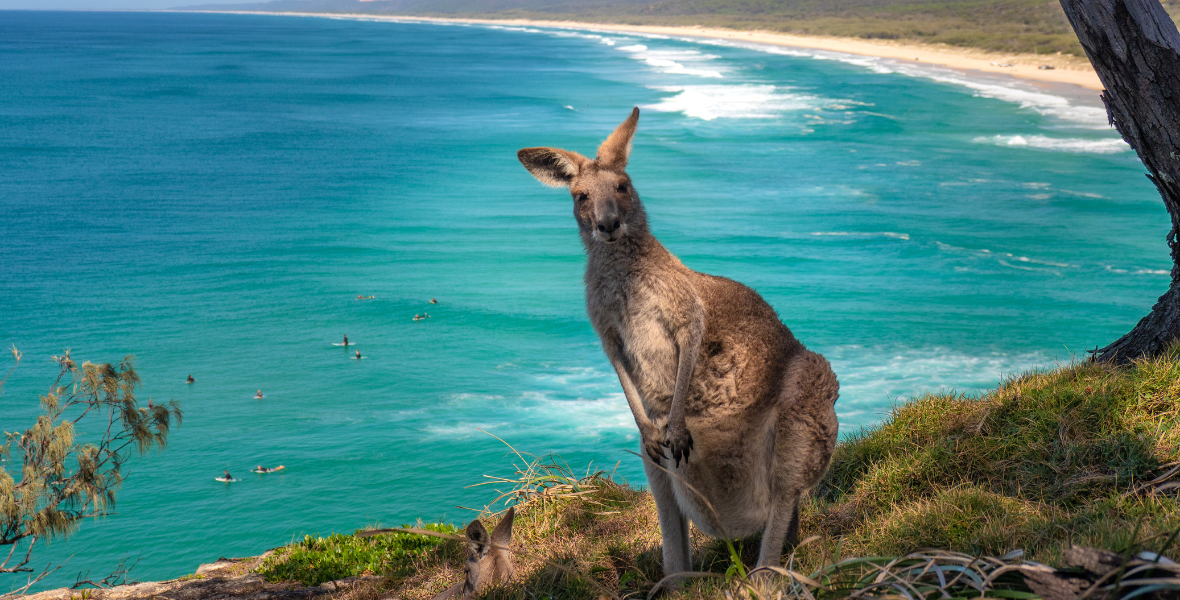 Image Source: Tourism Australia Image Gallery
Movie World
A Gold Coast holiday isn't complete without a visit to Movie World. This iconic theme park is the perfect destination for families with a huge range of attractions for every age and stage. Where else can you meet Superman, watch a Hollywood stunt show, and ride a Scooby-Doo rollercoaster? Be sure to plan at least a few days here – you can't see it all in one day!
O'Reilly's Tree Top Walk
With over 320 km of walking tracks leading to spectacular waterfalls and lookouts, the Lamington National Park is the perfect place to unwind and reconnect with nature. One of the must-dos, while you're here, is O'Reilly's Tree Top Walk. The walk has nine suspension bridges up to 16 metres above the ground. Enjoy the incredible views of the forest below. Visit in the early morning or late afternoon to see the amazing birdlife.
Stradbroke Island
Rich in indigenous culture with an abundance of diverse wildlife, North Stradbroke Island makes for an unforgettable family holiday destination. Also known as Minjerribah, the island is just a 45-minute ride on the car ferry from Brisbane.
Plan a stay on the island at the Amity Point Camping Ground.
Amity Enclosure
Kids ready for a swim? Pack a picnic and head to Amity Enclosure for a relaxing afternoon in the sun. Once everyone has cooled off, take a wander through the Amity Point village and enjoy dinner at one of the great seafood restaurants.
North Gorge Walk
The North Gorge Walk is a must-do on your visit to Stradbroke Island. Take in the spectacular views from the rocky outcrops at Point Lookout across to endless stretches of golden, sandy beaches and turquoise waters. This special destination is also a haven for marine and birdlife. Keep an eye out for whales and dolphins between June and November.
Brisbane
The capital of Queensland, Brisbane combines a laidback charm and vibrant energy that makes it a great destination for a family campervan holiday. From its world-class cultural attractions and entertainment facilities to its ancient rainforests and natural wonders, Brisbane really does have it all.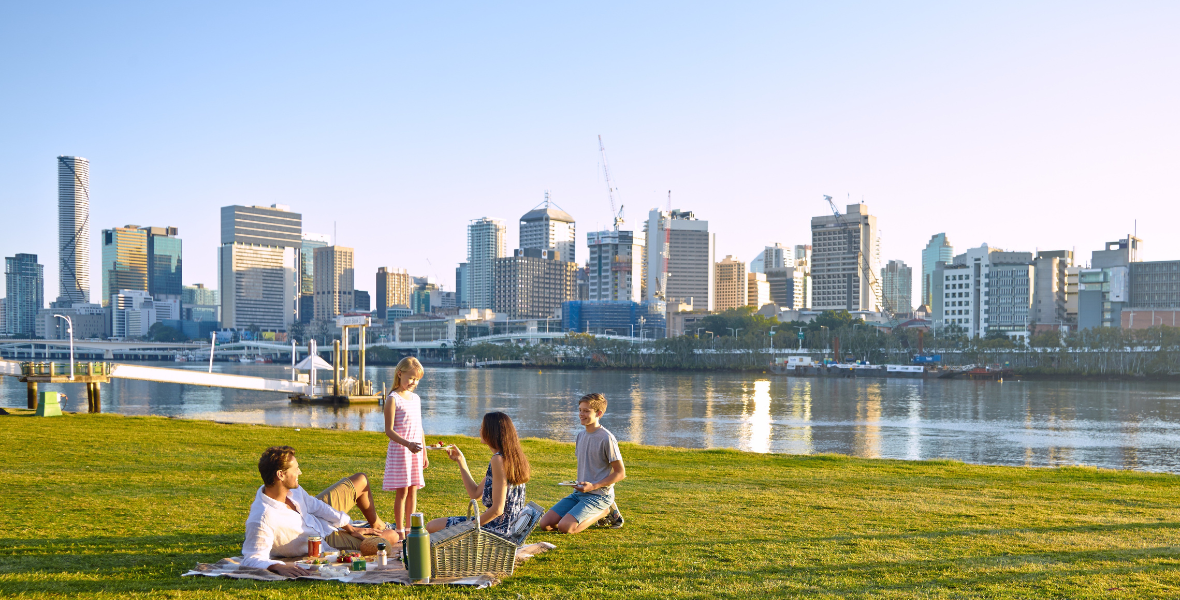 Image Source: Tourism Australia Image Gallery
Eat Street Northshore
Just 15 minutes from Brisbane's CBD, Eat Street NorthShore is a fun-filled destination designed to delight your taste buds while offering some of the best local live entertainment Queensland has to offer. Eat Street NorthShore is built from 180 repurposed recycled shipping containers and features over 70 traders, five themed bars, eclectic shops, and micro restaurants serving dishes from across the globe.
Sir Thomas Brisbane Planetarium
Fancy a little stargazing on your Australia road trip? Head along to the Sir Thomas Brisbane Planetarium. The Planetarium is home to the Cosmic Skydome - a 12.5-metre-diameter projection dome. Enjoy a show including a tour of Brisbane's night sky and learn more about the fascinating world beyond our planet.
Once you've explored the many great attractions on offer in this amazing city, you can drop your Britz campervan off at our Brisbane branch.
Ready for your next family road trip?
From cuddling koalas to meeting superheroes, your Australian campervan holiday between Sydney and Brisbane is the ultimate family adventure!
If you're excited to explore some of the amazing attractions, beautiful beaches, and natural wonders on this incredible Australia road trip, the very best way to do so is with a Britz camper.
Travelling with children by campervan means you've got space to carry all those extra must-haves, and you never have to worry about finding a toilet along the way!
At Britz, we have a wide range of the best motorhomes available for hire for your next campervan road trip. Britz campers come in a variety of sizes to suit every traveller. And to help you stay on budget, make sure you don't miss out on our latest deals.
Not sure which is the right campervan for you? Some popular choices are the 2 Berth Britz Venturer, the 4 Berth Britz Voyager and the 6 Berth Britz Frontier.
Ready to get started? It's easy! Book online today and get ready to enjoy the ultimate Australia campervan holiday!
For more great tips on campervan travel, check out these helpful blogs: