Join thousands of fellow campervan travellers
Sign up for our Britz newsletter to receive inspirational travel content and awesome deals, and we'll send you a copy of our Ultimate RV guide!
Thanks
Please confirm subscription in your email.
A campervan with a fridge for readily available snacks, a bed for napping, a get-away car when adventuring time is over, and space for toddler-friendly activities, is a game-changer for families travelling with toddlers.
On top of your regular travel considerations, planning a holiday with toddlers requires additional considerations. With all the things to consider, it can be easy to miss a step - that is why we have created this comprehensive guide of our top tips for campervan travel with toddlers.
Why campervan trips are great for families with toddlers
Campervan holidays are one of the best ways to explore Australia while minimising the stress of travelling with toddlers - but the benefits don't stop there. There is a huge list of reasons to take your kids on a campervan holiday:
Travel can contribute to social and emotional development. By giving your children the chance to experience different places. This contributes to their learning and development
It makes sticking to routines a lot easier. Our littlest travellers can eat and sleep anytime/anywhere in a camper.
Nature is your back garden. With so many places to explore, they'll be kept occupied for hours on end.
Travel on your own schedule. Being in the driver's seat, you can travel at your own pace.
Connect as a family. A road trip is a great chance to play games and build memories together.
There's always a kitchen and toilet nearby. Bringing snacks can help save money on the road. You can let your kids play wild, knowing amenities are available whenever you need it.
What to pack for campervan travel with toddlers
One of the biggest perks of travelling in a campervan is being able to travel with everything you need in tow. While some of the essentials such as blankets and cookware are included with your hire, there are a few additional things to consider packing for a campervan holiday with toddlers:
Favourite pillow or blanket: While bedding is included with your rental van and extra blankets are available for hire, these personal items can be comforting in a new environment.
Comforting/sleep routine items: Soft toys, blankies, battery-powered white noise machines, etc.
Changes of clothes: Although adults can afford to pack light, you don't want to be caught without a change of clothes for your toddler.
Gear for adventuring: Australian weather is quite variable so pack a variety for all conditions, including sunglasses, gumboots, rain jackets, extra clothes for muddy adventures, sun hats, swimwear and swim nappies, beach shelter etc.
Porta-potty or toilet-seat-ladder: An essential if you are potty training.
Carrier: Perfect for adventuring.
Car seat: Be aware that requirements change between countries so make sure you meet the Australian car seat legal requirements. Car seats are available for hire with Britz.
Disposable bags/laundry bags: For nappies, dirty clothes, bibs etc.
First aid and toddler toiletries: Baby pain medication, thermometer, baby sunscreen and bug spray.
Powerpoint safety covers: if they will be able to reach.
Spill-proof cups and break-free dinnerware: To safeguard against spillages.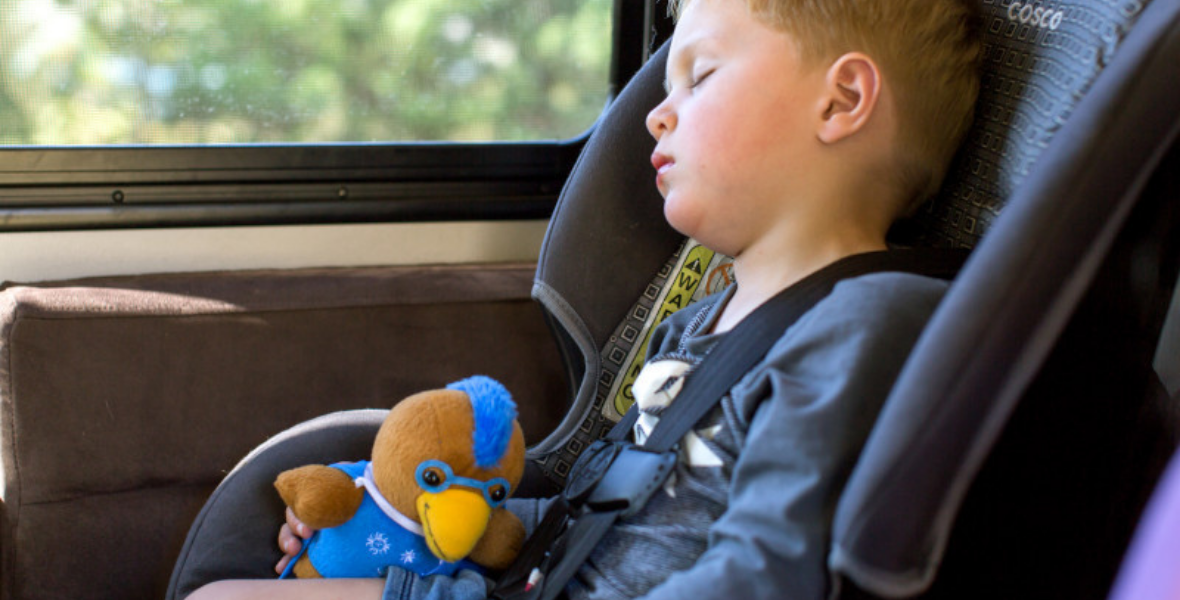 Top tips for campervan travel with toddlers
Bring items that comfort your toddler
Even the most seasoned of travellers can feel unsettled leaving their old routine and sleeping in new places. As such, to ensure little ones are travelling and sleeping well, it's a good idea to bring some familiar items into the campervan that provide them comfort and familiarity while exploring new places. When deciding which of these are essential, it can be helpful to think about your routines at home - do they like a special soft toy for bed? A favourite bedtime book? Then pack accordingly.
Try to stick to your toddlers routine
One of the ultimate perks of travelling in a campervan is that you have the freedom to create your own schedule and routine. If your child is like most toddlers and thrives in routine, it's a good idea to take advantage of the freedom travelling in a campervan provides and stick to these routines when on the road. This will not only help them enjoy the experience more but will make the transition in and out of the holiday as seamless as possible. Try planning activities around their routine so they aren't staying up too late or being too overstimulated before bed - this will make everyone's holiday more enjoyable!
Stock your campervan pantry and fridge
When travelling around Australia, especially in remote areas, there are many opportunities to try unique food such as bush tucker, crocodile, kangaroo etc. While these are a great opportunity for your toddler to experience new foods and cultures, most toddlers have a taste for what they like, so it's also a good idea to bring some familiar snacks and meals. This is a great way to keep to their regular routine as well as reduce costs on the road.
Bring portable toddler items
A camper is a compact space, so it's important to consider what is essential when planning your packing list for your toddlers:
Strollers: Consider what kind of terrain you will be travelling through and whether your stroller is good for off-roading or if you might prefer something easy-to-fold and lightweight. If your stroller doesn't meet those requirements, you may want to consider borrowing one.
Porta-potty
Lightweight backpack carriers: These are the perfect companion for big adventures.
A portable playpen: These can be great for outside the camper - these can be quite bulky and aren't always necessary as there are plenty of amazing family-friendly campsites that are safe for kids.
Write a packing list while you are still at home
While packing, run through your everyday routine and write down the items as you go - this will help ensure nothing is left behind. It can be helpful to think about what larger/bulky items you could substitute for compact items that have multiple uses, e.g. changing table alternatives.
Bring items to keep toddlers occupied
When planning your family road trip, it's a good idea to consider what route you will take and what parts of Australia you will be travelling to. If you are planning a route that will include long days on the road, it's a good idea to brainstorm ways to keep the kids entertained on a road trip. Consider bringing a variety of compact toys, games, and devices as well as plan a few games you can play with them on the road.
Remember items to keep parents occupied, too
As a parent, planning your personal time is an essential part of any good family trip. Since you will be sharing a space, you might like to consider what things you can do to make the most of your downtime:
Device for listening to music
Chairs for sitting outdoors in the evening while toddlers sleep
Books/magazines
Plan your route
While not essential, planning your route will make your family trip as smooth as possible. Using a road trip itinerary planner such as the thl Roadtrip app will help you explore and plan campgrounds, free camping spots, routes, top Australian attractions and things to do in Australia, dump points and more. Try and incorporate a mix of attractions, toddler-friendly activities and everyday activities such as parks, playgrounds, wildlife parks, and beaches.
If you're planning a remote outback adventure, be sure to check if there are shops on your route in case you need emergency supplies. It's also a good idea to check the conditions of the roads to remote Australian attractions so you can avoid any bumpy routes that could be uncomfortable for toddlers.
Picking the right campervan for your family trip
At Britz, there are a variety of campervans to choose from, each with its own features and benefits. When comparing vehicles in the fleet, it's important to think about what features are most important for your family vacation:
Consider choosing a camper where the passenger seat is close to the front seats, so little ones are within reach and you can keep an eye on them. Single or double beds that are low to the ground are ideal for small children. Self-contained models are great for toddlers who are toilet training, so you always have a toilet nearby.
Consider your electrical requirements
If you have any white noise machines, night lights, humidifiers, or baby monitors that require a powerpoint to run, be sure to check the different powerpoint options in the camper. As Britz campervans need to be plugged into power to run any of these 240V items, it's also a good idea to think about possible alternatives if you need to use them when not plugged in at a powered camping site. Consider packing some battery-powered options for when you are out and about.
Ensure you have enough play space
When choosing a rental van, consider how you will be using the campervan during the trip. If you're planning to spend some of your time indoors, you might want to pick a larger camper size for some extra room for indoor activities.
Make sure you have practical workspaces
Aside from sleeping and dining, you will want to think about how you can utilise the space for other activities such as changing nappies, bath time, and potty training. Make sure you have enough bench space for food prep, cupboards for food and so on. If you plan to spend the majority of your time outdoors and utilising campsite facilities, then a smaller 2-4 berth campers may suit. But for most families, the larger 4-6 berth campers should provide enough space for this all to be done around other people in the family indoors.
Measure all your toddler gear when choosing a campervan
The final consideration is making sure all your gear has a place in the campervan. For this, it can be a good idea to get a rough idea of all your measurements so you can plan out where everything will go. Planning where you will store your larger items such as car seats, portable playpen, and porta-potties will help ensure you don't get caught out short on space.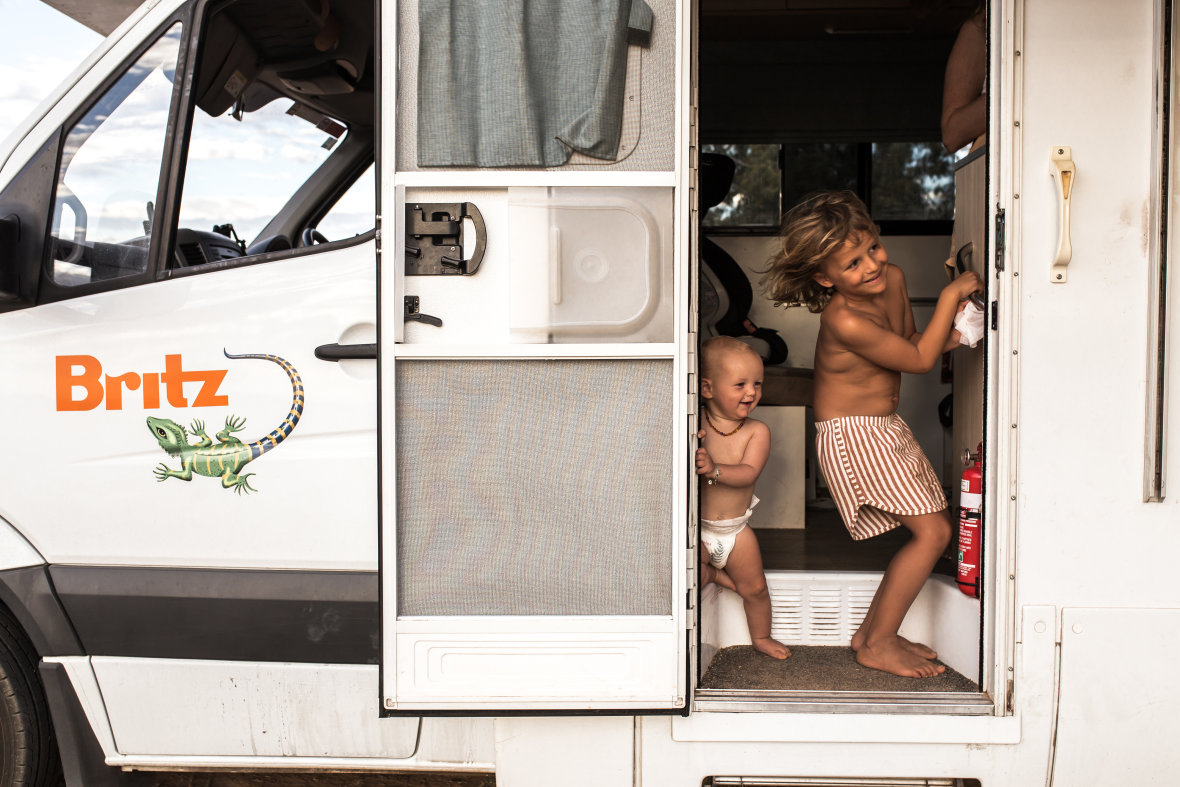 Ready for your next Australian adventure?
Feeling ready to tackle toddler travel and rent a van to travel around Australia? Take a look at the great rates on offer and book your Britz campervan today. If you're looking for more inspiration for your Australia road trip, check out our guides and download the thl Roadtrip app to get inspired!