Join thousands of fellow campervan travellers
Sign up for our Britz newsletter to receive inspirational travel content and awesome deals, and we'll send you a copy of our Ultimate RV guide!
Thanks
Please confirm subscription in your email.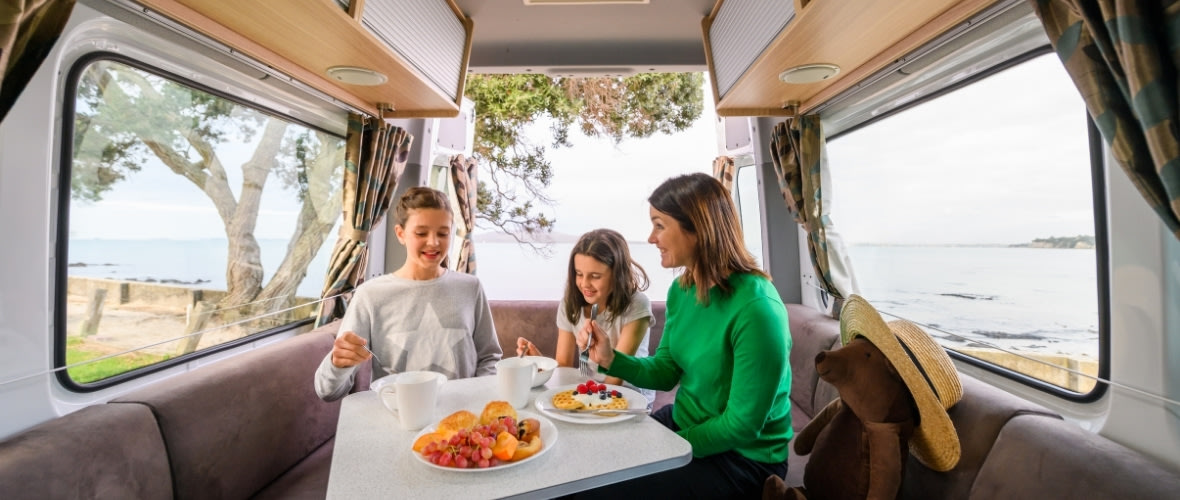 Image Source: thl Content Hub
Campervans have become the ultimate bucket list for family road trips and for good reason. With so many fun things to do in Australia and long distances between destinations, campervans are the perfect way to roam and rest your way through Australia.
Considering renting a van for a family campervan trip but have a few questions before you book? We've got you covered. Travelling in a campervan can feel a little alien at first but, with the right know-how and preparation, your first campervan trip may just become your new favourite family tradition.
That is why we have created this guide for surviving your first family campervan trip, so you have all the tools to create a family road trip that your kids look back on and remember for the rest of their lives.
What makes a family campervan trip special?
While there are so many perks of van travel, one of the best things about travelling in a campervan is the freedom to travel at your own pace, with your family in tow. The ability to have flexibility can really be the make or break of a great getaway. Here are some more great reasons to take your kids on a campervan holiday:
You'll save money on accommodation that you can use towards activities to remember.
Although it's good to plan ahead, being in the driver's seat puts you in charge of your trip and you can change your itinerary as you go if needed.
A campervan is one of the only ways to get truly up close and personal with the great Australian outback.
Having a kitchen and bed on wheels means no need to unpack and repack the car every day (plus snacks and naps are more convenient than ever!).
Caravan parks are a great place for your kids to meet other children.
You can travel with your pets!
You'll enjoy quality bonding time with your kids exploring new terrain and create new memories together.
1. Choose the right campervan for your family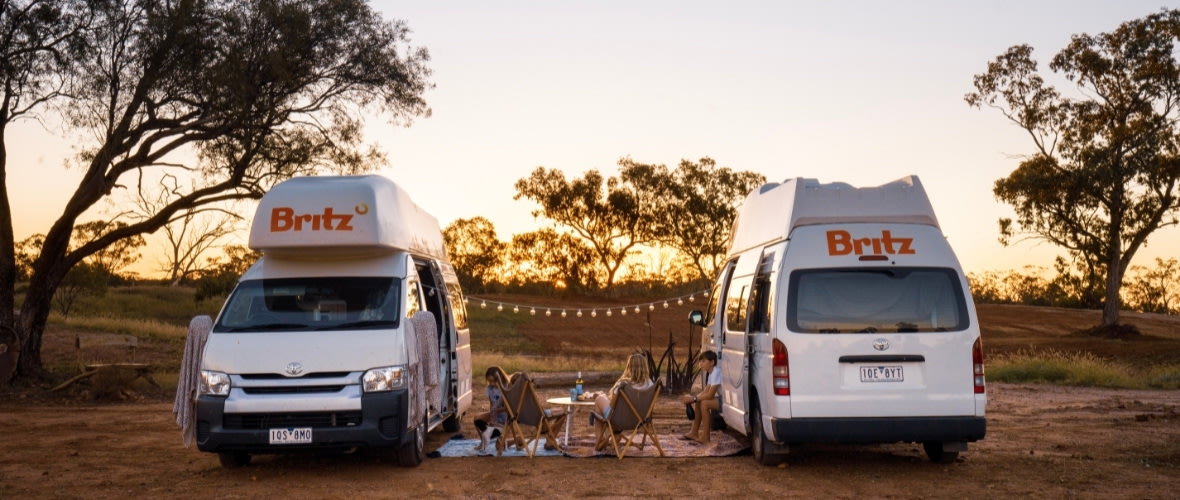 Image Source: thl Content Hub
At Britz, we have a campervan option to suit many different sized families. Each campervan comes with its own style of amenities, so when choosing a campervan, it all comes down to a matter of personal preference. Here are a few things to consider:
How large is your family?
Are you bringing any pets?
If you have young kids, is a lot of space important?
What amenities are essential? Do you want a toilet and shower on board?
Do you prefer an automatic drive for ease of use?
Is it easy to put in car seats if you have young children?
Types of family campervans for hire
Having an idea of the kind of amenities that will suit your family makes choosing the right campervan easier. In the Britz fleet there are seven campervans to choose from, each with its own specifications and layout:
Campers for up to 3 people:
This is a compact campervan with all the modern essentials like a microwave, fridge and gas stove. This is campervan simplicity at its finest and would be perfect for a small family who don't require an onboard toilet and are happy to get cosy in this compact space.
Travel in comfort in this classic campervan. The Venturer sleeps one double or two singles and is fully self-contained with a shower and toilet. This would be great for a small family or a solo parent and child getaway!
This is a great van for a growing family with a dinette that converts into a double bed in the rear and a single bed in the front. With a fully self-contained set up as well as fridge and gas stove, this would be a great option for a family trio.
Campervans for 4-6 people:
This is a great set up for small families or those looking to spend a lot of their time outdoors. These Toyota Hiace vans can sleep up to 4 people with two double beds (one in the rear and one in the rooftop loft). It has basic kitchen amenities with gas and a fridge.
This ultimate freedom machine sleeps up to 4 people with two double beds – one in the back and one over the cab. It is fully self-contained with a toilet, shower, and full mini-kitchen. Another great contender for families of up to four people who enjoy a little more space.
This innovative camper can sleep up to 4 people with a dinette in the rear that converts into a double bed and a mechanical double bed that drops down from above to create a double bunk bed. With a full kitchen, toilet, and shower amenities, it would be perfect for a family of four to get away in style.
As the most spacious and equipped member of the fleet, this campervan can sleep up to six people. This campervan is fully contained (toilet and shower onboard) and has all the modern essentials like a microwave, gas burner, and fridge, along with ample counter space.
2. Visit family-friendly spots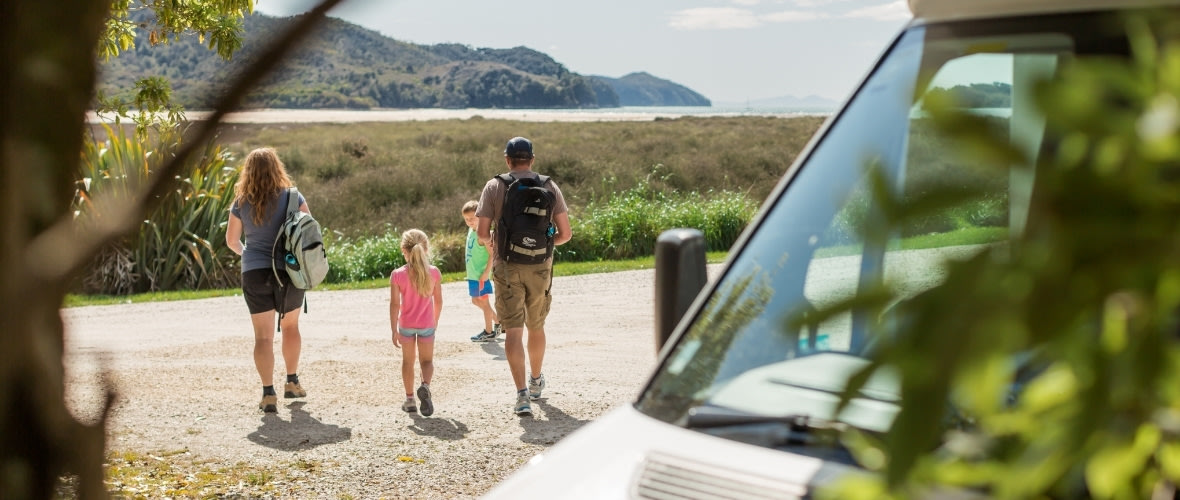 Image Source: thl Content Hub
Travelling as a family is a great way to spend time together, but it also is good to find ways for kids to let off steam, so you can all get the most of your campervan experience. If you're wondering where to stay during your trip, caravan parks are a great family-friendly spot!
One of the reasons so many families love staying at a campground is that these places often come with playgrounds in shared spaces and other families will be there too. Caravan parks are a great way for kids to mingle and for adults to enjoy the end of a long day of child wrangling and exploring.
Holiday parks and caravan parks also have amenities like a laundry, TV rooms, charging stations for electronic devices etc – a welcome necessity when travelling through places like the Australian outback, or over long days exploring national parks or playing at the beach.
When it comes to planning your days, consider integrating a few activities in open spaces like beaches or national parks. These spaces are a perfect way to give kids time and space to run wild and to let out energy before settling into a campervan for the night.
3. Keep the kids busy and entertained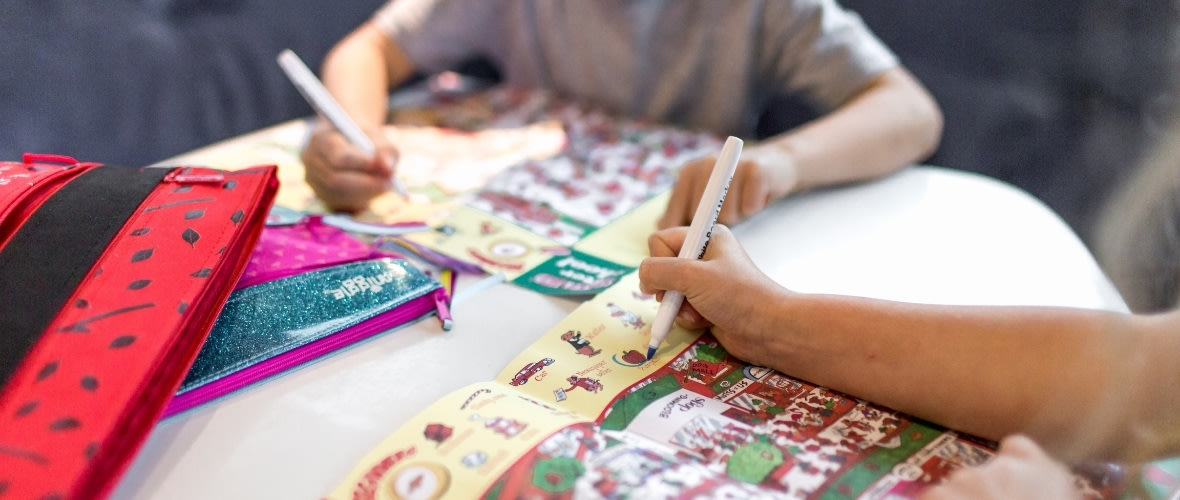 Image Source: thl Content Hub
Depending on the places you're planning on visiting, a trip around Australia will most likely involve a bit of driving time. It's a good idea to come prepared with a game plan of how to keep the kids happy and entertained on these parts of the campervan trip:
Audio Books
If you're wanting to minimize the time your kids spend on screens, an audiobook for the family can be a good replacement to keep them occupied and engaged during long drives.
Play car games
If your kids are prone to being car sick, try to find ways to keep them looking up when travelling. There are loads of road trip games like 'Spotto' or 'I Spy' to have a go at while you're driving which do the trick!
Pack snacks
Hungry kids can be troublesome so be sure to have some healthy snacks handy on board.
Consider your route
When planning your route be mindful of the length of the drive. Some parts of Australia include long stretches of road with not a lot to do. If you have smaller kids or children who do better with shorter trips, consider a trip where you stay closer to a city, e.g. if you were heading to South Australia, you could explore Adelaide and the surroundings. If your family is happy to drive long distances, a trip from Adelaide to Melbourne could be a fun thing to do as a family. For more ideas on planning your itinerary and where to go check out our guides.
4. Pack for every possible scenario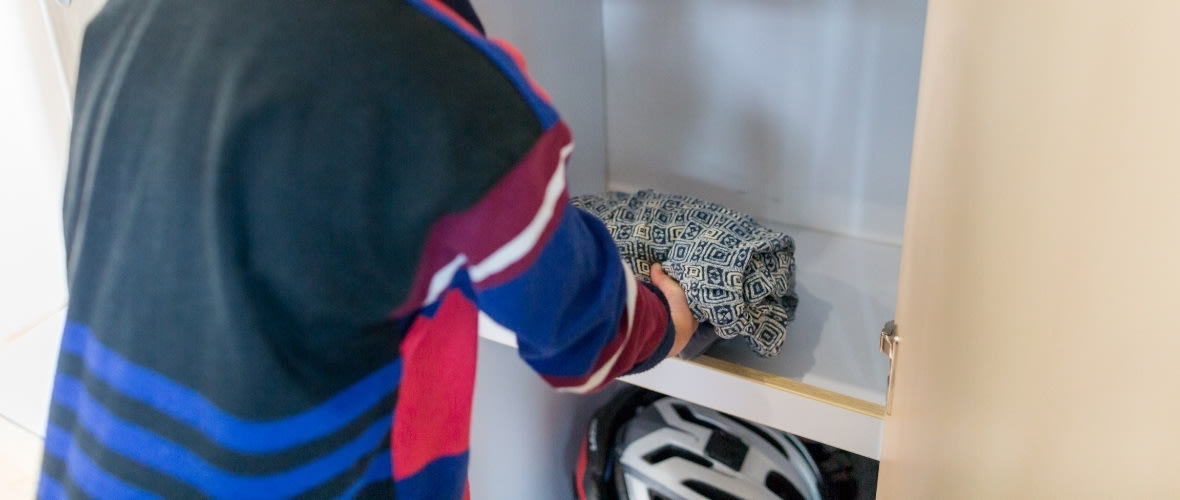 Image Source: thl Content Hub
It is always a good idea to start packing at least a week before leaving if possible, to minimise stress. If you're stressed, you are more likely to forget things. If you can, try and get the whole family involved and use this as an opportunity to get excited about the adventure you're about to embark on! Here are some things to think about when deciding what to pack on your trip:
Pack for all weather conditions
Another great perk of travelling in a van is that you will always have your suitcase with you! While storage is still limited, it's a good idea to pack a variety of essentials and clothes for every condition, as Australian weather can change quickly.
Look at what essentials are included onboard
When considering what things you may need, it's a good idea to check what's included in your van online before picking up your campervan. Some campervans have certain kitchenware items along with other bits and pieces already.
5. Travel when it's most convenient
There is no 'right' time to take a campervan holiday, but there are a few things to consider in order to make sure it is going to be the right time for your family.
Do you want to avoid the crowds?
If you want to avoid crowds, it's best not to travel during peak times like public holidays or to head to touristy destinations. Get off the beaten track, into national parks and into the remote and beautiful parts of Australia.
What activities do you want to do?
Consider the time of year to travel based on what you're wanting to do and the weather in Australia. Warmer months (October-March) are great for hiking, beach hopping, and mountain biking. Colder months (April-September) are ideal if you're going skiing or into the outback to enjoy a more temperate experience. Other considerations would be avoiding the wet season if you're planning a trip to the Northern Territory (November- April).
When is everyone free?
If you have school-aged children, school holidays are going to be a great time to get everyone together for a trip. Check out the Australian school holiday calendar for more information on this year's school dates.
6. Keep safety top of mind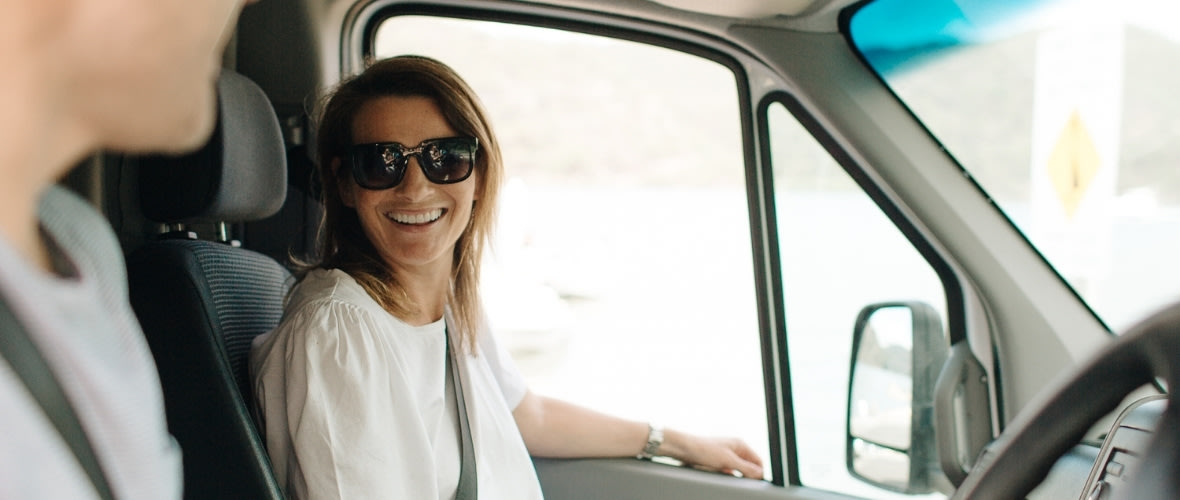 Image Source: thl Content Hub
Driving a campervan is a lot different to a car, but with a little bit of preparation, you will be cruising around Australia in no time. There are a few things to keep in mind to make sure you stay safe during your campervan trip:
Familiarise yourself with road rules, vehicle features (e.g. reversing camera), and driving tips before leaving.
Weather can change quickly in Australia. Check weather conditions before you leave, and regularly when you're on the road.
It's compulsory for all people in the campervan to be wearing a seatbelt when the vehicle is in motion.
Children need to be in an appropriate, well-fitted child restraint/car seat for safety on the road. You can add these to your hire for a small fee or bring your own to install. Be aware that some international car seats do not meet Australian guidelines. Be sure to check these before packing yours!
7. Make the kids feel at home on board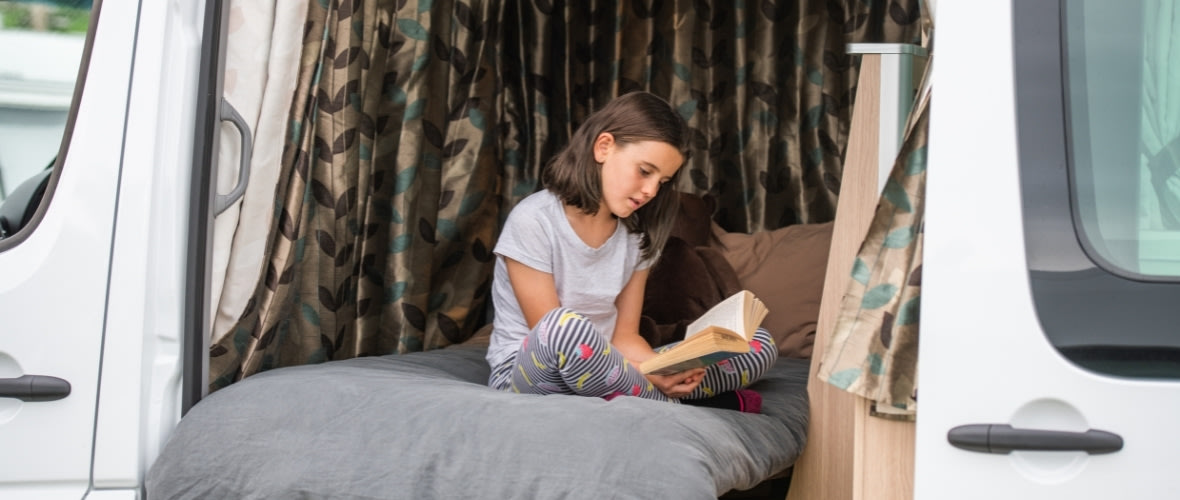 Image Source: thl Content Hub
Just like every other part of a road trip, planning ways to keep the kids entertained and happy can be a big part of the enjoyment of a family trip. Here are some things to consider:
To help kids feel at home be sure to bring their favourite blankets and toys (however, space is limited so essentials only!).
Walk your kids through the campervan before you head off so that they get familiar and feel comfortable in it (take advantage of the van-specific walkthrough videos on the thl Roadtrip app).
Plan your route in advance with plenty of stops for kids to get out and stretch their legs.
One perk of a campervan is having a fridge full of snacks on hand, so you can keep your kids fuelled with healthy options, saving you the headache of hyper children after a road trip of sugary snacks.
8. Save money where you can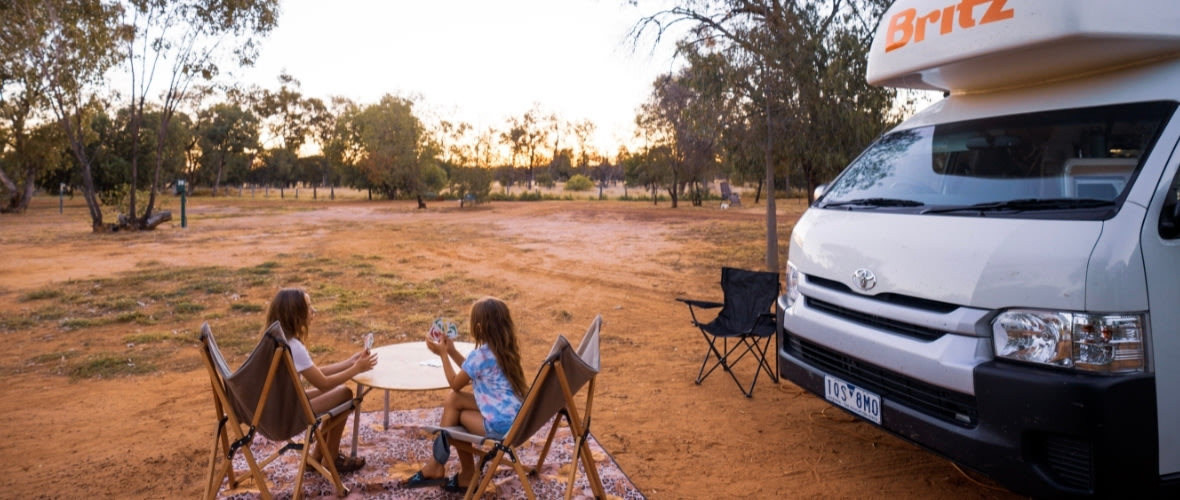 Image Source: thl Content Hub
If you're keen to save a little money, there are many ways to do so when travelling in a campervan:
Travel during off-peak seasons and avoid long weekend surcharges (plus the roads are quieter and the campsites are less crowded so it's easy to nab a site!).
Creating a holiday budget - having a kitchen on board means you can save on eating out to then put money towards family experiences instead.
Plan ahead to try to avoid road tolls (the thl Roadtrip App comes in handy for this!).
Visit lesser-known or free locations - there are heaps of options and free things to do in every state!
Try your hand at free camping - this is not only a great money saver but a great opportunity to get a little closer to nature.
Ready for your first family campervan trip?
There you have it, our top tips for surviving your first family campervan trip. If you're looking to book your first family campervan trip, take a look at the great rates on offer and book your Britz campervan today. If you're looking for more inspiration for your Australia road trip, check out our guides and download the thl Roadtrip app to get inspired!