Join thousands of fellow campervan travellers
Sign up for our Britz newsletter to receive inspirational travel content and awesome deals, and we'll send you a copy of our Ultimate RV guide!
Thanks
Please confirm subscription in your email.
Britz Australia has a branch conveniently located in Adelaide – the gateway to South Australia. And if you want to plan an extended road trip, you can drop your campervan off at any one of our Australian branches.
But before you head off, you'll need to book a campsite or two. Fortunately, South Australia has some fantastic holiday parks that cater to families. At Britz, we're all about making van travel easy (and loads of fun). So to help you get your road trip itinerary planner sorted, we've done the research for you. In this guide, we'll share some of the best family-friendly campsites in South Australia.
Is South Australia a good place for families to visit?
Why families should explore South Australia in a campervan
Best family-friendly campsites and holiday parks in South Australia
BIG4 Renmark Riverfront Holiday
Park BIG4 West Beach Parks
NRMA Victor Harbor Beachfront Holiday Park
Marion Holiday Park - Adelaide
BIG4 Naracoorte Holiday Park
Port Broughton Tourist Park - Yorke Peninsula
Brighton Beachfront Holiday Park
Berri Riverside Holiday Park
Is South Australia a good place for families to visit?
If you love family holidays full of fun, adventure, great food, and plenty of opportunity to relax… South Australia is the place to find it all. With its pristine beaches, picturesque coastline, and endless natural wonders, there's something new to do and see every day.
Spend one day cuddling a koala on Kangaroo Island and the next learning about Aboriginal history in the Flinders Ranges. Taste the fresh flavours of the south at Adelaide's markets, or the juicy seafood on offer at Eyre Peninsula. South Australia is all about making awesome memories with your family. There's no better way to do that than to rent a travel van and hit the road. To make your Australian road trip even easier, be sure to download the thl Roadtrip app. This handy app has everything you need to help plan your trip – you can even use it to book your campsites.
Why families should explore South Australia in a campervan
The best family memories are made on a campervan holiday. And with so many fun things to do in South Australia, it makes for the ideal holiday destination. Here are just some of the many great reasons to take your kids on a campervan holiday.
You'll never have to worry about finding a public toilet. With your bathroom on board, you can make a toilet stop anywhere, anytime. And those of you with littlies will appreciate what a huge benefit that is.
When you travel by campervan, the kids tend to spend more time being energetic during the day, and tired by bedtime. Most kids also love the novelty of sleeping in a campervan – it's all part of the big adventure.
There's plenty of room for all the kids' camping supplies. And best of all, no need to pack and unpack as you move between destinations.
You can still cook your favourite family meals. It's easy to whip up dinner when you have your own kitchen, fridge, and storage for your cooking must-haves. Plus, home cooked meals always taste better when you're travelling.
You can bring the family dog with you. Holidays just aren't the same without your best furry friend. But with Britz campers, dogs are welcome.
You can be spontaneous. Explore off-the-beaten-track roads, take a diversion to somewhere new, and stay longer in places you love. There's no strict schedule to worry about when you explore Australia by campervan. Relax and enjoy the drive.
Keep your budget in check – an Australian road trip by campervan is an economical way to have a family holiday. You can cook your own meals, and not worry about expensive accommodation. The fun of van travel and seeing new sights is priceless. And with so many great beaches, reserves, and forests in South Australia, there are loads of things you can do for free.
South Australia has some awesome holiday parks and campsites for families. Here's a look at some of our top recommendations:
Best family-friendly campsites and holiday parks in South Australia
Many of South Australia's campsites and holiday parks are incredible destinations in themselves. Especially if you've got kids on board. These great spots are ideal for families:
BIG4 Renmark Riverfront Holiday Park
Located along the mighty Murray River, the BIG4 Renmark Riverfront Holiday Park is everything needed for an unforgettable family campervan holiday. Pack the kids' swim gear – they'll be in the water from dawn till dusk. The holiday park has a new resort-style luxury pool to keep the kids busy, as well as an awesome water park. And when they're not in the pool, they can try kayaking, paddle boarding, or riding on a Water Bee on the river. And when they're ready for a rest, make some popcorn and send them to the Movie Room while you enjoy unwinding in the outdoor heated spa.
There are plenty of other great activities on offer nearby too. Take a walk on one of the Murray River trails, visit the Loxton Skatepark, or check out the incredible views from the Headings Cliff Lookout. And when dusk falls, meet the friendly possums who live in the palm trees along the Renmark riverfront.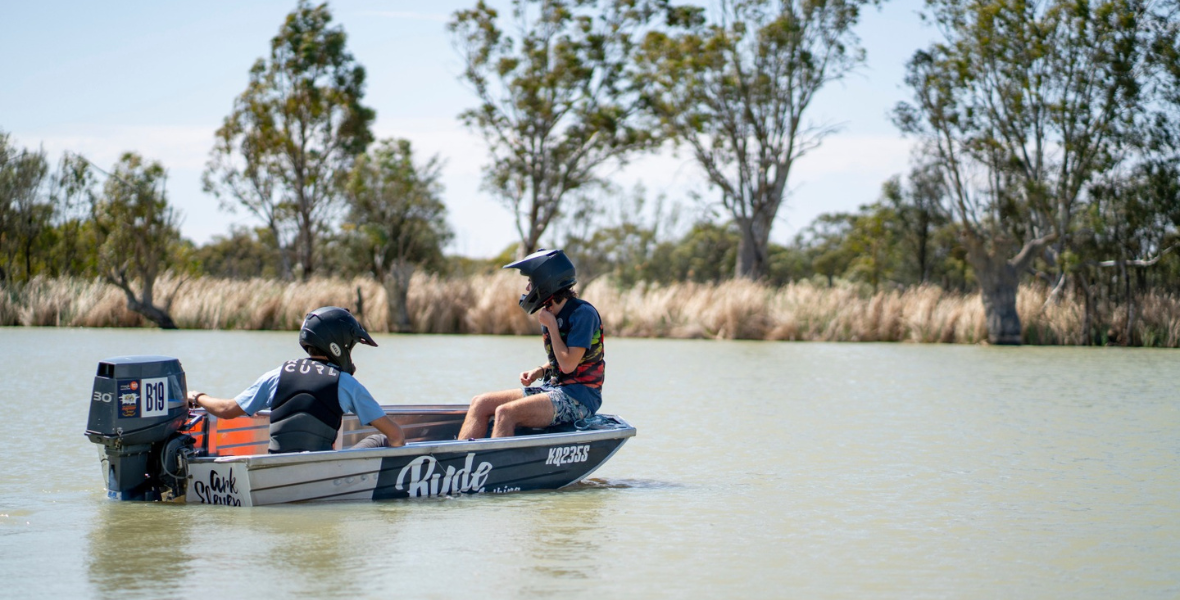 Image Source: SATC Media Gallery
BIG4 West Beach Parks
Another of BIG4's awesome holiday parks is BIG4 West Beach Parks. There's lots on offer for families here, from a kids' splash zone and swimming pool to jumping pillows, go-karts, and great games. And if they want even more water-based fun, head to the Big Wedgie. It's the world's tallest and most extreme inflatable water slide.
While you're here, meet some of the fascinating wildlife at the Monarto Safari Park. Get up close with a meerkat, meet a rhino, and feed a giraffe. You can even spend a morning being a zookeeper.
For more fun, head to West Beach Adventure where you can get an extreme workout on the Mega Climb. This mind-boggling structure is the largest aerial adventure course in Australia. Definitely one for more adventurous kids (and their brave parents).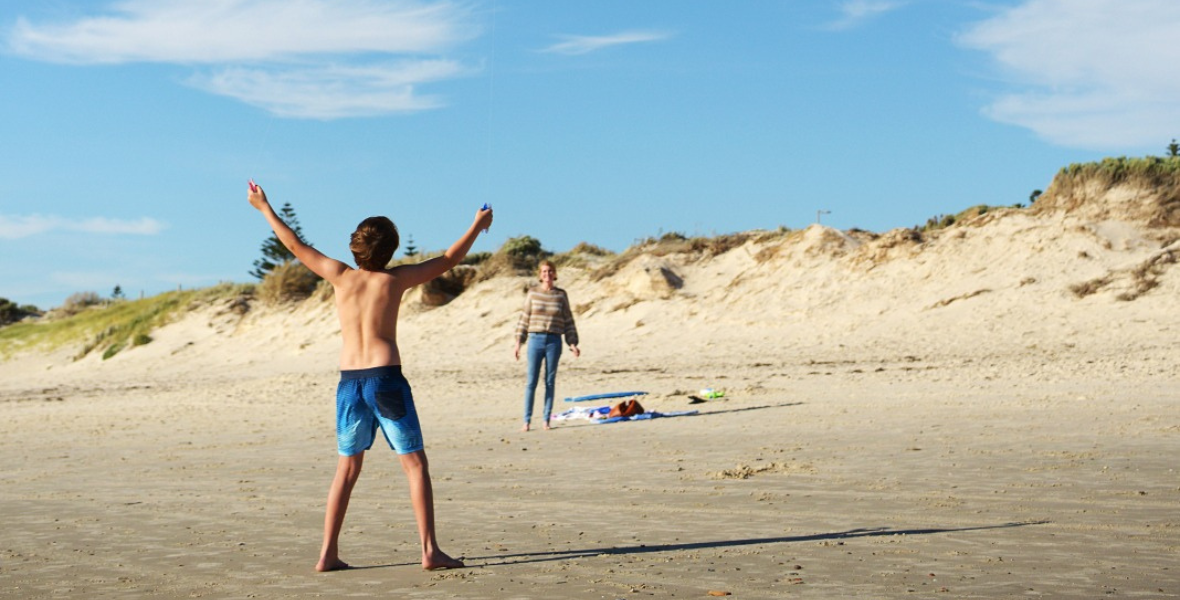 Image Source: SATC Media Gallery
NRMA Victor Harbor Beachfront Holiday Park
Who doesn't love a holiday park with 'beachfront' in the title? The NRMA Victor Harbor Beachfront Holiday Park is one of the best. Located on the beautiful Fleurieu Peninsula, this great spot is just an hour's drive south of Adelaide. Wake up in your campervan to the sound of lapping waves. Enjoy fish and chips for dinner on the beach. You can even bring along your dog and let them be part of the fun.
When you're ready for a day out, head to Granite Island Recreation Park for a bushwalk. If you're here during May to October, bring your binoculars and see if you can spot a whale. They sometimes come as close as 100 metres from the shore. Another great family activity is a visit to Urimbirra Wildlife Park. Here, you can see more than 400 Australian animals including dingoes, crocs, wombats, koalas and more.
For something a bit different, take a ride on the Cockle Train where you'll see the stunning peninsula scenery from the top of the coastal cliffs.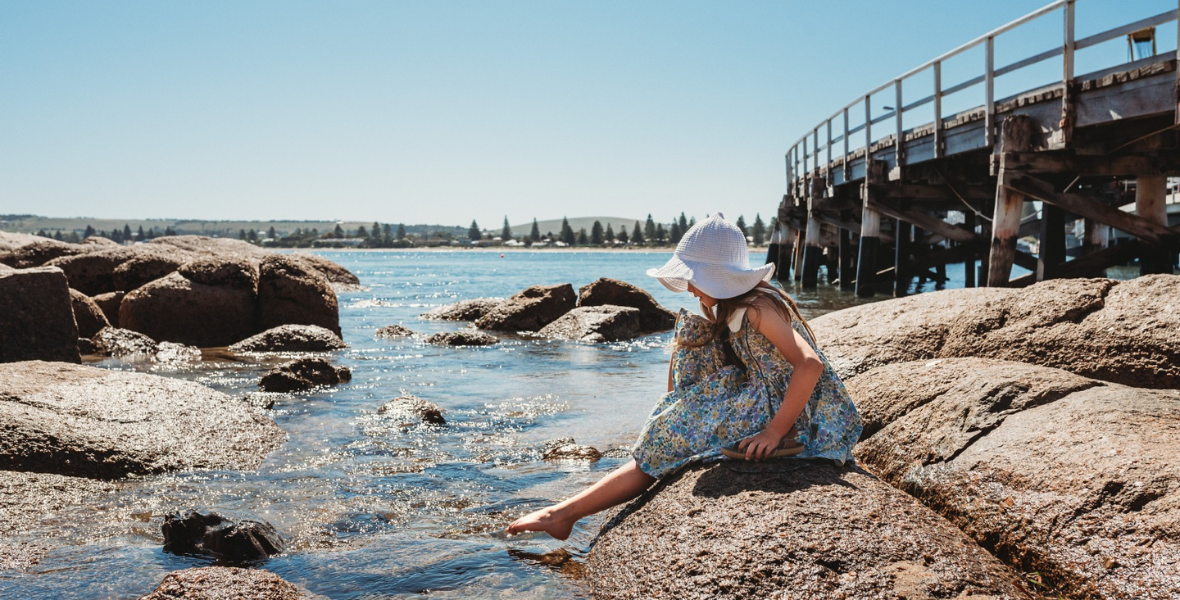 Image Source: SATC Media Gallery
Marion Holiday Park - Adelaide
From the 45-metre lagoon pool and water park to the outdoor bar and cinema, the Marion Holiday Park is all about family fun. There's even an indoor tennis court, games room, and gym too.
Conveniently located in Adelaide, this holiday park is surrounded by family-friendly activities and experiences. For those with a sweet tooth, head to Haigh's Chocolate Factory and take a tour. Watch the skilled confectioners creating their handcrafted goodies and enjoy tastings along the way.
To help burn off all that chocolatey goodness, set the kids loose at The Beachouse. They'll be kept busy for hours playing on the dodgem cars, barrelling down the water slides, and playing mini golf.
Give the kids an insight into the arts with a visit to the Art Gallery of South Australia. There are always plenty of great exhibitions and events with something for everyone.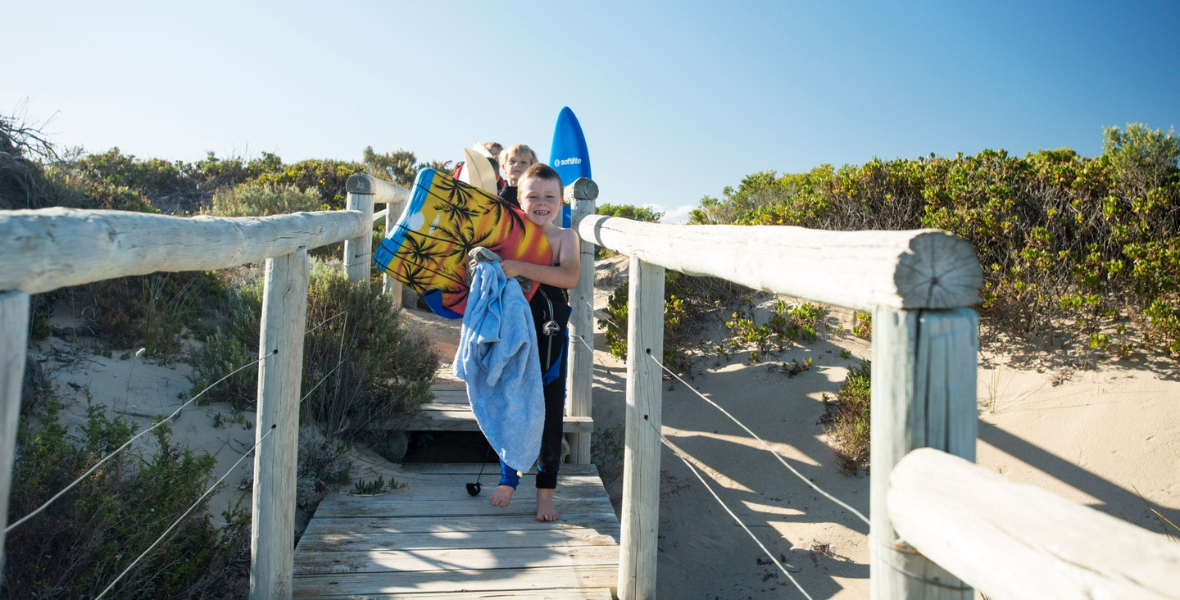 Image Source: SATC Media Gallery
BIG4 Naracoorte Holiday Park
If you've never been to Naracoorte, we suggest booking yourself into the BIG4 Naracoorte Holiday Park and checking out this awesome town. Naracoorte sits halfway between Melbourne and Adelaide with loads on offer. The BIG4 holiday park is a great spot for families with all the must-haves to keep the kids entertained. This holiday park is dog-friendly too, so bring along your furry friends.
One of the must-dos, while you're here, is a visit to the Naracoorte Caves. The caves are well known for the many fossils that have been excavated over the years. Another top spot is Naracoorte Swimming Lake, a huge manmade lake perfect for kids of all ages. And if you fancy a picnic lunch, head to Pioneer Park. Don't forget to check out the 1877 V9 class steam locomotive while you're there.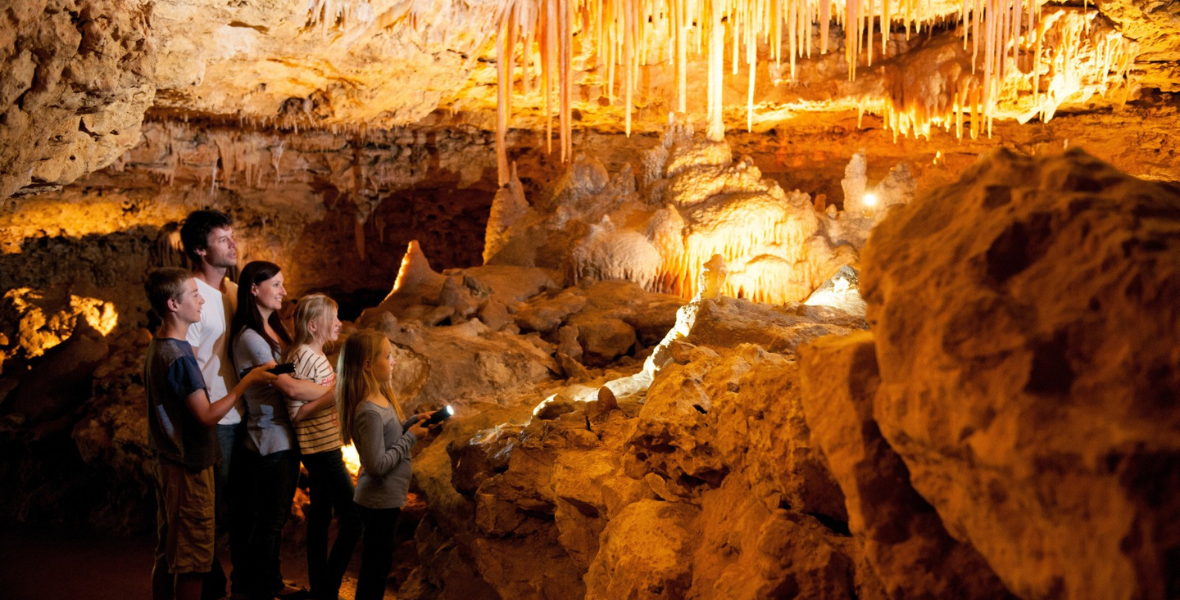 Image Source: SATC Media Gallery
Port Broughton Tourist Park - Yorke Peninsula
Heading to the coastal playground of Yorke Peninsula? Be sure to book yourself into the Port Broughton Tourist Park. This holiday park caters to active kids with energy to burn – and parents who need some rest and relaxation. Dogs are welcome here too.
Wake up and enjoy a family breakfast before taking a stroll along the Port Broughton Foreshore. Slap some sunscreen on the kids and set them loose in the splash park. Take in a game of mini golf, then enjoy a pizza cooked in the pizza oven for lunch. After lunch, take a walk from Port Broughton to Fisherman Bay. And for dinner, watch the sunset with some delicious fish and chips from the Beachfront Takeaway.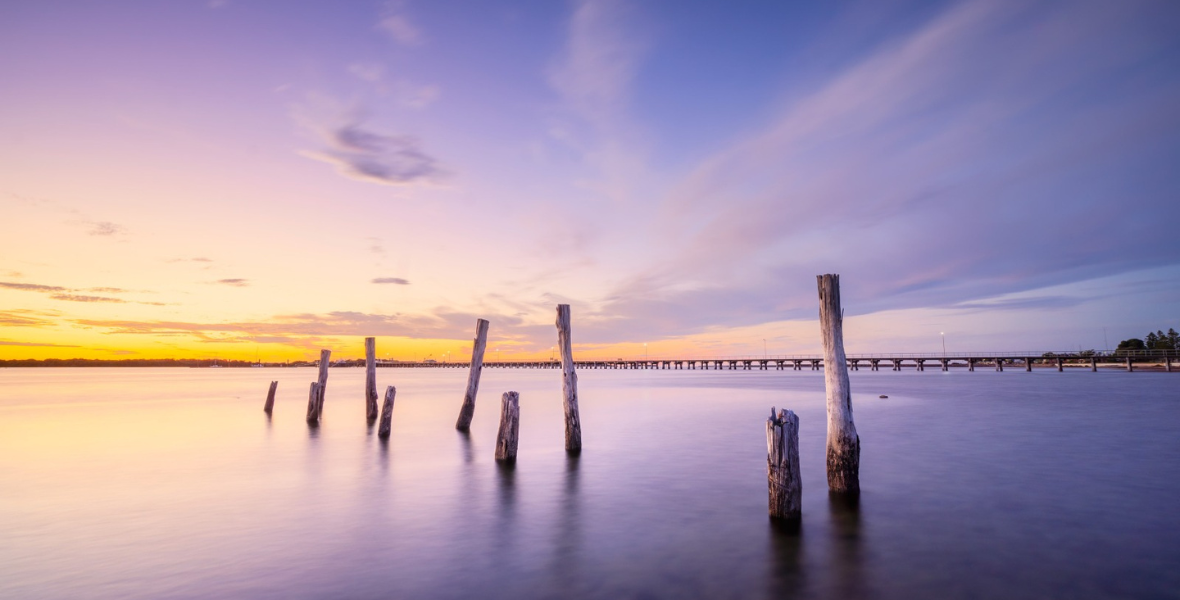 Image Source: SATC Media Gallery
Brighton Beachfront Holiday Park
Set up camp just metres from the beachfront at the Brighton Beachfront Holiday Park. This beautiful campground in Kingston Park overlooks the crystal-clear waters of Gulf St Vincent and is just 18 km from Adelaide's CBD. Hire a bike and explore the local area or take one of the nearby walking trails. This holiday park is dog friendly too.
For a relaxing evening, take a walk along Glenelg Beach and stop for a meal at one of the great restaurants along Jetty Road. Other top things to do nearby include learning about space at the Australian Space Discovery Centre or holding a koala at the Cleland Wildlife Park.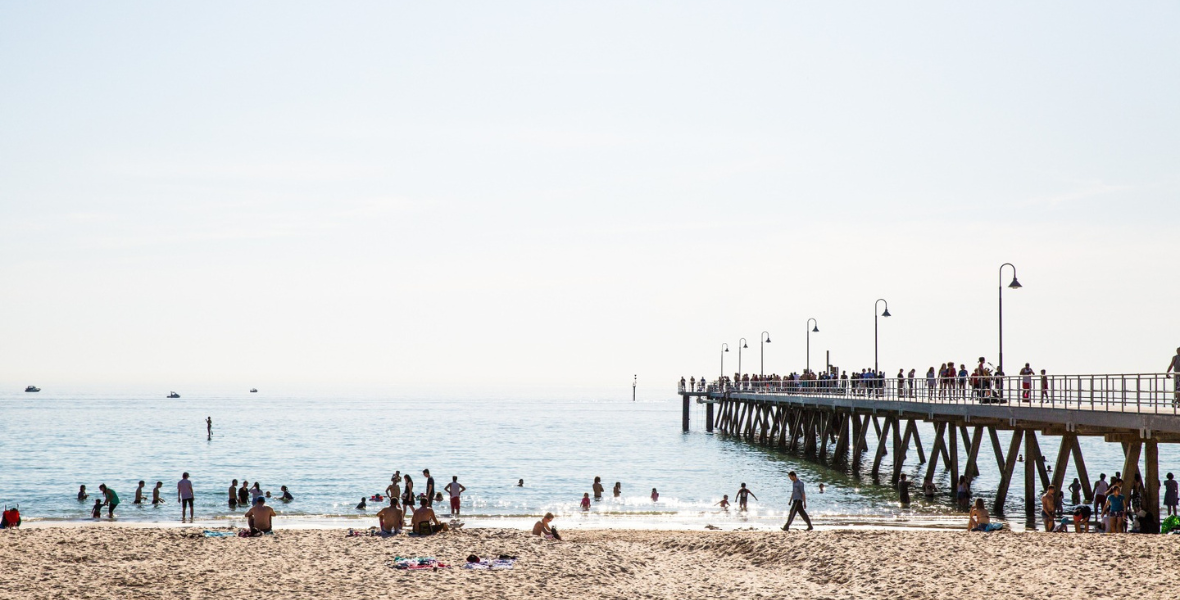 Image Source: SATC Media Gallery
Berri Riverside Holiday Park
Swim in the pool, ride on the BMX track, and toast marshmallows in the fire pit… the Berri Riverside Holiday Park has everything needed for a fab family holiday. They're dog friendly too – so that means the whole family. This holiday park also has its own 76 ft cruise boat that can take you up and down the Murray River. The cruise boat is a floating restaurant that offers fully licensed dining. If you prefer a more casual meal, plan your visit for a Wednesday or Saturday night when the holiday park holds pizza nights. Build your own pizza and have it baked in the wood-fired pizza oven.
There are plenty of great eateries nearby too, including the famous Mallee Fowl. Designed to resemble an early settlement dwelling, the restaurant is set on 11 acres with geese, emus, lyrebirds and many other Australian animals wandering the huge enclosure.
After all that eating, enjoy a game of mini golf at the holiday park or take the kids along to Monash Adventure Park to burn off some energy.
Ready for a family trip to South Australia?
Wow, South Australia has some seriously awesome campsites and holiday parks! Now that you've got a list of great places to stay, it's time to plan your ultimate South Australia road trip itinerary. Take the first step and book your Britz campervan online and then pick it up from our Adelaide branch.