Join thousands of fellow campervan travellers
Sign up for our Britz newsletter to receive inspirational travel content and awesome deals, and we'll send you a copy of our Ultimate RV guide!
Thanks
Please confirm subscription in your email.
Jarrad Seng & Brooke Blurton took the opportunity to embark on a 12-day campervan trip along the Coral Coast Highway, starting in Perth and finishing in Exmouth. We sat down with Jarrad & Brooke to get their take on the route, highlights along the way and why he chose to travel by campervan.
What were the highlights of your Coral Coast Highway road trip?
I'd actually never driven further north than Lancelin before, despite having lived my entire life here in WA. So basically everything after that was an eye-opener to me. The colours of Kalbarri blew me away. Whether it was canoeing down the million years old gorges, or sitting down at Nature's Window as the golden light of sunrise hit the rocks - the photographer in me was in bliss. Brooke's highlight was swimming with whale sharks in Exmouth - what an incredible experience to share the waters with such gentle giants. It was also nice to be out on the road supporting great local businesses and operators along the way.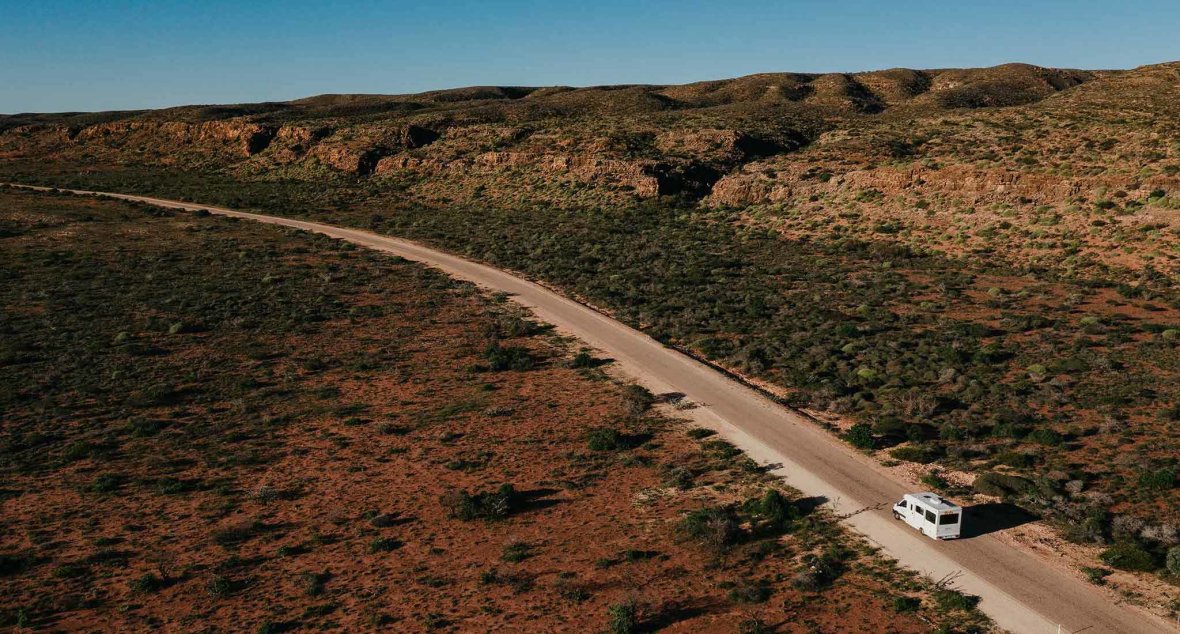 Image credit: Jarrad Seng
How would you describe WA's Coral Coast to someone who's never visited?
An array of colour, from the pink hues of Hutt Lagoon to the deep red Kalbarri gorges to the white sands of Turquoise Bay to the blues of Ningaloo Reef. Wide-open roads, small towns, unexpected delights. Every day breathing in fresh sea breezes and soaking in the sun.
How did a campervan enhance your Coral Coast experience?
There's a sense of adventure and community that comes with travelling by campervan. We loved meeting other travellers en route and connecting over our road trip experiences and recommendations. It felt like we were doing this adventure properly - we were experiencing and appreciating the land in a more authentic way.
What was the best thing about being in a campervan vs in a hotel?
We loved being able to pull up anywhere along the way and have kitchen facilities, bathroom, bed, coffee - ready to go wherever we were. And not having to pack and unpack our bags every day was a huge blessing! It was like travelling with our very own home away from home.
Image credit: Jarrad Seng
Did you have any preconceptions about campervan travel that have been dispelled on your trip?
I imagined that campervan travel would be a lot more 'hassle' than it was. I guess you could say I'm a fairly lazy person (that's how me and Brooke balance each other out), so I was unsure about how much time and effort we'd be investing into cooking meals, setting up at campgrounds, cleaning etc. Totally had nothing to worry about. Everything was smooth, streamlined and made common sense. You'd think there would be more stress associated with campervan travel but we found the opposite!
What was the most surprising thing about being in a campervan?
We were surprised at how neatly we were able to fit in all our bags and gear into the cupboards and storage. I kind of thought we'd be living out of our suitcases jammed under the bed, but everything actually had it's own place with plenty of room to spare. The only thing that didn't fit in snugly was a 2.5metre life size wood cut out of my friends that I decided to bring along for the ride - it's a very long story.
What advice would you give to anyone thinking about taking a campervan road trip across WA?
Choose your van wisely and don't be afraid to invest in your comfort. You'll be spending a lot of time driving and living in your miniature home on the road. Also, make sure to research your route and experiences before choosing your campervan - there are some amazing roads and drives that you may need a 4x4 for. Other than that - just dive in and enjoy the ride!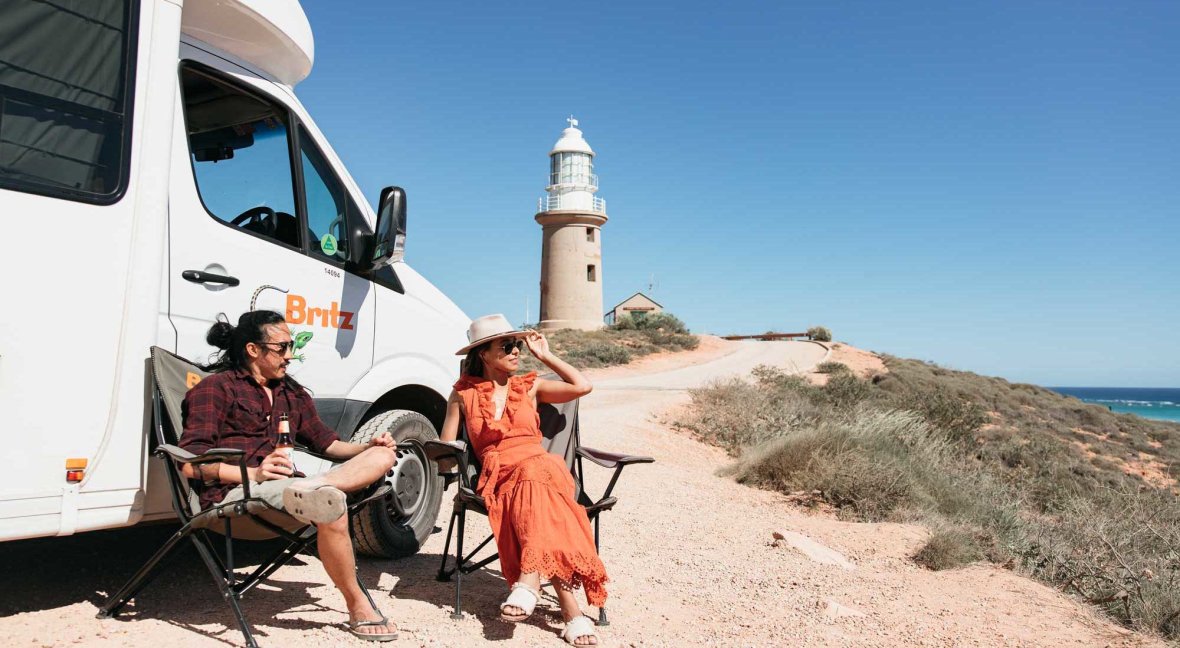 Image credit: Jarrad Seng
What do you think makes WA such an attractive holiday destination?
There is so much rugged and untouched beauty throughout the entire state. North, south, inland. Wherever you go, there is a diversity of landscape that is unmatched. Plus, things are just a little more chill over here on the west coast. There's so much open space. Time moves a little slower. And every day you can watch the sun setting over the ocean.
Any unexpected surprises encountered along the way?
We very nearly gave Quobba Station a miss - it would add another two hours to our road trip, and we were already racing to fit in all the amazing tours. Brooke (who's been before) convinced me that it was worth the detour and boy did it deliver. Waking up with the southern tip of the Ningaloo Reef outside our window was magic.
If you've been inspired to explore Western Australia, check out our great itineraries below to start planning your trip.
Explore WA With These Itineraries
---

Whoops, it seems like we haven't got any Popular Routes
Please try a different combination or click below to reset your search