Join thousands of fellow campervan travellers
Sign up for our Britz newsletter to receive inspirational travel content and awesome deals, and we'll send you a copy of our Ultimate RV guide!
Thanks
Please confirm subscription in your email.
We sat down with Scott Slawinski after his family returned from a Britz campervan trip into Western Australia's Golden Outback. Picking up their campervan in Perth, the family travelled to Lake Ballard, Kalgoorlie, Hyden and Esperance discovering the magic of this campervan itinerary through WA.
What were the highlights of your Golden Outback road trip?
There were many highlights, but for me, the most impressive scene was Lake Ballard. As someone who loves to take pictures, the colours and expanse of the Lake, coupled with the 51 statues scattered throughout, gave limitless opportunities for drone and ground photography. The night sky (with no light pollution anywhere), was something you just can't experience anywhere else. I also loved the campground. There was plenty of spots with great views surrounding the lake, with lots of wood around to make a little campfire. Another highlight was Gwalia Ghost Town, which the kids loved exploring!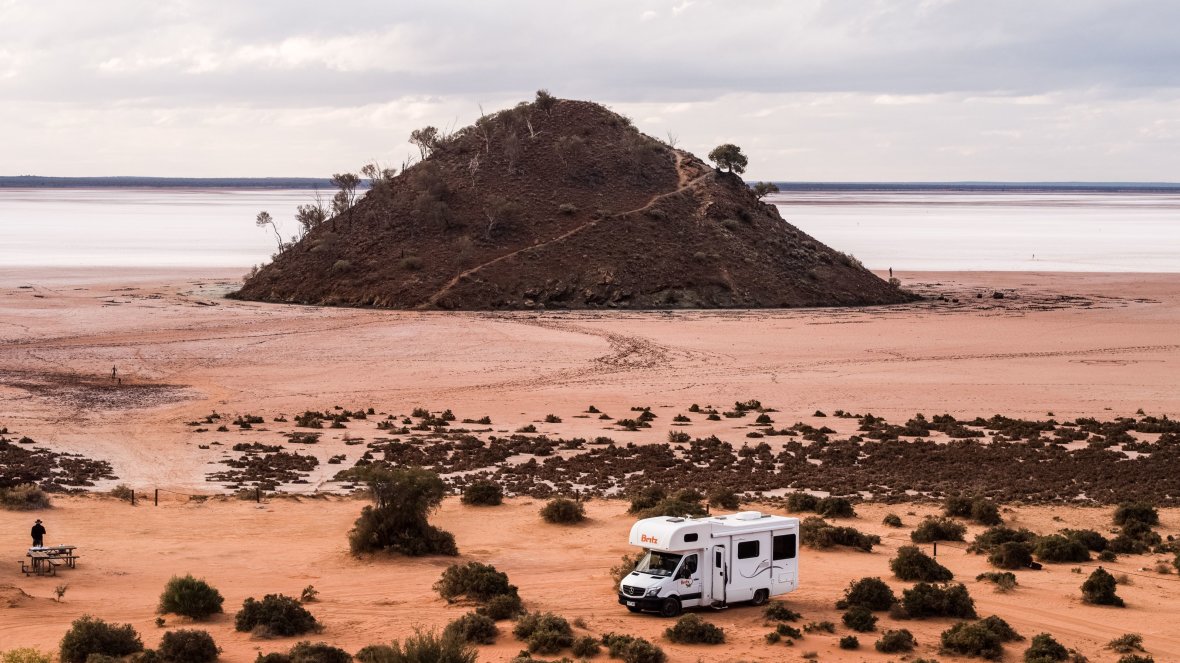 Image credit: Scott Slawinski
How would you describe WA's Golden Outback to someone who's never visited?
I'd describe the Golden Outback is a vast expanse of contrasting colours and landscapes, rich with West Australian history. The colours and flora change with the seasons and it's remarkable to be able to transition from the sparseness of the Goldfields region to the blue waters of Esperance in a matter of hours.
How did a campervan enhance your Golden Outback experience?
The campervan made it easier and more efficient to get from A to B, without the need for unnecessary stops and setting up / packing down. In the morning we could make a hot coffee, enjoy some brekkie at the table then hit the road without any hold-ups. The van certainly performed flawlessly and despite the size, it was really easy to drive. The little things you take for granted certainly helped, such as having a toilet on board, especially when travelling with kids, and a large freshwater tank and hot water system is very convenient.
What was the best thing about being in a campervan vs in a hotel?
The best thing about being in a campervan vs a hotel is the ease of travel. No suitcases, no unpacking the car, no check-ins. You can do things at your own leisure and you literally have everything you need at your fingertips. They're spacious inside and also very comfortable. It certainly beats tenting and no matter what the weather is doing, you're protected from the elements.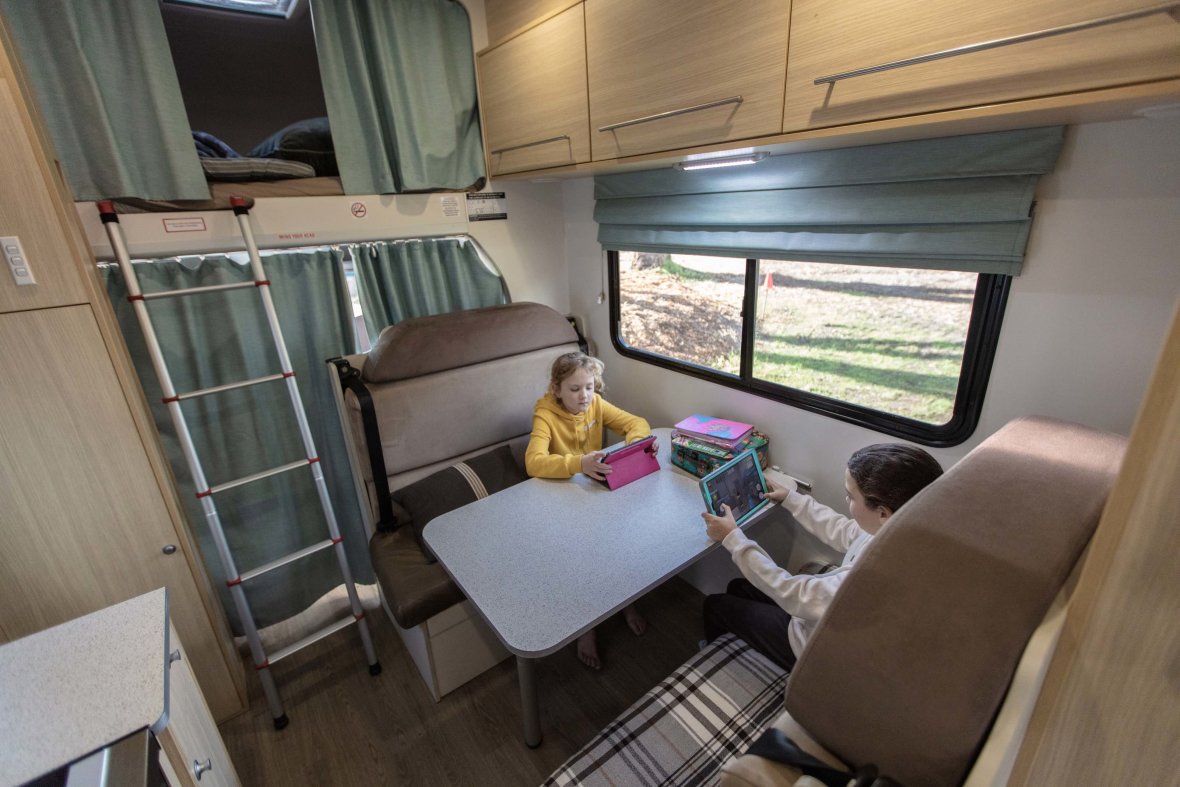 Image credit: Scott Slawinski
Did you have any preconceptions about campervan travel that have been dispelled on your trip?
I didn't have any preconceived ideas about a campervan trip and it's something I've wanted to do for some time. I think perhaps vans are often associated with grey-nomads or backpackers, but it's definitely a winner to do a trip like this if you've got kids. There's loads of storage space on board and the ability to travel without suitcases is definitely one attractive element. It's basically like having a little home on wheels.
What was the most surprising thing about being in a campervan?
The most surprising thing about the campervan was that it was very comfortable inside. I found that it was much quieter than sleeping in a tent, for example. We had some cold nights as it was the middle of winter but the aircon kept everyone warm inside. The blinds were very easy to pull up and down and really darkened the inside which was helpful when the kids were sound asleep in the morning. At first, I was hesitant about using the on-board toilet but this proved to be really simple to empty and keep clean, it was a really easy process.
What advice would you give to anyone thinking about taking a campervan road trip across WA?
I would say just give it a go if you've never done it, what have you got to lose? A trip around WA can be as inexpensive or expensive as you make it, and hiring a campervan is definitely not an expensive way to travel. When you consider the current climate and challenges faced around the world, we're very lucky that we live in WA and we have this enormous backyard to explore. There's never going to be a better time to get out there and experience what we have to offer. Don't let the weather put you off, this isn't camping. Having a campervan means you get to travel comfortably in any weather. Western Australia is beautiful at any time of the year, just get out there!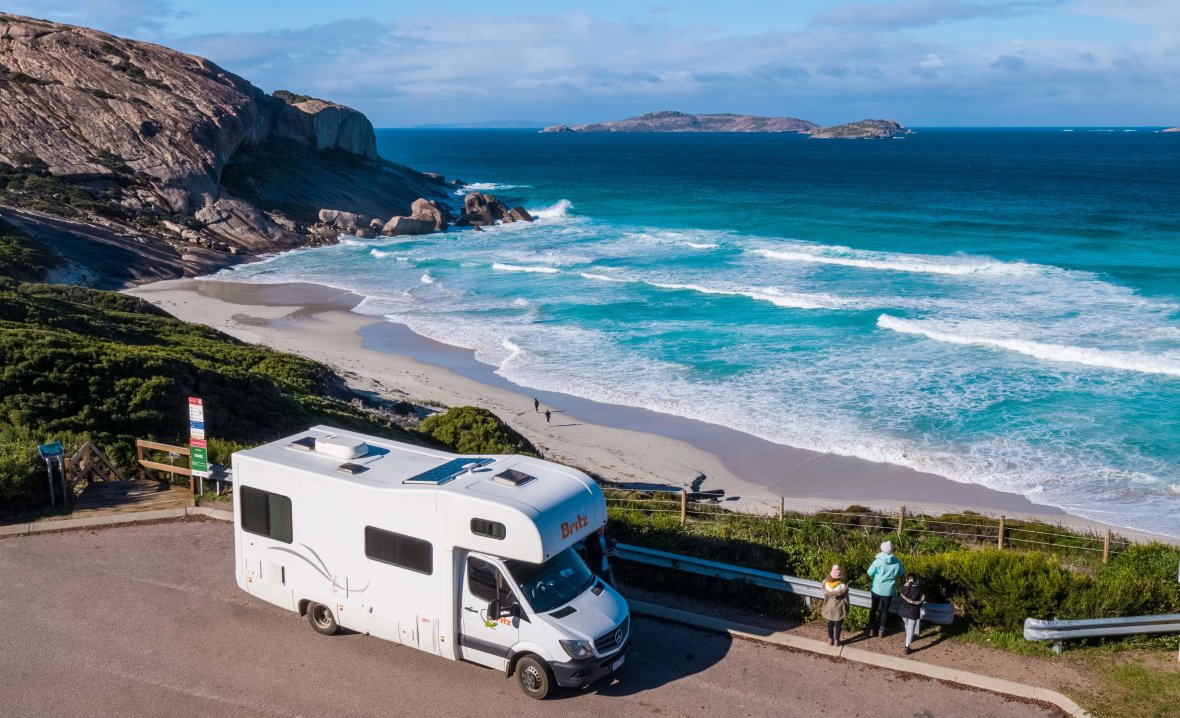 Image credit: Scott Slawinski
What do you think makes WA such an attractive holiday destination?
The thing about WA is you get what you want, the hustle and bustle if you like, or complete isolation if that's what you're looking for. Warm weather or cooler climates, the choice is yours. It really does have a bit of everything and the diversity of the landscapes is unmatched. I think WA is a photographers paradise, everywhere you go there's something new to shoot and a different perspective to look out for.
Any unexpected surprises encountered along the way?
Some of the out-of-the-window scenery we encountered while cruising along the highway was quite unexpected. From beautifully coloured salt lakes, through to eye-popping Canola fields and the crystal clear waters of Great Ocean Drive in Esperance, I found it was much more interesting and diverse than travelling through some other parts of Western Australia. We also encountered wildlife including Emus, Kangaroos and even spotted a couple of whales on the journey.
If you've been inspired to explore Western Australia, check out our great itineraries below to start planning your trip.
Explore WA With These Itineraries
---

Whoops, it seems like we haven't got any Popular Routes
Please try a different combination or click below to reset your search