Join thousands of fellow campervan travellers
Sign up for our Britz newsletter to receive inspirational travel content and awesome deals, and we'll send you a copy of our Ultimate RV guide!
Thanks
Please confirm subscription in your email.
Carly Rossbach-Smith (aka Perth Munchkin) has been out and about hunting down the best tastes in Western Australia's South West. Picking up her campervan in Perth, she travelled south to Margaret River, Denmark and beyond in search of the best tasty treats on offer.
What were the highlights of your South West Foodie road trip?
There were so many highlights, it's hard to narrow it down! Taking the campervan was a new style of holidaying for us, which made it really exciting! It was excellent to visit some of WA's natural wonders like The Gap in Albany and Valley of the Giants in Walpole, and having never seen Boranup Forest, exploring it on an electric quad bike with EcoAdventures Margaret River was such a unique experience. On the foodie front, I finally got to eat at Liberte, which was wonderful. Lunch at Wild Hop Brewery was a favourite, those beer-battered pickles are a must order! The platter game in Denmark is strong! The Lake House and Denmark Farmhouse Cheese knocked it out of the park. We enjoyed some beautiful wine and food flights at Leeuwin Estate and Oranje Tractor. The last dinner of our trip had us in front row seats at Miki's Open Kitchen and I loved every single bite. So many highlights and unforgettable memories!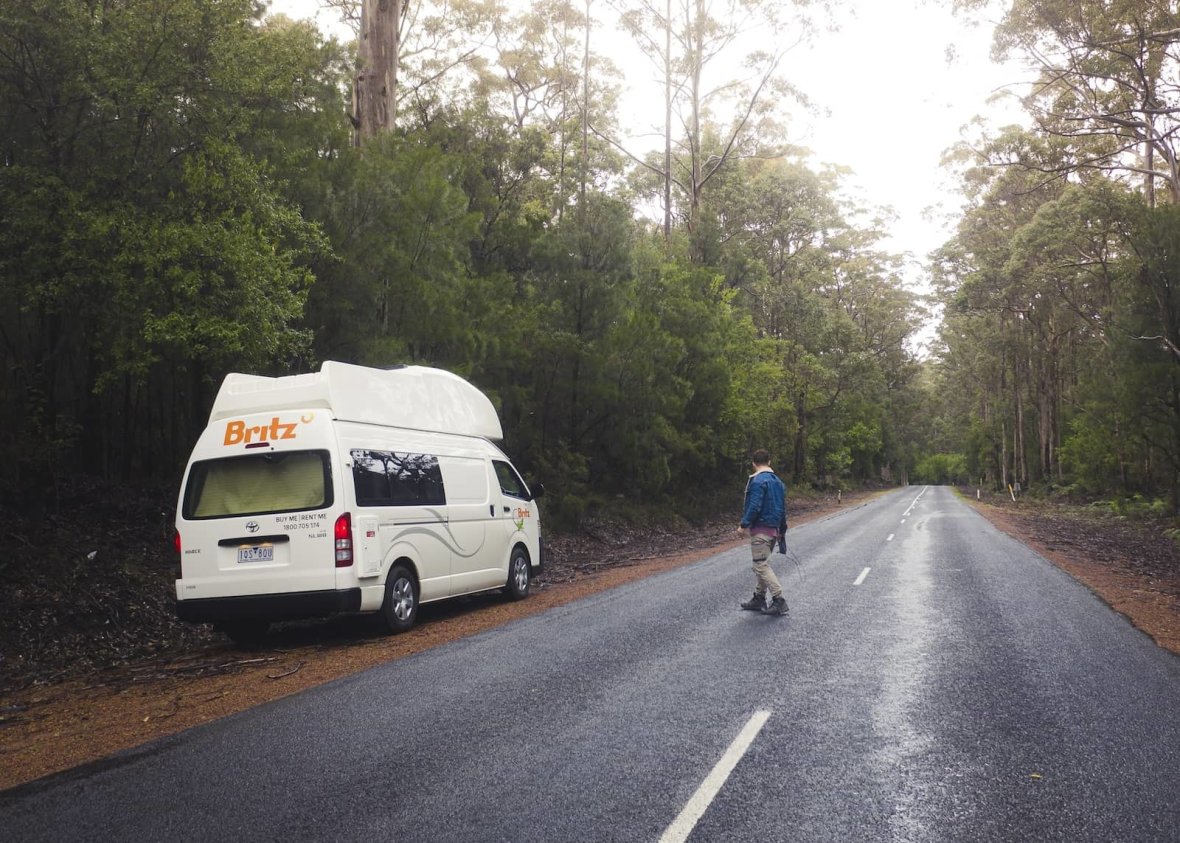 How would you describe WA's South West to someone who's never visited?
WA's South West is such a special part of our state and there really is something for everyone. For lovers of nature, you are spoilt with stunning stretches of coastline and can enjoy the luxury of having a beach all to yourself. As you drive along beautiful roads lined with the tallest trees, there are walks to stop and tackle – which helps build up that appetite! Then there's the food and wine! The choices are endless. There are so many outstanding wineries, breweries, restaurants, cafes, and artisan producers. The produce in the South West is amazing and there is an abundance of talented chefs creating memorable dishes that are sure to impress. There is so much to enjoy during a visit to WA's South West!
Any unexpected surprises encountered along the way?
Canola! It greeted us as we drove down Albany Hwy on our first day on the road and I fell in love with those vast fields of gold. The contrast with the green trees and the blue skies against all the yellow made for a beautiful drive.
What do you think makes WA such an attractive holiday destination?
WA is an attractive holiday destination for so many reasons but one that stands out to me is the weather. Even in Winter, blue skies are a common occurrence which makes it easy to enjoy the great outdoors. Fresh air is good for you! Plus, once you've wandered through a forest or meandered along the beach you can relax and enjoy a delicious meal with a glass of local wine in hand which always makes for a good day out. A very easy place to get into holiday mode.
What was the best thing about being in a campervan vs in a hotel?
It is so easy to relax while on your journey! As you make stops along the way to take in all the sights, if you feel like taking five after a walk then you can rest in the campervan. Also, being able to pack your favourite creature comforts meant we had our Soda Stream with us too, so after a bit of a wander we could make a refreshing cold drink (again, easy because you have your fridge right there with you) and sit and enjoy it from the comfy lounges in the campervan. Then you can get straight back on the road. It made everything so convenient and handy!
How did a campervan enhance your South West experience?
It made the mornings really relaxing. We brought everything we needed for breakfast, so it meant that in the morning we didn't have to rush. You can do everything from the comfort of the van. Have a shower, sit and enjoy a hot cuppa and cook up eggs and bacon. It always got the day off to a good start and let us enjoy the views, like watching the sun rise over Middleton Beach in Albany or the tall trees at Rivermouth Caravan Park in Denmark. You can take the pace of the day on your terms, which was perfect for our South West experience.
What was the most surprising thing about being in a campervan?
I was a bit nervous about travelling in the colder months, but you definitely don't have to worry when you are travelling in the Britz Campervan! It has a heater that does a great job keeping you toasty warm on winter mornings. The van was well fitted out and had a spot for everything!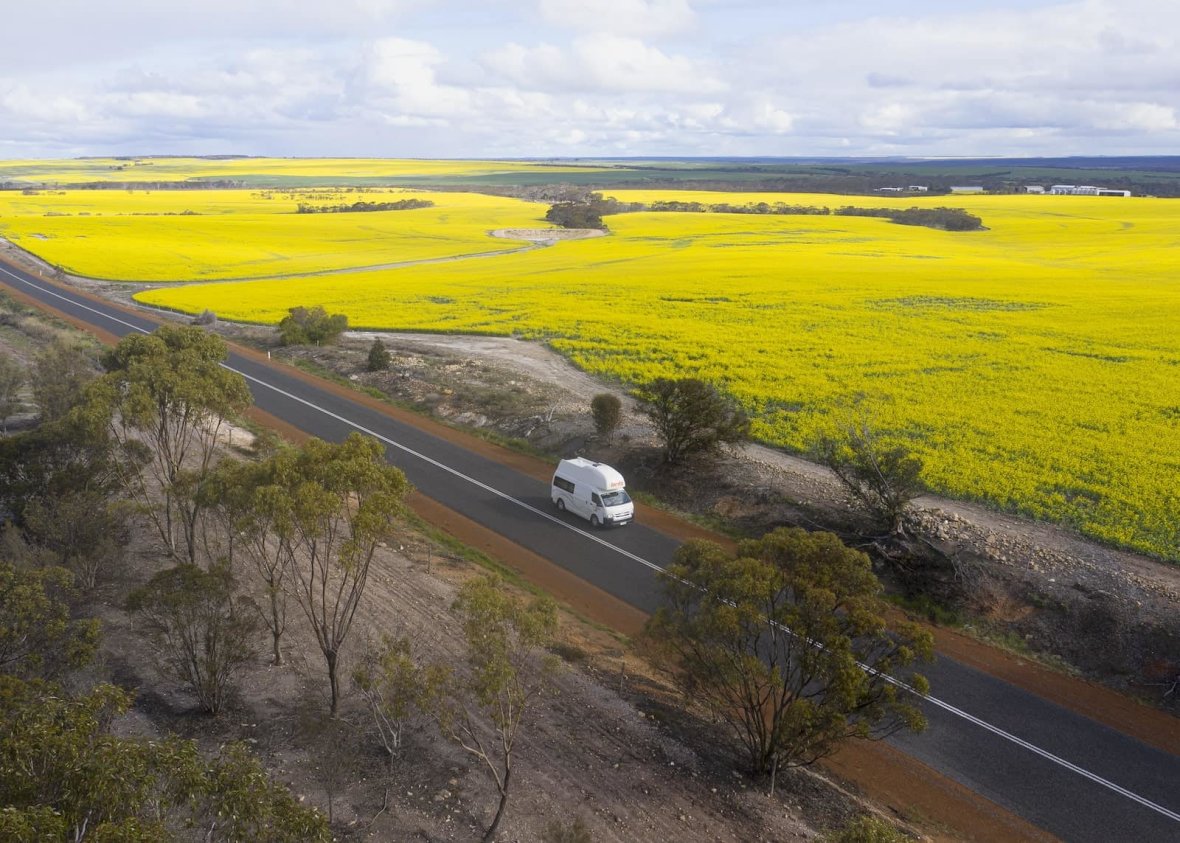 Did you have any preconceptions about campervan travel that have been dispelled on your trip?
I thought that a campervan would feel a lot bigger and drive a lot slower, but even though the vans do have the extra length, they really aren't that wide. It's actually a treat to be sitting so high because it gives you a great view of the countryside. Plus, it's definitely possible to safely get them up to the speed limit. They won't slow down your adventures, they get you there comfortably and are actually very fuel efficient.
What advice would you give to anyone thinking about taking a campervan road trip across WA?
Do it! It is like taking a home away from home on the road. Don't be daunted by the size, they drive beautifully and are so easy to set up at caravan parks too! The Britz campervans are a fun and convenient way to #wanderoutyonder and explore our beautiful state. If you haven't done it before then give it a go! It's a new and different adventure that everyone can enjoy.
If you've been inspired to explore Western Australia, check out our great itineraries below to start planning your trip.
Explore WA With These Itineraries
---

Whoops, it seems like we haven't got any Popular Routes
Please try a different combination or click below to reset your search