Join thousands of fellow campervan travellers
Sign up for our Britz newsletter to receive inspirational travel content and awesome deals, and we'll send you a copy of our Ultimate RV guide!
Thanks
Please confirm subscription in your email.
A mixture of stunning bays for swimming, great seafood at local eateries, and top Australian attractions make the Sapphire Coast the perfect weekend get-away or addition to any New South Wales road trip.
A mixture of stunning bays for swimming, great seafood at local eateries, and top Australian attractions make the Sapphire Coast the perfect weekend get-away or addition to any New South Wales road trip.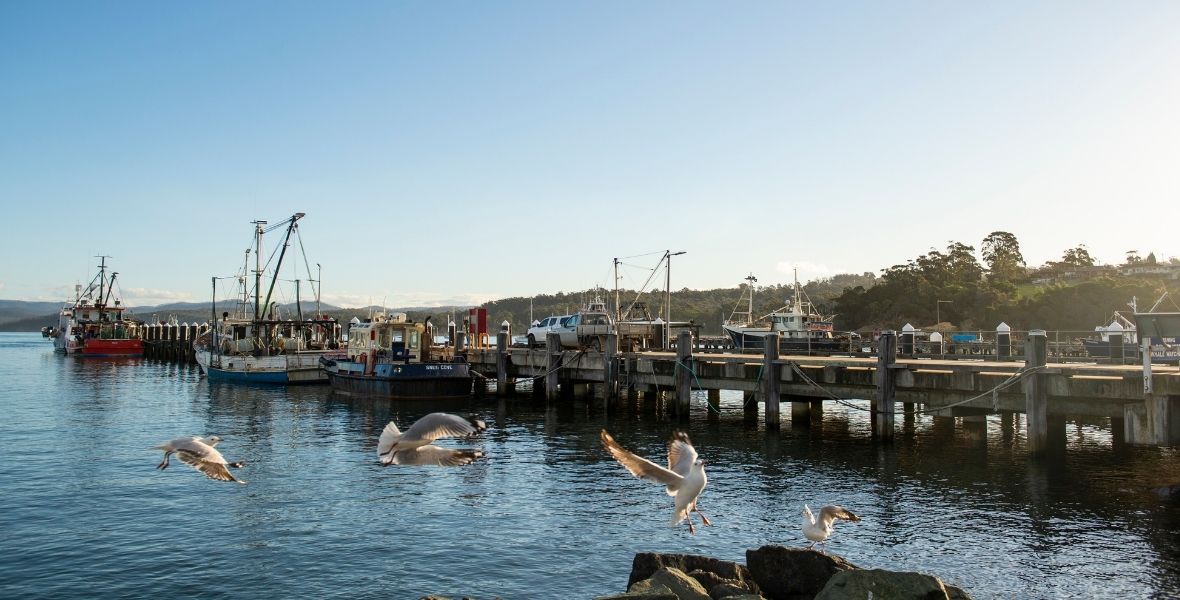 Image Source: Destination NSW Content Library
Everything you need to know about the Sapphire Coast
If you like knowing the nitty-gritty details of a road trip, then we have you covered! Here is everything you need to know before renting a van to travel this beautiful coastline.
Where does the Sapphire Coast start and finish?
The Sapphire Coast begins in Bermagui and continues along the coast to Eden, NSW. Overall it takes around 1 hour and 20 minutes to drive, making it perfect for a day trip or weekend adventure.
In addition, being located around halfway between Sydney and Melbourne also makes this itinerary a great addition to a longer Australian road trip from Sydney to Melbourne.
The weather on the Sapphire Coast
Like many places in New South Wales, the Sapphire Coast experiences four seasons. In saying that, it generally trends towards warm, temperate Australian weather.
In the summer, temperatures typically average between 16°C and 24°C. In these warmer months, you can enjoy long days at the beach with over 14 hours of sunlight. In spring, you can enjoy cooler weather and the local wildlife, with the 'Humpback Highway' in full flow. It is no surprise that the spring and summer months are a favourite time of year to visit.
On the other hand, winter temperatures on the Sapphire Coast average between 7°C and 17°C, with sunny days and cool nights. These cooler temperatures are perfect for putting on your adventure gear to go kayaking, mountain biking, or bushwalking in the wilderness.
Best things to see and do on the Sapphire Coast
This coastline is dotted with experiences and attractions for all travellers. Bermagui is an angler's dream, known for its great fishing, while Eden is known historically for whale watching and its culinary delights. So whether you are seeking a summer weekend getaway down by the beach or soaking up the culture and cuisine, there is plenty to do along this coastline.
Visit the lakes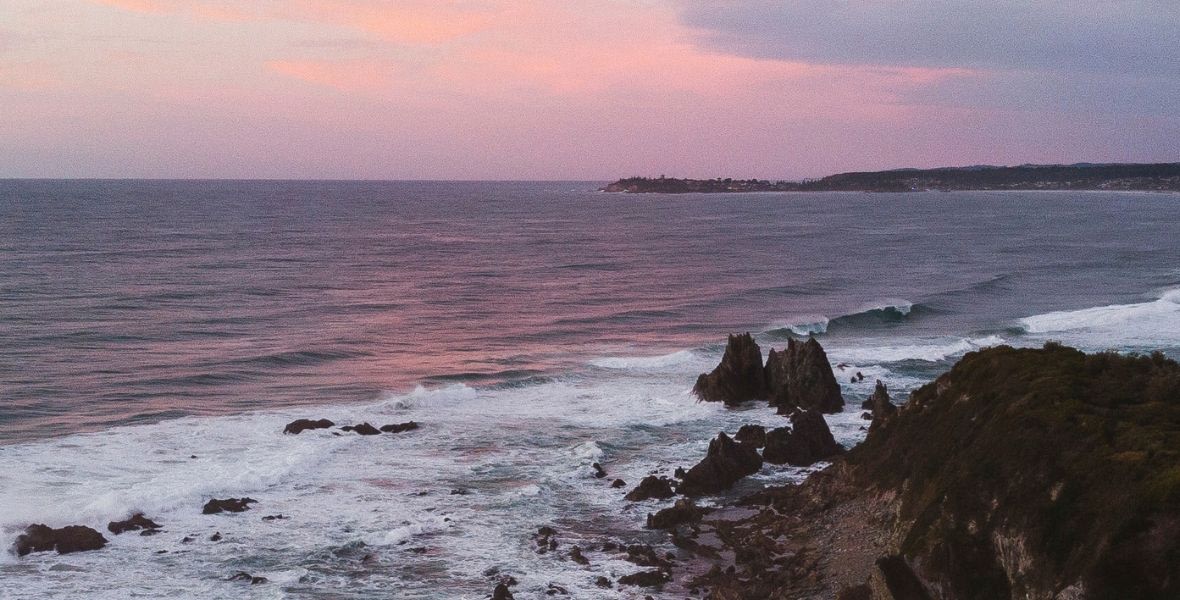 Image Source: Destination NSW Content Library
The Sapphire Coast is surrounded by deep blue coastal waters and sparkling interior lakes. These calm waters are great for swimming, hiking and spotting wildlife.
Wallaga Lake
Wallaga Lake is located in the valley of Gulaga Mountain in the Bermagui area. This serene lake is best known for its fishing, swimming, walking and wildlife.
Wonboyn Lake
Wonboyn Lake is found in the Eden area near the picturesque fishing village of Wonboyn. Boasting pristine forest hikes, abundant wildlife and a reputation as the best land-based game fishing on the New South Wales coast, this is worth a spot on your itinerary.
Swim with seals
If you have ever dreamed of snorkelling with seals, don't miss the chance to join a guided tour of this world-class wildlife encounter. For $120 per person, you will be guided to the shallow clear waters of Montague Islands, where you can swim, play and interact with these 'puppies' of the sea.
Go whale watching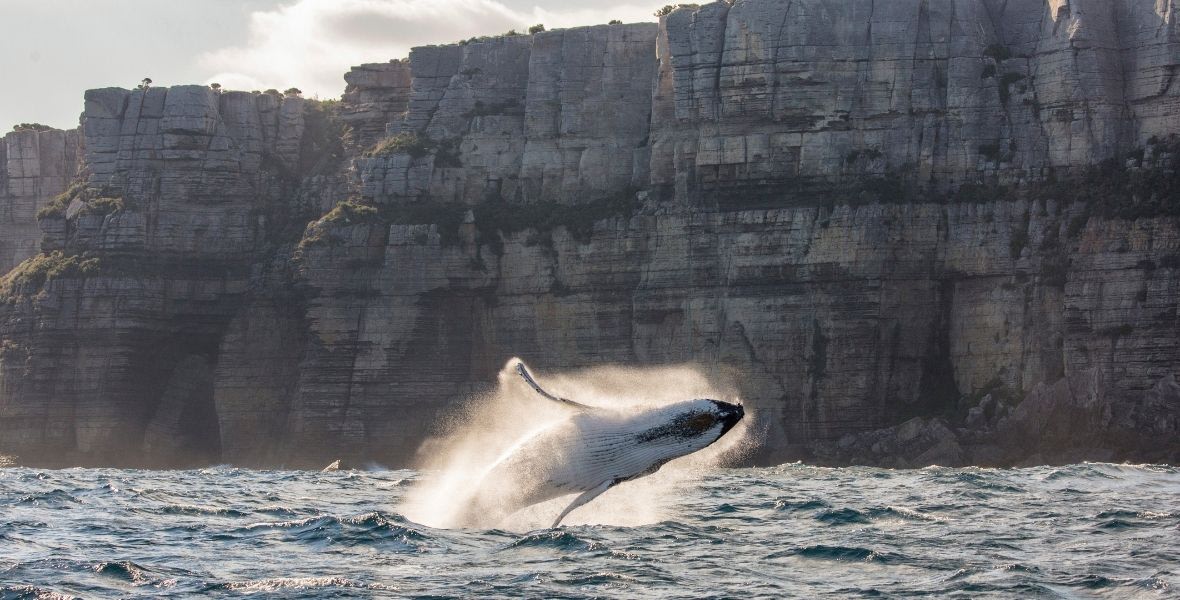 Image Source: Destination NSW Content Library
Each year over 35,000 humpback whales will travel the Humpback Highway past the Sapphire Coast. Named by Australian Geographic as the premier whale watching destination in Australia, Eden is one of the best destinations for a winter holiday in New South Wales. It is a fantastic experience for anyone looking to get up close with these gentle giants.
Late winter to spring is whale season and the perfect time to go whale watching on the Sapphire Coast. Whale watching tours are the best way to see whales - humpback, baleen, southern right and toothed - and their young migrating in a once-in-a-lifetime experience.
For the whale enthusiasts, you can also check out the whaling museum to learn all about these giant mammals of the sea.
Take a swim at one of the many beautiful spots
The water is warm - jump in! Go for a swim in one of the many beautiful spots along this part of the New South Wales Coast.
The Blue Pool
Pack your swimmers and a snorkel, and explore this crystal blue ocean rock pool. Blue Pool is a 'must-see' Australian attraction on the Sapphire Coast.
Merimbula Main Beach
Treat yourself to a day on Merimbula Main Beach. Spanning over five kilometres of pristine NSW ocean, this is a great location for a family day out. Swim, surf, play in the sand and take advantage of the playground, amenities and barbecue area at Ford Park at the north end. There is even an off-lead dog area for our four-legged-friends!
Dolphin Cove
Want to escape the crowds? Retreat to the tranquillity of Dolphin Cove. The discreet entrance to this beach can make it hard to find by the general public. However, with a little exploring, you will be rewarded for your efforts with unspoiled views and wide-open sandy beaches and very few fellow beach-goers.
Visit Horse Head Rock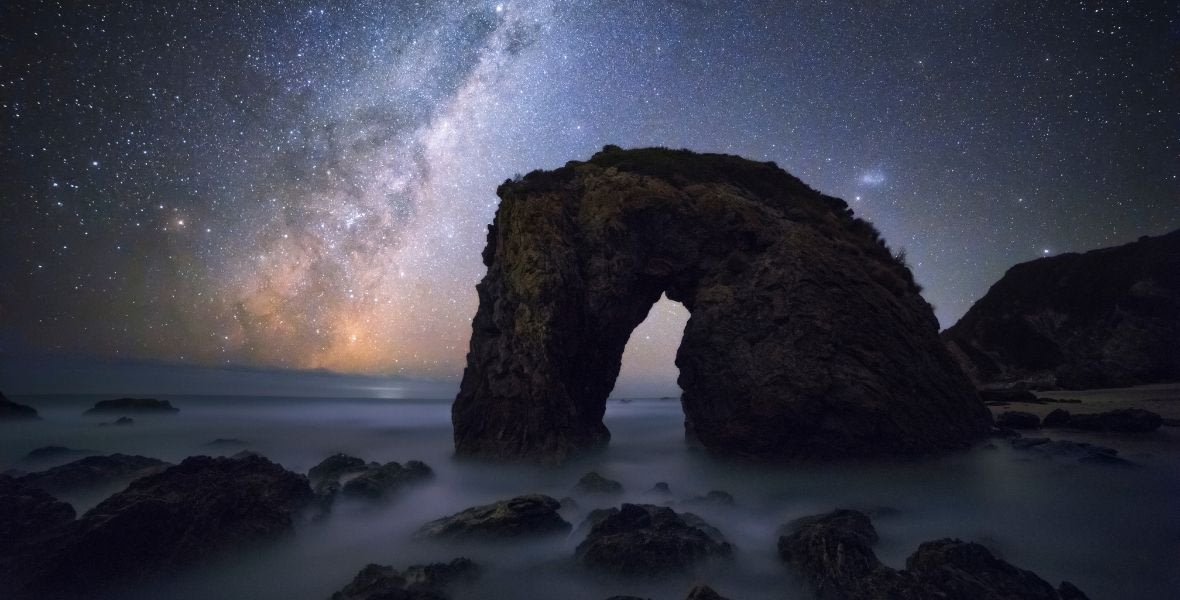 Image Source: Destination NSW Content Library
Horse Head Rock is one of the oldest rocks in NSW, dating back over 500 million years. The wild setting and sheer size of this rock formation have earnt it its title as a mecca for geology buffs and photographers alike.
Hit the bike trails
Mountain biking in Australia has been growing in popularity over the last few years. Whether you are a seasoned pro or just want to get out there and give it a go, the mountain biking trails on the Sapphire Coast are a great way to get out into nature.
Indulge in the local seafood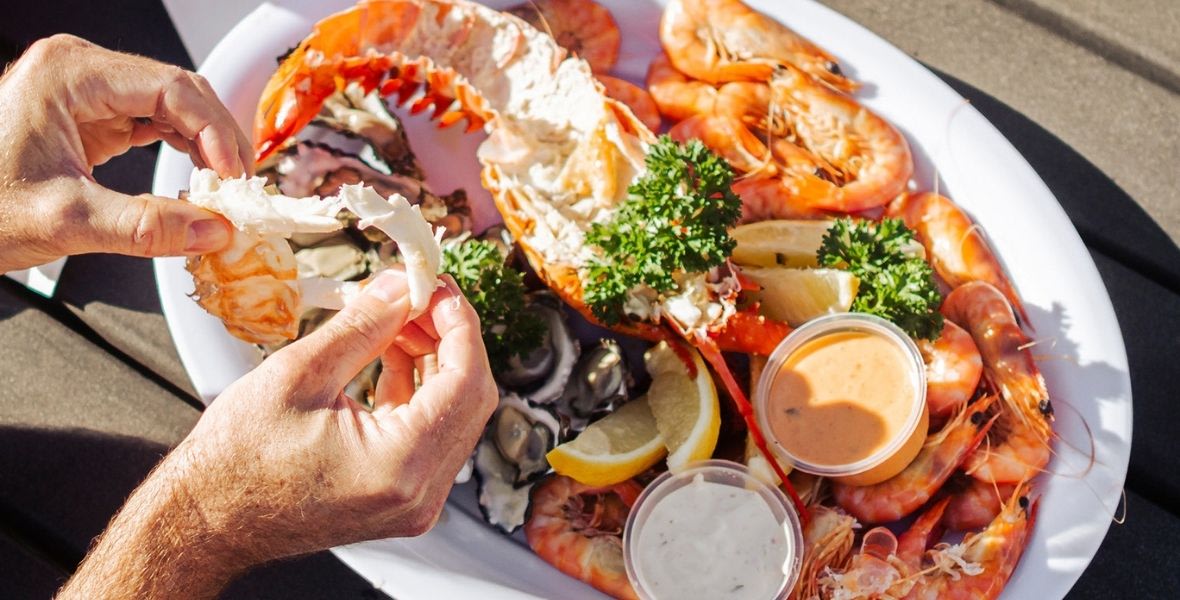 Image Source: Destination NSW Content Library
There is no better place to enjoy seafood than down by the ocean! The Sapphire Coast is a perfect location to enjoy a wide variety of freshly caught seafood and locally grown oysters.
Visit one of the many oyster restaurants
This coastline is full of restaurants and eateries with a great selection of locally grown oysters. Try them all on a road trip from Wapengo to Wonboyn, on the Sapphire Coast oyster trail.
Merimbula Gourmet Oysters is one of the local favourites for a tide-to-table experience, with the oysters grown locally in the sparkling waters of Merimbula Lake. These tasty treats are revered for their superior flavour. Another favourite in the region is Wheelers Seafood Restaurant. Spend an afternoon relaxing at their al fresco oyster bar, enjoying oysters and contemporary Australian cuisine.
Take an oyster tour
Want to learn about these fascinating shellfish? Take an oyster tour! On this tour, you will be taken out on the Pambula Lake to a local oyster farm. Here, you will be guided through the fascinating geology, formation, as well as cultural and ecological significance of these delicacies.
Best places to stay on the Sapphire Coast
Staying in caravan parks is one of the many reasons to take your kids on a campervan holiday. Holiday parks are great for families and often have great kid-friendly activities and facilities.
There are plenty of campervan accommodation options available along the Sapphire Coast between Eden and Bermagui, each with their own unique campsite facilities and drawcards.
BIG4 Eden Beachfront
BIG4 Eden Beachfront is the perfect mix of proximity to nature and local attractions. Located right on Eden's beachfront, this is a great location to base yourself on a coastal family trip.
NRMA Merimbula Beach
NRMA Merimbula Beach offers a range of accommodation sites and facilities perfect for a family vacation. Enjoy the resort-style pool, waterpark and slide, as well as some kid-free time with the on-site kids club.
Discovery Parks Pambula Beach
Discovery Parks Pambula Beach is a resort-style holiday park designed to entertain the whole family. Choose between their spacious 26 foot and 30 foot powered camping sites and enjoy the huge host of facilities, including:
Playground
Spa
Indoor heated swimming pool and outdoor pool
Seasonal restaurant
Kids facilities, including a kids club and mini golf
Waterpark
Camp kitchen
BIG4 Wallaga Holiday Park
Big4 Wallaga Holiday Park is nestled between the lake and ocean, making it the perfect base for your water adventures. Choose between the premium lakefront powered camping sites and grass powered camping sites, depending on your budget and needs. When you aren't out exploring, this caravan park is jam-packed with on-site facilities to explore, including:
Canoe and kayak hire
Tennis court
Kids playground
Swimming pool
Pedal cart hire
Mini golf
Giant chess
BIG4 Tathra beach
Set amongst tropical palms and manicured hibiscus gardens, BIG4 Tathra Beach is a family park at heart. Join owners Kerri and Greg in experiencing the beauty of the surrounding regions with this family-friendly holiday park as your home base. Grab one of their powered camping sites and take advantage of the incredible park features, including:
Solar heated pool
Camp kitchen
Kids club
Board/bike hire
Boat hire
Wednesday morning tea
Kids playground
Ready for your Sapphire Coast getaway?
The Sapphire Coast is the perfect day trip, epic weekend adventure along the NSW coastline, or addition to a longer Australian road trip. Ready to explore the Sapphire Coast? Book your campervan now online or in a Britz branch.
If you are looking to explore the Sapphire Coast as part of a larger Australian road trip, check out our itineraries for more inspiration.