Join thousands of fellow campervan travellers
Sign up for our Britz newsletter to receive inspirational travel content and awesome deals, and we'll send you a copy of our Ultimate RV guide!
Thanks
Please confirm subscription in your email.
While there are plenty of reasons to rent a campervan in Australia instead of a car, some prefer to road trip with a 4WD car that can take them anywhere. With Britz, you can experience the best of both worlds. With a wide range of campervans as well as 4WD cars with rooftop tents, you can explore this beautiful rugged landscape in whatever way you choose.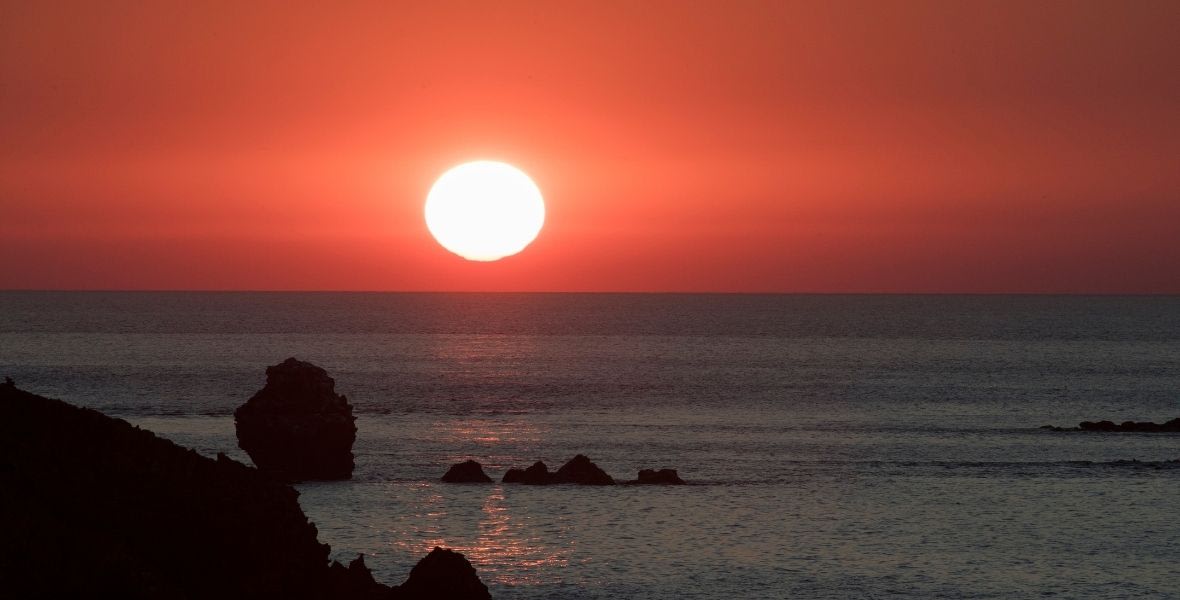 Everything you need to know about travelling in Broome Australia
Unlike your typical Australian coastal road trip destinations, Broome is tucked away in a remote corner of Western Australia. So when planning a campervan trip to Broome, there are a few important considerations.
The weather in Broome
Broome is known for its tropical climate and being relatively hot all year round. This hot weather is distinguished between two seasons:
Dry season (May to October). Temperatures in this season range between 20°C to 30°C, and you can expect low humidity and cooler nights.
Wet season (November to April). Temperatures range between 35°C during the day and 25°C overnight, and you can expect short downpours of rain and high humidity.
The best time of year to visit Broome
Dry season is typically a popular time for visitors due to the cooler temperatures and perfect beach weather. So it's a good idea to book in advance if you're planning a trip during this season. The wet season can get quite hot and humid, but it comes with the added perk that there will be less people around. There are also a few seasonal events to consider when planning the best time of year to visit Broome:
Whale watching. This is typically during the months of July to September when the whales are migrating.
Staircase to the Moon. This natural phenomenon happens 2-3 days a month between May and November. Check the visitor centre calendar in advance to ensure you don't miss it!
In reality, you can plan a visit to Broome at any time of year, but it's always good to be aware of the temperatures to know what to pack for your campervan holiday.
Driving a campervan in Broome
Driving in regional areas like Broome can be quite different from driving through cities or on populated highways. These are the top driving tips when visiting Broome.
Stick to sealed and well-maintained roads. When venturing to the outskirts of Broome, either side of the road is typically private, and you need permission to drive on there. It is worthwhile asking the local tourist centres about the road conditions and what roads are open to drive on.
Be careful of wildlife that may roam on roads. It is advised that you do not drive at night, as this is when wildlife is most active.
Drive Slow. Keep to a slower speed as red dirt can affect visibility.
Avoid flooded roads. In case of torrential rain and flooding, do not attempt to drive into the water if you can't see how deep it is.
Don't use your phone while driving. In Australia, there are strict rules and restrictions for using a phone while driving. Drivers can only touch a mobile phone to make, receive and terminate a phone call if the phone is secured in a mounting affixed to the vehicle.
Know where you can go. It is important to know the road restrictions for your hire vehicle in this region. Check the 2WD campervan restrictions and 4WD vehicle restrictions before you begin your trip so you can plan accordingly.
If you are unfamiliar with Australia's road rules, make sure to check out Western Australia's driving rules before your trip begins.
Access to attractions in Broome
Some attractions in Broome are only accessible with a 4WD. Luckily, Britz has some great 4WD options. Some of the top Western Australia attractions that are only accessed with a 4WD because of the roads include:
Cape Leveque
The Bungle Bungles
Karijini National Park
4WD vehicles like our 5-berth Safari Landcruiser allow you to access those off the beaten track locations, with the convenience of a rooftop tent and fridge to explore all day long. Some of the features of these vehicles include:
Picnic table
Chairs
Kitchen gear
40L fridge
Self-inflating sleeping mats
Rooftop tent bed
Outback safety kit
You can absolutely still adventure to Broome in a 2WD campervan and there are plenty of places to explore in Western Australia without a 4WD. But, a 4WD gives you that extra flexibility to get off the beaten track.
The best things to do in Broome Australia
Broome is a multicultural, tropical hub with a colourful past. Its origins as a pearling farm attracted workers from around the world, who brought their cultures, foods and traditions with them. This multicultural past has been infused into the foundations of this town. From enjoying the international cuisine to learning the about pearling industry that gave this town its start - there are such a huge variety of incredible things to do in Broome.
Enjoy whale watching
Between the months of July and September, Broome is a great place to see humpback whales on their migration route. Make the most of their visits and join a whale watching tour.
Take a camel ride on the beach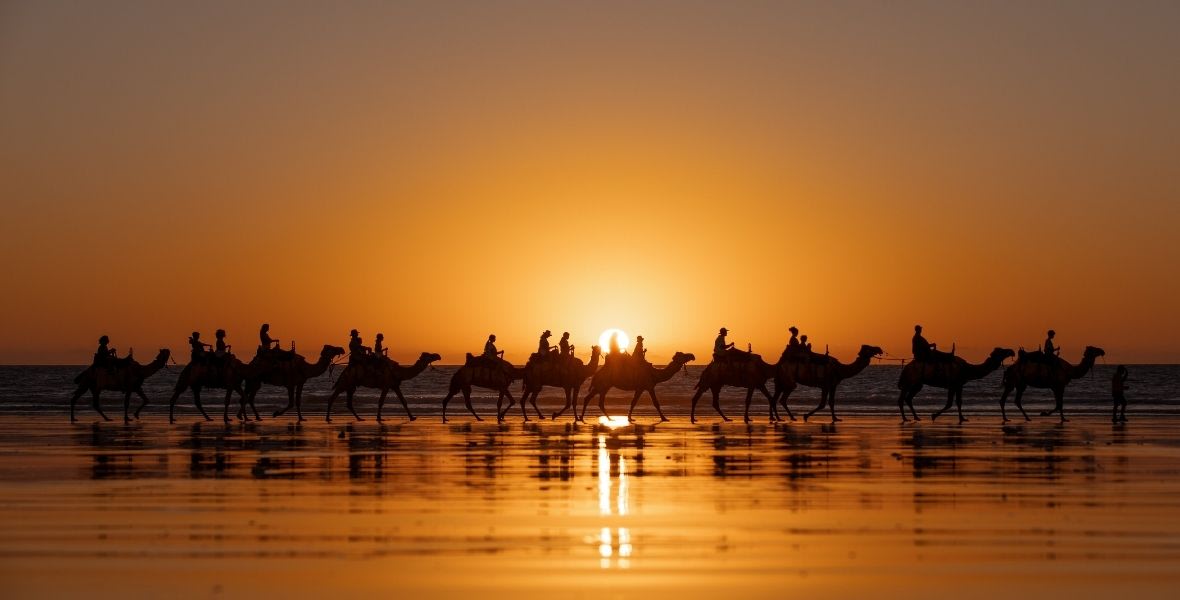 Riding a camel along Cable Beach is a right of passage when visiting Broome. Book a camel riding tour for a first-class seat to the vivid colours of a world-famous Indian Ocean sunset.
Head out on a Pearl farm tour
Broome has a rich pearling history and is known for producing some of the finest pearls in the world. Curious to learn more about Broome pearls and how they are farmed? Take a tour of a local pearl farm! On this tour, you will learn all about the journey of a pearl - from shell to showroom, including a live pearl harvest.
Enjoy the local food and wine
Treat your tastebuds to the multicultural flavours of Broome with a stroll down the Broome Heritage Food Trail. This trail is a list of the top restaurants in town where you can experience the very best local food and wine that this region has to offer.
Plan a big night out and try something from every place, or spread it out over your time here - the choice is yours!
Natural attractions to see in Broome
Broome, Australia, is a unique visual blend of arid red dirt and aquamarine waters abundant with marine life. Safe to say, there are a few natural attractions in Broome you will not want to miss!
Visit Horizontal Falls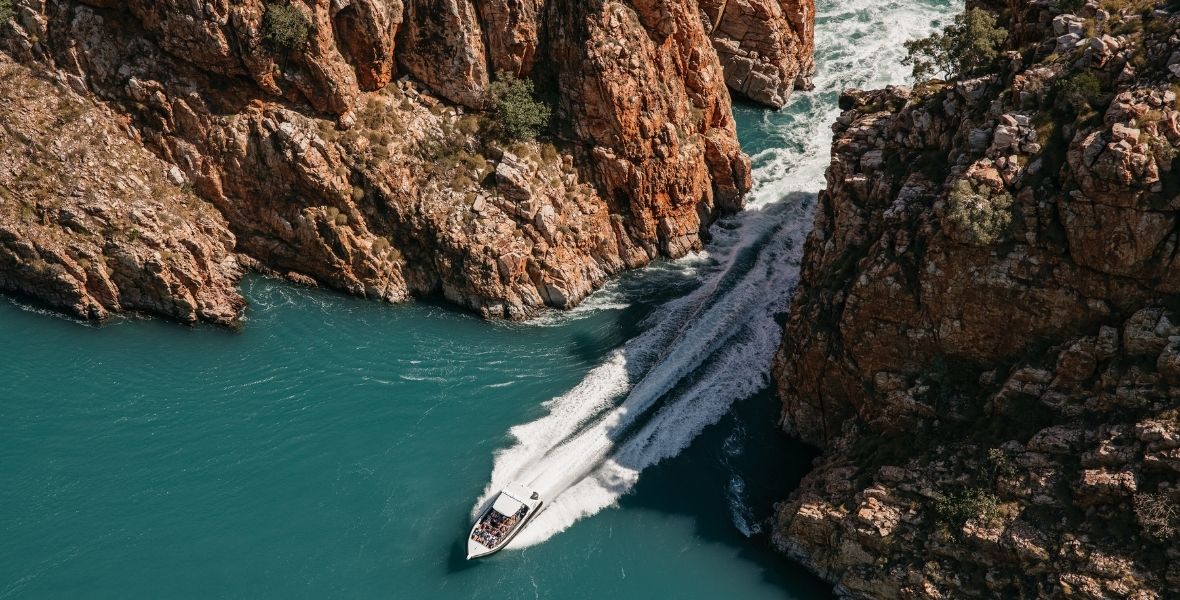 Sir David Attenborough has called the Horizontal Falls "one of the greatest natural wonders of the world". It's little wonder why!
Set amongst the hundred or so islands of the Buccaneer Archipelago, Horizontal Falls is created as the surrounding ocean tunnels its way through narrow cliffs creating the unique sideways waterfall effect. You can choose to adventure there by boat, or see this natural wonder from above on a scenic flight.
See the phenomenon Staircase to the Moon
Staircase to the Moon is a natural phenomenon where the moon reflects off the exposed tidal flats of Roebuck Bay and gives the visual illusion that there is a staircase leading to the moon. This happens 2-3 days a month between May and November. Check the visitor centre calendar to plan your visit to this unique natural event.
Enjoy beautiful Roebuck Bay
Roebuck Bay is known for its marine and plant life and is one of the best places in Australia to view migratory birds. Its muddy tidal flats are also the stage for the Staircase to the Moon phenomenon.
Visit Cape Leveque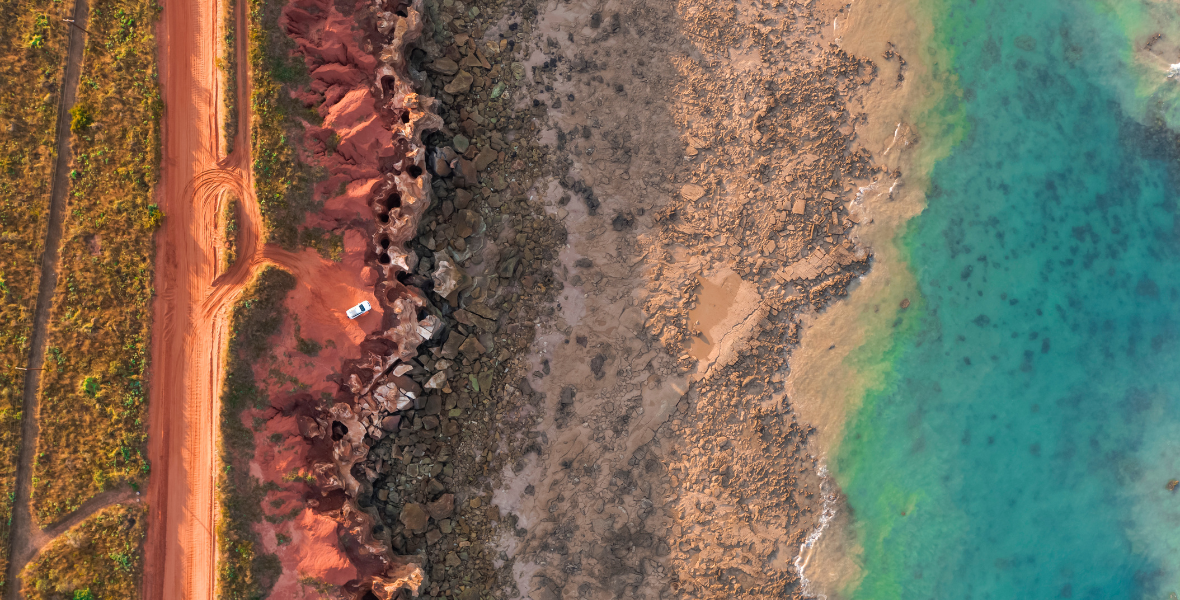 Cape Leveque has to be one of the most stunning locations in Western Australia. Seeing the red dirt up against the brilliant blues of the ocean is bound to take your breath away. Located north of Broome, on the Dampier Peninsula, it is only accessible via 4WD. Either rent a 4WD for your trip or book in for a 4WD tour for a day of exploring.
Free things to do in Broome
There are so many ways to enjoy Australia on a budget. These are our top picks for ways to stretch your money when in Broome.
Explore the Broome historic museum
Broome Historical Museum features a collection of exhibits that showcase historical life in Broome. From pearl farming tools to general artefacts, this is a perfect opportunity to learn about the fascinating history of this town.
Cool down at Cable beach
In Broome, Cable Beach is an emblem and centrepiece for life and holidays. There is so much to do on Broome's most famous beach.
Enjoy the view from underneath a beach umbrella
Wander the dunes
Walk to Gantheaume Point
See turtles hatch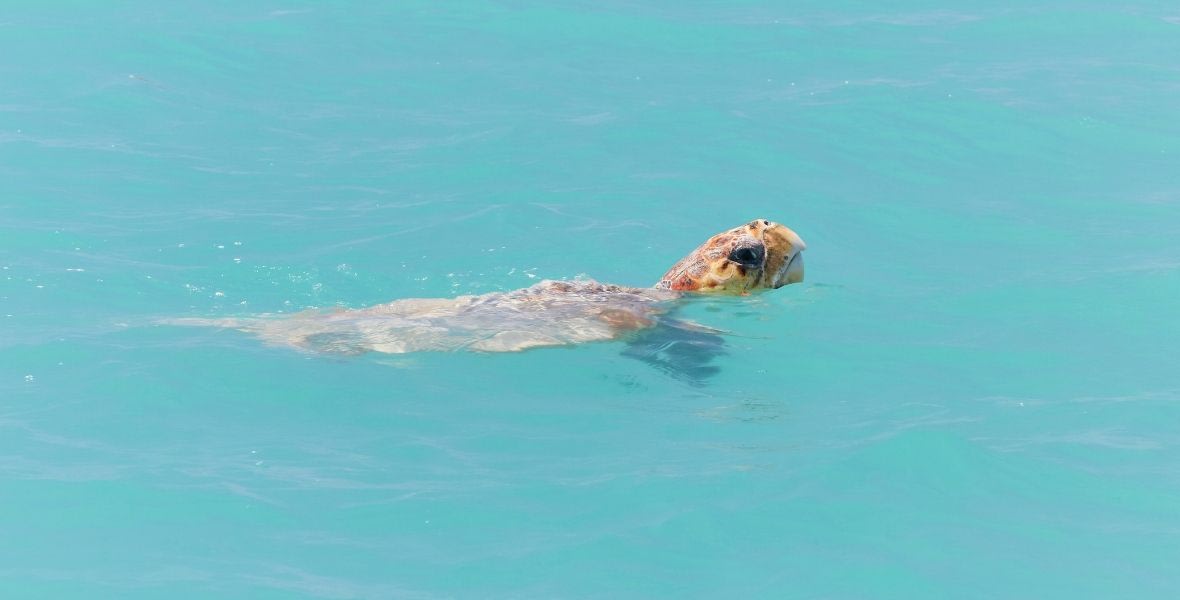 Have you ever dreamed of witnessing baby turtles hatching? Well, luckily, Cable Beach is prime real estate for turtle hatching. Between the months of October to March, you can witness this little miracle as these tiny creatures begin their start at life with a scramble to the sea.
When watching, it's important to follow the turtle code of conduct. These are our top tips for turtle watching:
Don't drive on the beach
Keep your distance
Stay out of sight
Don't interfere
This is just the tip of the iceberg when it comes to free things to do in Broome.
Things to do with kids in Broome
Broome is a big hit for kids of all ages. From adventurous encounters with saltwater crocs, finding local treasures at the markets, and seeing the old remnants of dinosaurs. There are plenty of activities to keep the kids entertained.
See crocs up close at Malcolm Douglas Wilderness Park
Get up close and not-so-personal with the fierce saltwater crocodiles at the Malcolm Douglas Crocodile Park. Join the daily feeding tour to see some of Australia's largest crocodiles in action!
Shop local treasures at Courthouse Markets
Experience the flavour of this remote coastal town at the Courthouse Markets. These markets feature a collection of arts and crafts, clothing, and food stalls. They are open every Saturday and Sunday during the dry season (April-Sept) between 8am-1pm, making them the perfect weekend morning activity.
Check out ancient dinosaur footprints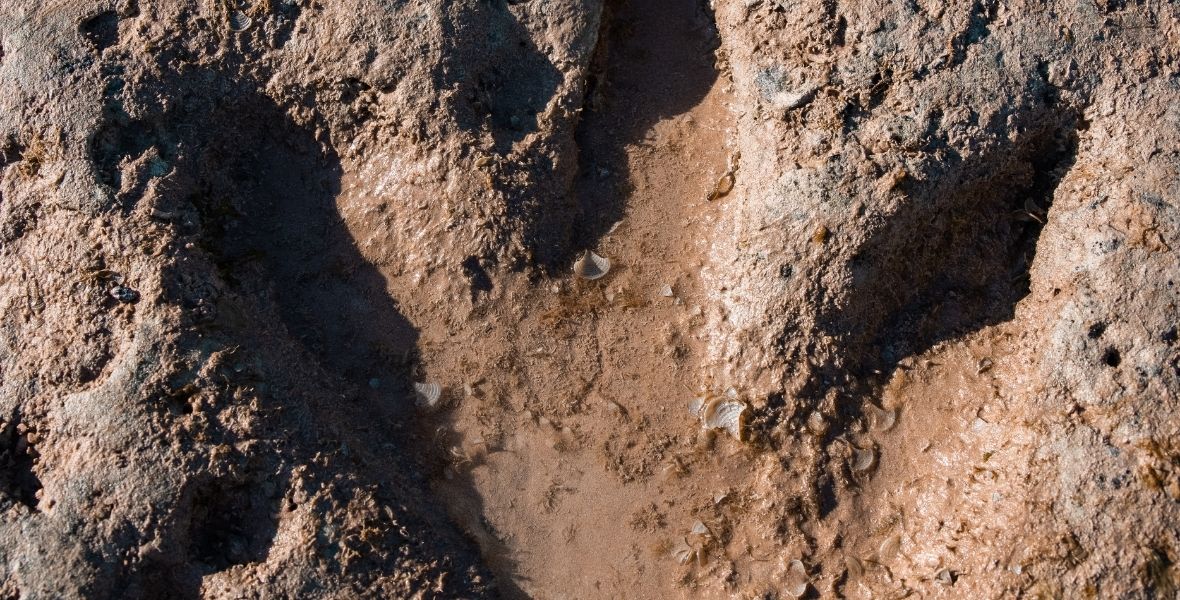 Walk in the footsteps of giants on the dinosaur trackways of Broome. These dinosaur footprints stretch for over 80km along Broome's sandstone coast and date back over 120 million years.
If you are still looking for ideas to keep the kids entertained, check out our guide to keeping the kids entertained on the road.
Ready for your Broome Western Australia adventure?
There you have it - the best things to do in Broome. If you are looking for more things to do on your Western Australia road trip, grab a national parks pass and continue south to explore the incredible national parks in Western Australia. Then simply drop off the vehicle to the Perth Britz branch when you're done!
Ready to explore Broome and beyond on your own campervan holiday? Check out our latest deals and book your campervan today! Looking for more inspiration and travel tips for renting a campervan to travel this corner of Australia? Then check out our blog and get inspired!