Join thousands of fellow campervan travellers
Sign up for our Britz newsletter to receive inspirational travel content and awesome deals, and we'll send you a copy of our Ultimate RV guide!
Thanks
Please confirm subscription in your email.
Here are 5 easy activities you can get started on, to ensure a smooth, fun ride for everyone: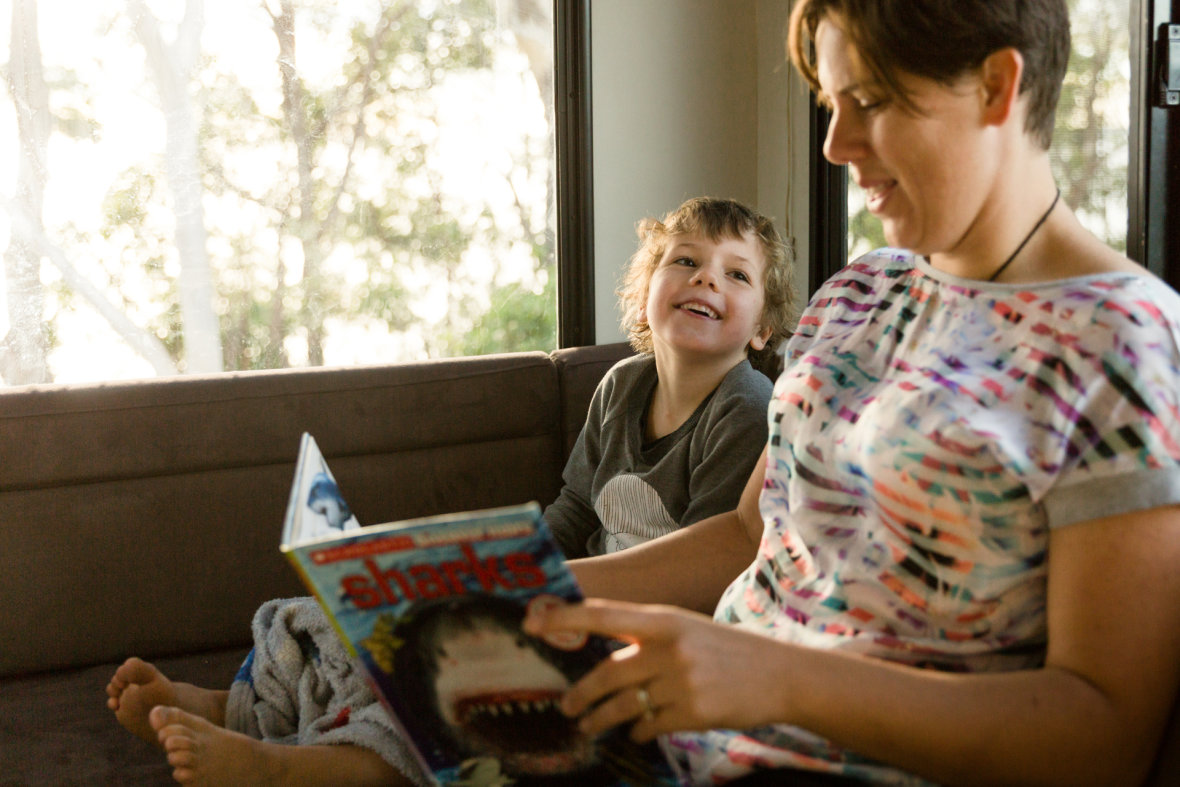 1. Audio Books
These are fantastic ways to save time during the school holidays where your kids can push through a book at breakneck speed in long sittings. Best of all, there are plenty of audio books these days that suit both parents and kids! If you're not sure where to start, why not check out our recommendations?
2. Car Karaoke
What's even better than an audio book to keep the kids busy? A backseat karaoke session for the whole family. Maybe it's time you taught them some Oldies But Goldies tracks, or they could show you a thing or two about their favourite hits. As long as you're in control of the "repeat" button.
Print out the lyrics for each song, burn them to a CD, and the little ones will be your choir in no time.
3. Pipe Cleaners
Arts and Crafts are the perfect way for kids to express their creativity in a small space, and pipe cleaners are the best of them all.
Stacey, from I'm A Lazy Mom, gives us a great example of how a pack of these can be turned into people, fish, tyres and a whole village, which fit nicely into the backseat windows. Let your kids display their creations with pride as you enjoy your journey.
4. Road Trip Scavenger Hunt
We usually prepare these ones earlier, but a scavenger hunt beginning when you hire your campervan for South Australia (for example) and ends once you've reached home, means your kids will always be on their toes. Their eyes will be hawks, and the world will be their oyster.
It sounds silly, but it also keeps them busy so a scavenger hunt is always a good idea.
Be sure to research your holiday destination with a route planner beforehand so you have a comprehensive list that will have your children always finding new things!
5. Board Game Bag
Board Games are a solid staple, but aren't too easy to play in the car, no matter how you plan your road trip. Good thing we have some great DIY solutions! Build your own using a bag, a board and a sewing kit.
Sew them together and you'll have a board that they can set down on their knees to play on along your Victorian road trip.
Big plus if you can add a layer of thin steel between the board and the bag and use coins as tokens!