Join thousands of fellow campervan travellers
Sign up for our Britz newsletter to receive inspirational travel content and awesome deals, and we'll send you a copy of our Ultimate RV guide!
Thanks
Please confirm subscription in your email.
Winding its way through 800km of mountain ranges, national parks, wondrous forests, stunning coastal waterways and bushlands, this route offers breathtaking views at every turn. Simply pick up your camper rental from a Britz campervan branch in Sydney or Melbourne and hit the road. To help you make the most of your Aussie campervan holiday, we've compiled a list of the top 12 stops along the way you won't want to miss!
Is driving between Sydney and Melbourne easy?
Driving between Sydney and Melbourne is around 878 km and takes around 8 hr 48 minutes if you were making a direct trip. The roads are all sealed and well-marked, making for a very easy drive. However, we recommend taking a longer scenic route so you can fully enjoy the road trip experience. It is also safer to break your trip up and take stops. These simple road safety precautions will ensure you and your group arrive at your destination safe and sound. Taking lots of breaks is also important when planning a family campervan holiday to keep little travellers happy.
What's the best driving route between Sydney and Melbourne?
The Sydney-Melbourne coastal road trip offers exceptional views and plenty of great places to stop along the way. Getting there via campervan means you can stop as often as you like for as long as you like. There is also a range of campsites and free camping options to make stops along the way simple, convenient and cost-effective. There are so many reasons to hire a campervan to travel Australia's southeast coast!
12 of the best stops between Sydney and Melbourne
1. The Royal National Park
Located around 50km south of Sydney is the Royal National Park. The park is home to koalas, kangaroos and wallabies, and over 1,000 plant species making it a great place to take in Australian nature and wildlife. Here you'll also find the famous Wattamolla Lagoon (a popular swimming spot amongst Sydney locals) and plenty of opportunities for hiking along the many walking tracks through the park.
Another top attraction is the figure eight rockpools - a series of stunning oceanside rockpools scattered along a rock shelf in the park. Just be aware of staying safe in the water and checking the tides before planning your visit.
2. Kiama
Kiama is a small coastal town located on the South Coast of New South Wales. Kiama's most famous landmark is its blowhole - a geyser that spouts water up to 10 meters high off an exposed rock face south of town. But there are plenty more reasons to stop by this relaxed seaside village. While in town, be sure to check out the Gumaraa Aboriginal Experience. This tour offers guided walks through the rainforest and indigenous artwork demonstrations by local artists and is easily one of the best Aboriginal Experiences in Australia. Another must-do is a stroll along Cathedral Rocks Beach for views of limestone formations jutting out into the ocean, stunning doesn't even begin to describe it.
3. Jervis Bay
Jervis Bay is an easy drive from Sydney and Melbourne and makes for an amazing day trip or weekend getaway! You can easily spend several days exploring this beautiful area. Whether you want to relax on the beach, go scouting for dolphins or whales, hike along a coastal walkway, adventure out on the short but scenic White Sands Walk or have a picnic by the sea, there are so many activities to choose from.
4. Ulladulla
If you're interested in the history of Australia, then Ulladulla is the place for you. Located on the South Coast of New South Wales, Ulladulla is a town that boasts an impressive array of historical sites to visit and things to do. From museums and galleries to history walks and fossil trails, there's plenty here! The top things in town include the Gondwana Coast Fossil Walk, which takes you through some amazing coastal scenery as you get some hands-on experience with the fossils. The Alley Gallery is also well worth stopping in at for a glimpse into this coast's history and culture.
5. Narooma
Narooma is a small town on the far south coast of New South Wales, an hour south of Batemans Bay. It's easy to see why it's such a popular destination for travellers passing along this route. Spend your time exploring national parks and nature reserves (the most popular being Narooma Nature Reserve), visiting local attractions like Handkerchief Beach and Montague Island Tourist Park or having a picnic at one of its many picturesque picnic areas.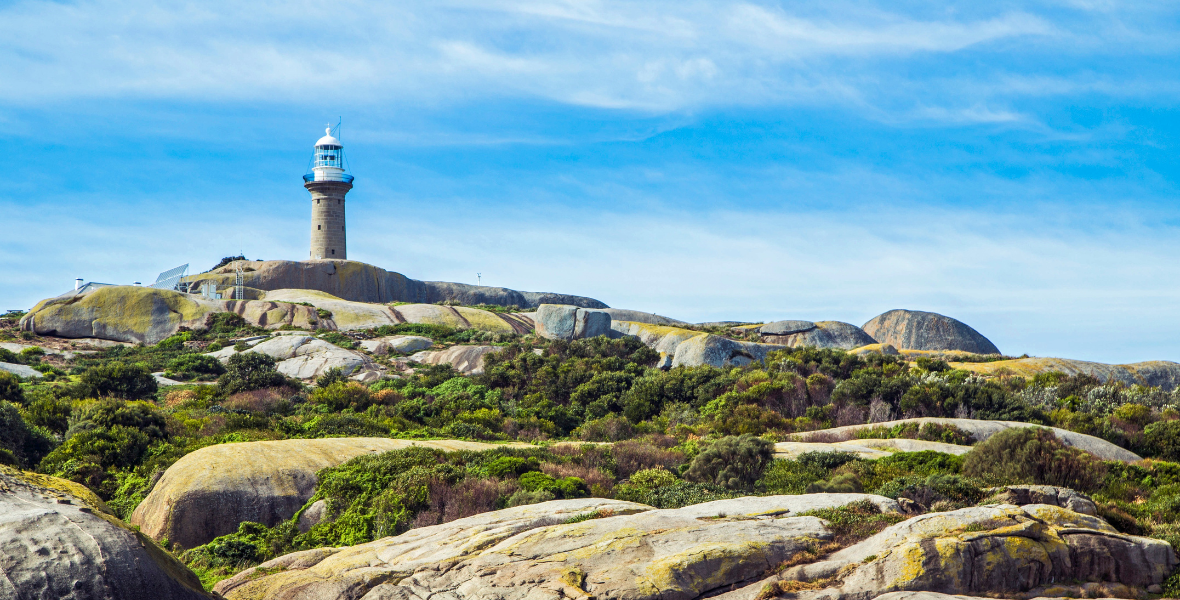 Image Source: Tourism Australia Image Gallery
6. Central Tilba
Central Tilba is a village tucked away on the south coast hinterland of New South Wales, known for its history in the dairy industry. The rich volcanic soil is the secret sauce to the success of the thriving local dairy farms and has helped them cultivate world famous cheese! While in town, some of the top things to do include going snorkelling at Mystery Bay, experiencing the local flavours on a Taste of Town and Country Tour, and enjoying the local flora and fauna on the Bellbrook Farm Loop Walk.
7. Bermagui
Bermagui is a small coastal town in New South Wales, Australia, known for its spectacular harbour and lakes, perfect for summer adventures. While you're in Bermagui, rent a kayak or SUP and explore Wallaga Lake. Alternatively, head to the incredible saltwater ocean Blue Pools for a day of seaside relaxation. Camel Rock is another popular attraction for geology enthusiasts and photographers looking to capture this ancient formation.
8. Croajingolong National Park
Croajingolong National Park is said to be one of the most beautiful national parks in Australia, with dramatic coastal scenery and abundant wildlife. The park draws its name from two Aboriginal words that mean "long stretch of water". Its description doesn't lie. The wilderness coast takes you along 30 km of spectacular Victorian coastline with vistas across rugged cliffs, sandy beaches and rocky headlands.
If you love birdwatching, then this is your perfect road trip stop! Visit Point Hicks Lightstation, where more than 230 species have been recorded. Or choose to explore the wildlife in the waterways on a kayak over to the Tamboon, Mallacoota and Wingan Inlets.
9. Lakes Entrance
If you're looking for a place to stop between Sydney and Melbourne that is beautiful, scenic and peaceful, Lakes Entrance is the perfect destination. Located in Victoria on the shores of Lake Entrance, this town is a tourist destination known for its warm climate and pristine beaches.
Here you will find plenty of restaurants to dine at while watching boats sail past, or if you prefer something more casual, why not enjoy a short drive and have a drink or meal at one of Lake Tyers beachside cafes? If you want to get out into nature and experience the abundance of wildlife, there are also lots of great bushwalking trails in Lake Tyers.
10. Buchan Caves
Buchan Caves is tucked away in the far east corner of Victoria, Australia and is home to Victoria's largest cave system. There are several caves that are open for guided tours so that you can experience this remarkable cave system for yourself! Wander through spectacular caves, vast open caverns as well as an ancient flowing stream on this experience to remember.
11. Wilsons Promontory
Wilson's Promontory is the most southerly point of the Australian mainland. It's home to many rare and endangered species as well as scenic hiking trails and beaches to explore. This is the perfect road trip stop for nature lovers.
One of the top things to do in this island paradise is swim at Normans Beach, which sits between Cape Liptrap and Cape Pillar. Prefer to work up a sweat? Climb Mount Oberon or Mount Bishop for panoramic views of Wilsons Promontory National Park; keep your eyes out for wombats, kangaroos and emus as you hike through the bushland for unparalleled views of this region.
12. Phillip Island
Nestled on the edge of Bass Strait, Phillip Island is a great place to visit for its beaches, wildlife, food and wine. The town itself has a small-town vibe with local shops and cafes scattered throughout the island. If you're looking for some family-friendly fun, then head to A Maze'N Things or join one of many whale discovery trail experiences around the island.
Best of all, for a once-in-a-lifetime experience, head out in search of our famous penguins at the Penguin Parade at Phillip Island Nature Park. Here you'll see hundreds coming ashore each evening during the summer months from October to March.
Image Source: Tourism Australia Image Gallery
Experience Australian culture in a Britz Campervan
If you're looking for an opportunity to see some of southeast Australia's most breathtaking and unique natural landscapes, a drive from Sydney to Melbourne is it. There's no better way to see all these amazing sights than in the comfort of your own vehicle. This is especially important if you are travelling in a campervan with young kids. Booking a campervan hire means you can stop whenever they want (or need), rather than having to stay on a schedule set by tour guides or bus drivers. And since there are so many attractions along the way between Sydney and Melbourne, a campervan hire makes planning your trip (and adjusting as you go) super easy!
Ready to hit the road to experience Australian culture in a Britz campervan? Book a campervan with Britz today. We have a range of campers from the compact Britz Venturer to our spacious Britz Frontier - there is something for every group size and budget. For more information on renting a Britz campervan, choosing the right campervan as well as tips for family campervan holidays and more, check out our blog.