Join thousands of fellow campervan travellers
Sign up for our Britz newsletter to receive inspirational travel content and awesome deals, and we'll send you a copy of our Ultimate RV guide!
Thanks
Please confirm subscription in your email.
Talking to people
Just like Mum and Dad taught you, always say 'Please' and 'Thank you' and remember; (just like anywhere else in the world) a smile will get you a long way.
If you are not in a tearing hurry (and in your Britz there's no need to be) then take the time to talk to people and get to know the locals. Country folk often welcome a chat and the experiences and places you discover through these conversations can be amazing. This is all part of the Britz roadtrip experience!
Farms/private property
Always leave any gate the same way you found it. If it was open, leave it open. If it's shut, make sure you shut it again when you have been through.
If a sign says "Private Property", "Keep Out" or the like, take that as meaning exactly what it says.
Never interfere with livestock. Running or driving in a paddock when it is lambing or calving season can cause distress for the animals. It's best to keep your distance from them. Sometimes cattle can be curious and follow you, especially if they have been hand fed. If that happens there's no need to worry, as they will lose interest in time.
Driving
Always stop to offer assistance if someone looks like they are in trouble or are waving you down. When you do, make sure you pull well off the road and check your surroundings where you cannot easily be hit by a passing vehicle.
If you're in an area where there are kangaroos (and that is a lot of Australia) we suggest you avoid driving altogether from dusk till dawn. Dusk is a time when kangaroos camouflage with the landscape particularly well making it hard to see them. Kangaroos are very fast and can change direction very quickly so if you must drive at night take it slowly and keep a sharp eye out.
If you ever see stock on the road slow right down straight away. Watch for the stockman and edge forward at a walking or suitable pace. If someone is moving them they may not appreciate you splitting the mob or making their job harder.
On dirt roads, keep in tracks and out of the sand and bulldust at the sides of roads. Getting in this can cause you to lose control and throws up unnecessary dust and stones for people behind you.
Don't speed through towns. No matter how small a place is, people live there, so you need to respect that, and the local speed limit.
Rain. While you will mostly be on sealed roads, if you're travelling in a 4WD, some bush roads can become impassable after heavy rain. This is particularly true of blacksoil (a high clay soil) that will quickly clog the treads of your tyres and even wheel wells. This can look solid and safe to drive on but you will sink to the axles if you try. It's also better to stay on the road because the soil is more compacted here.
Camping
Really obvious but we'll say it anyway: in most areas fires are banned all year around and definitely in fire season. Bush fires can do tremendous damage in Australia as the bush, especially eucalypt trees, burn fiercely. If you do light a fire make sure you put it completely out when you finish. In Australian context, out means cold, water drenched, no smoke and no sparks. Keep an eye out along the road for Fire Danger Ratings, especially in summer, as a Total fire ban means exactly that!
Never use soap or detergent in rivers or streams. Even small amounts of these things add up and can threaten water quality and aquatic life. If it is a non-crocodile area you can swim to clean up and the fresh water will do job without soap. Washing up water needs to be tipped out well away from the stream or riverbank.
Obvious again but we are going to say it: NEVER leave any rubbish behind when you leave a campsite. That includes the tiniest bit of foil. The idea is for the next person to find it as beautiful as you did, and follow the "Leave No Trace" principles.
Toilet. Sure most places you go will have toilets as may your camper but if you have to go in nature there are some basic rules. Especially with a number 2, make sure you go a good distance from the camp. Depending on the cover that might mean 50m or 200m away (and if possible down wind). Make sure you cover it thoroughly so no flies can get in and fill the hole right up so no one will sprain their ankle in it. Above all make sure you wash your hands properly – and that means with soap, detergent or alcohol hand sanitizer.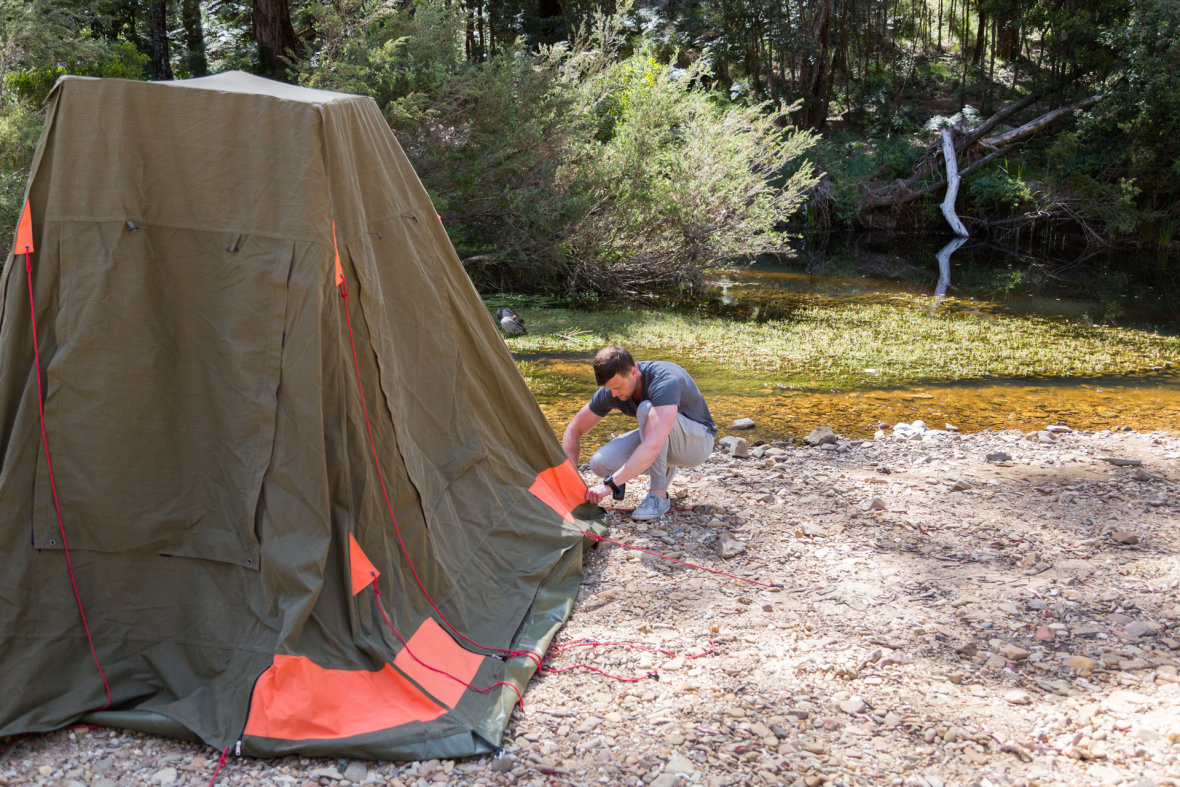 Alcohol
As with anywhere new, have fun, but watch your intake if this is known to cause major changes in your personality.
In that sense, bush pubs are like any other pub around the world. Don't trash local custom, be pleasant and respectful and you won't have a problem. All this applies doubly if you are drinking a long way from familiar territory since the law and help can sometimes be a long way away. No need to be paranoid – just mindful.
In Australia a 'shout' is the custom where each person in the group takes a turn in buying a round for the group. While it's interesting and fun to talk to the locals if they show they are up for this, as a general rule it's a good idea to avoid getting into a shout with them. Keep your round to yourself where you are completely in charge of where it is heading.
In some bush pubs it is customary to put your money on the bar in front of where you are sitting rather than in your pocket. In some old pubs the publican would automatically fill up your glass when it looked like you were finished or close to it. When you are finished it's good form to thank the barman or barmaid.
Our drink-driving tip is simple: don't drink and drive. You have your Britz right with you so it's no big deal to stay the night and take a fresh run at the road the following day. Better, smarter and fun.